Local chef finds healing through food
by
JULIE ENGLER
Whitefish Pilot
|
March 8, 2023 1:00 AM
Like Buckaroo Banzai, a movie character from the 1980s who was a physicist, a test pilot, a neurosurgeon and a rock star, Lynon Lohof, Lead Chef at The Farmers' Stand in Whitefish, is someone with a wide range of knowledge. While Banzai's talents combine to fight aliens, Lohof's skills merge to fight disease.
Lohof is a chef, a trained photographer, a certified Energy Medicine Yoga practitioner and a world traveler. She has also struggled with a variety of illnesses and has found ways to heal herself with food.
"I really want to establish myself and work toward becoming a healer in whatever way that transpires and start helping people more one-on-one and having small retreats," she said.
Last month, during a workshop hosted by The Farmers' Stand titled "Food as Healing," Lohof spoke with a small crowd about her history, how to use food as medicine and why it's important to seek out local food.
She hopes to present a series of workshops that employ the idea of food as medicine while addressing specific organs of the body. Next up, the liver.
A FIFTH-GENERATION Montanan, Lohof was raised on her family's large cattle ranch in southeastern Montana, then split her time working summers at the ranch and spending the school year in the Flathead Valley. Lohof says she was seen as the black sheep of the family, in part because she eschewed the typical diet in favor of more healthy options.
Her interest in food was present when she was a small child and deepened when she was just 11 years old.
"Sixth grade was a really pivotal point… we had a nutritionist come into our school and teach a lot of stuff I don't believe in now, but it definitely sparked my interest," Lohof said. "I was living with my mom and sister… I got them to start changing some of our staples, so that was really huge."
Eating provided comfort to Lohof as a young person. She says she has changed her relationship with food and now finds it not only comforting but healing.
"I have Epstein-Barr virus. I've had it since birth and I've had so many different symptoms throughout my life," Lohof said, describing the mononucleosis-type symptoms that disrupted her life.
According to the Centers for Disease Control and Prevention, the Epstein-Barr virus is one of the most common human viruses. Most people are infected with it at some point in their lives, after which, the virus remains in the body and, in some cases, can reactivate. Symptoms can include fever, fatigue and a swollen liver.
A turning point came in 2019 when Lohof was on a trip to South America.
"I got sick again on this trip to Patagonia. I would do a trek one weekend (and) feel great — next weekend, just no idea why, I felt so fatigued, pain all over my body," she said. "That was kind of the triggering point for me to really dive deep into my health.
"I was already on the path for quite some time but that trip was the catapult," she added. "I do so many different things but food is one of the focal points I wanted to put my energy into."
IN ADDITION to getting a diagnosis of the Epstein-Barr virus, Lohof was also diagnosed with fibromyalgia. She said it is one of the many ailments derived from the Epstein-Barr virus.
"I've just done a 180 with all of that by just changing my diet and not feeding that virus anymore," she said with a smile.
Changes in her diet, including drinking lemon water and celery juice every morning for the past three years, have led Lohof to a healthier, symptom-free life.
"The biggest part of my healing is the celery juice. Celery juice latches on to the pathogens and toxins in our body and flushes them out every day," Lohof explains. "I don't get sick. I haven't since before COVID. Not even a cold."
She thinks of how much better she feels now versus 10 years ago and smiles widely when she considers how much better she might feel 10 years from now.
"I've been someone who believes that we are our best healer. I do believe doctors are great for fixing certain things, but they're not meant to heal us and I think that's a huge misguided step that we've taken in our society," Lohof said. "They diagnose, they don't heal.
"We can help by providing tools and that's what I really want to do with the rest of my life — take all of my skills and really help people now," she added.
From her days running the Whitefish Hostel with her sister and mother, to her newly earned yoga certification, to her deep understanding of how food can be used as medicine, Lohof is finding ways to share what she's learned and has big dreams for the future that will enable her to reach even more people.
"I'm about to start up my own (business) called Guided by Spirit Healing and it will incorporate yoga, plant and food medicine," she said. "In the future, (I'd like to) go back to my family ranch and have a retreat center and a bed and breakfast and all the things."
For now, Lohof is thrilled to be preparing food and sharing her knowledge at The Farmers' Stand.
"I want to be here as long as I can," she said. "It's really cool to be part of something that is one of the best things this community has."
For more information visit @lynonlovesmontana on Instagram or stop into The Farmers' Stand.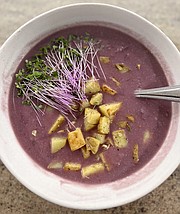 Recent Headlines
---