Hospital Corner: Culinary Caring for the Community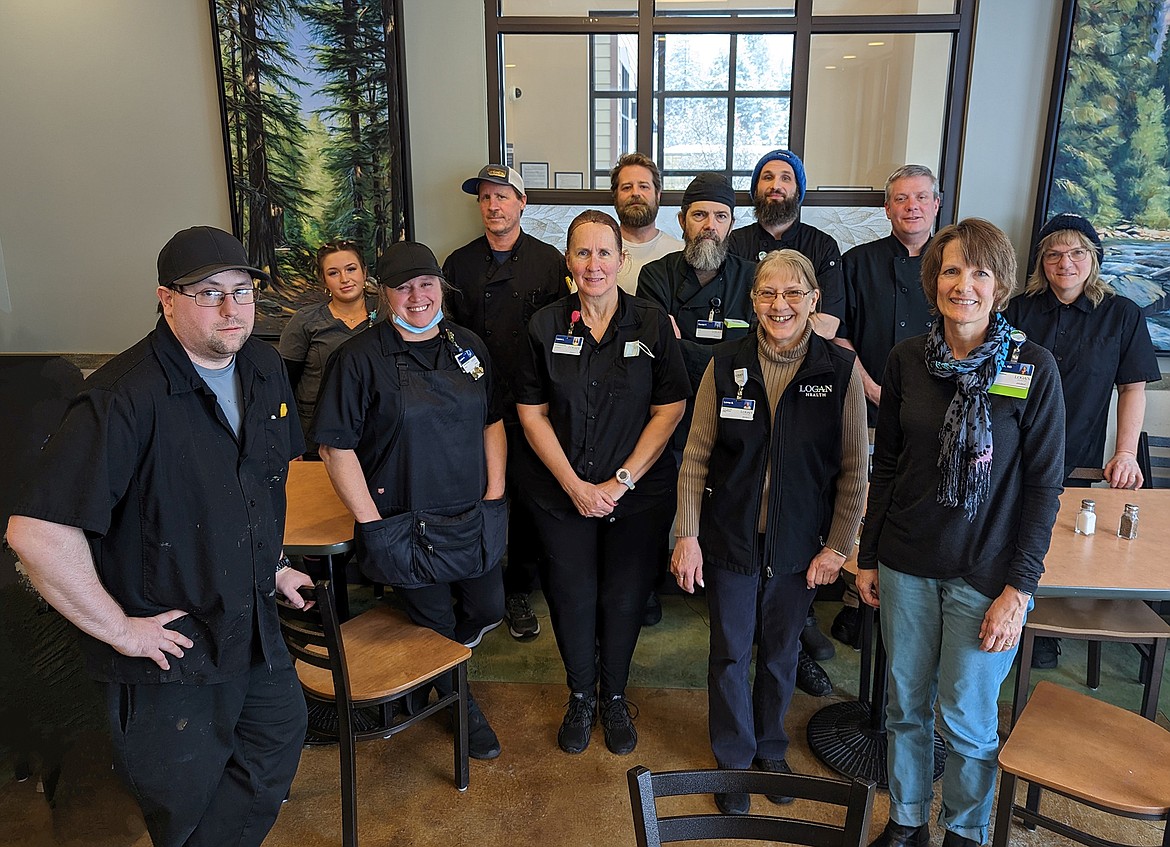 A few members of Logan Health – Whitefish's Nutritional Services team pictured, left to right, back row: Krysten Jones, Adam Knox, Rob Barwikowski, Rendel Floyd, David Ray, Scott Wezeman and Becky King. Front row: Will Loop, Lyu Abramchuk, Laura Lawrence, Lorna Schmidt and Carrie Archibald. (Provided photo)
by
RILEY POLUMBUS
|
March 8, 2023 1:00 AM
Fifty years ago the Academy of Nutrition and Dietetics designated March as National Nutrition Month to educate the public in making informed food choices and develop healthy eating habits, however at Logan Health – Whitefish, this is a year-round endeavor.
It's no longer a secret that the hospital is one of the best places to eat in town. While the Valley Café may only be open to the public for breakfast and lunch Monday through Friday, Logan Health – Whitefish's Nutritional Services team keeps the kitchen cooking seven days a week serving patients three square meals a day, plus snacks. These meals are thoughtfully prepared for each patient individually, with their dietary needs in mind.
When admitted, a nurse screens the patient to learn about any dietary needs. The nurse or physician can call Carrie Archibald, the hospital's clinical dietician, to consult with the patient and make modifications to their meal plan. In addition to the meals during their stay, Archibald provides patients with a dietary plan when they go home.
Once a month Archibald leads a refresher with the Nutritional Services department on topics such as diabetic diet, cardiac diet, or low sodium diet. Together they discuss the dietary needs of health conditions, and the staff has the opportunity to ask specific questions. These sessions are especially helpful to the dietary aids who visit each patient and take orders for their meals. Like clinical staff, dietary aids work on a 12-hour shift for better continuity with the patient. Due to patient privacy, dietary aids do not know the patient's medical situation, and so they work from notes provided by Archibald and their physician.
David Ray, Director of Nutritional Services at Logan Health – Whitefish, also brings years of experience in healthcare food service and offers creative, wellness-driven ideas for patient and café menus. His experience is invaluable for patients and their families facing a critical and often drastic change to their diet. On one occasion he invited the spouse of a patient with dysphasia — difficulty swallowing foods or liquids — into the kitchen in order to show her how to create meals according to ISDDI (International Dysphasia Diet Standardization Initiative) food prepared to improve safety for swallowing.
Inpatients are not the only ones receiving healthy meals. Day surgery patients are sent home with a boxed meal and infusion patients have the opportunity to order food during their treatment or take it home. This extra effort taken to feed patients is in line with the hospital's Planetree culture which embraces the nurturing aspects of food. While nutrition is integral to healing, food also offers pleasure, comfort and familiarity to the recipient reducing their stress and anxiety.
This is also beneficial for the Valley Café's biggest market — hospital employees! With a full menu of health and comfort foods just down the hall, employees need not worry about where their mid-shift meal is coming from, and this includes the night shift. Any patient coming in for services can rest assured that they are in the hands of a care team that has had a good meal.
Riley Polumbus, a well-fed employee, writes the monthly Hospital Corner column for the Whitefish Pilot and manages community relations for Logan Health – Whitefish at rpolumbus@logan.org.
EXTRA TIPS: Carrie Archibald offers top three things you can do to Celebrate National Nutrition Month
Eat more fruits and veggies!
Take a short walk after meals.
Get plenty of fiber in your diet (25 grams for women and 30 grams for men) by eating whole grains, nuts, seeds and more fruits and veggies!
Recent Headlines
---