Bulldogs end season at divisional tourney; fall to Butte Central, Browning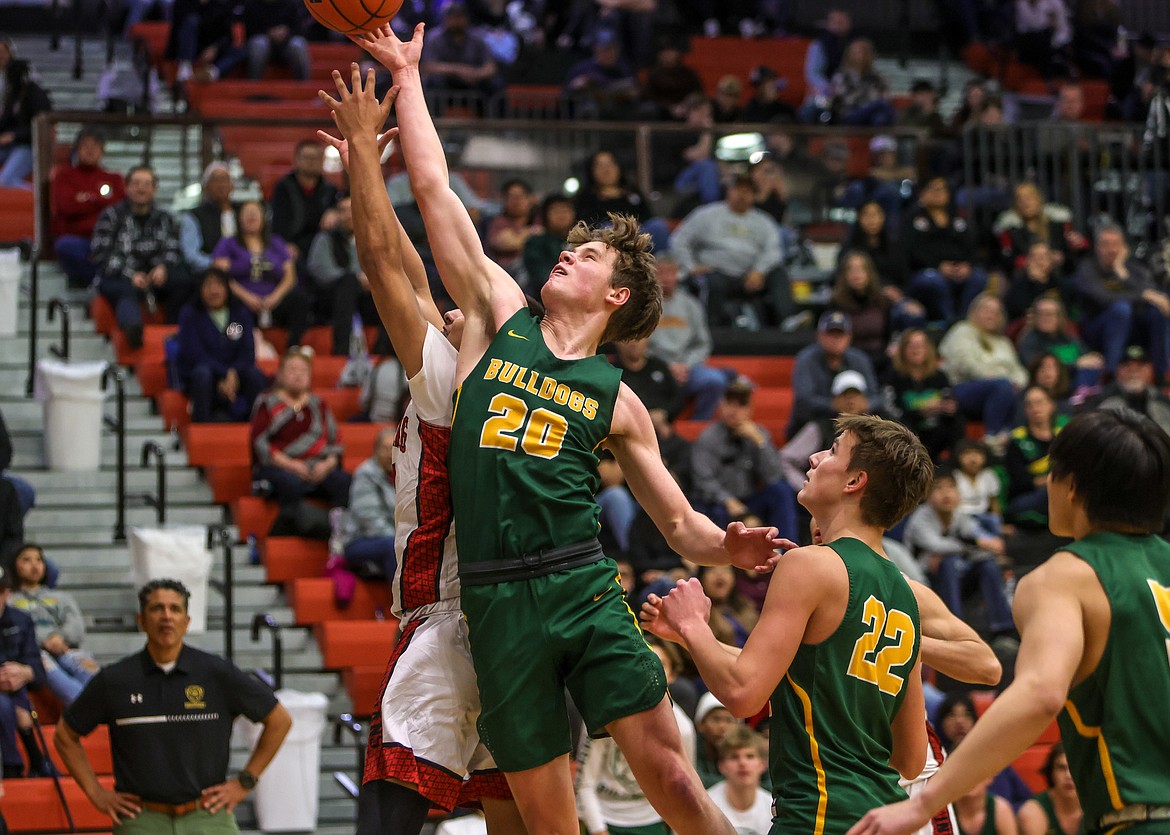 Senior Jack Sears goes for a lay up in the Western A Divisional Tournament against Browning on Friday in Ronan. (JP Edge photo)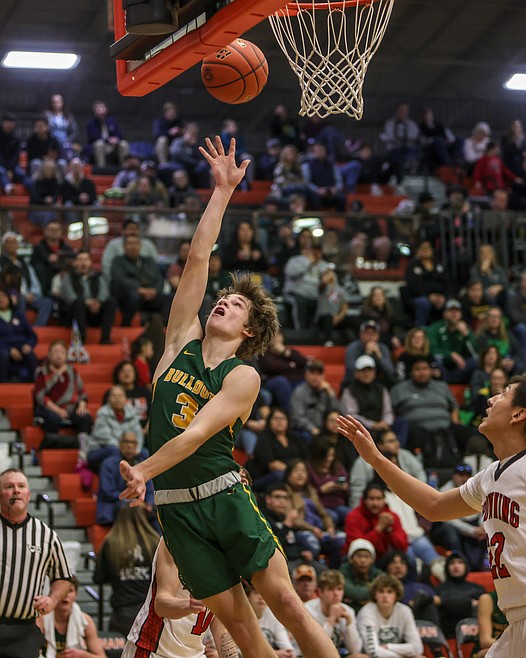 Sophomore CJ Thew goes for a lay up on Friday in the Western A Divisional Tournament in Ronan against Browning. (JP Edge photo)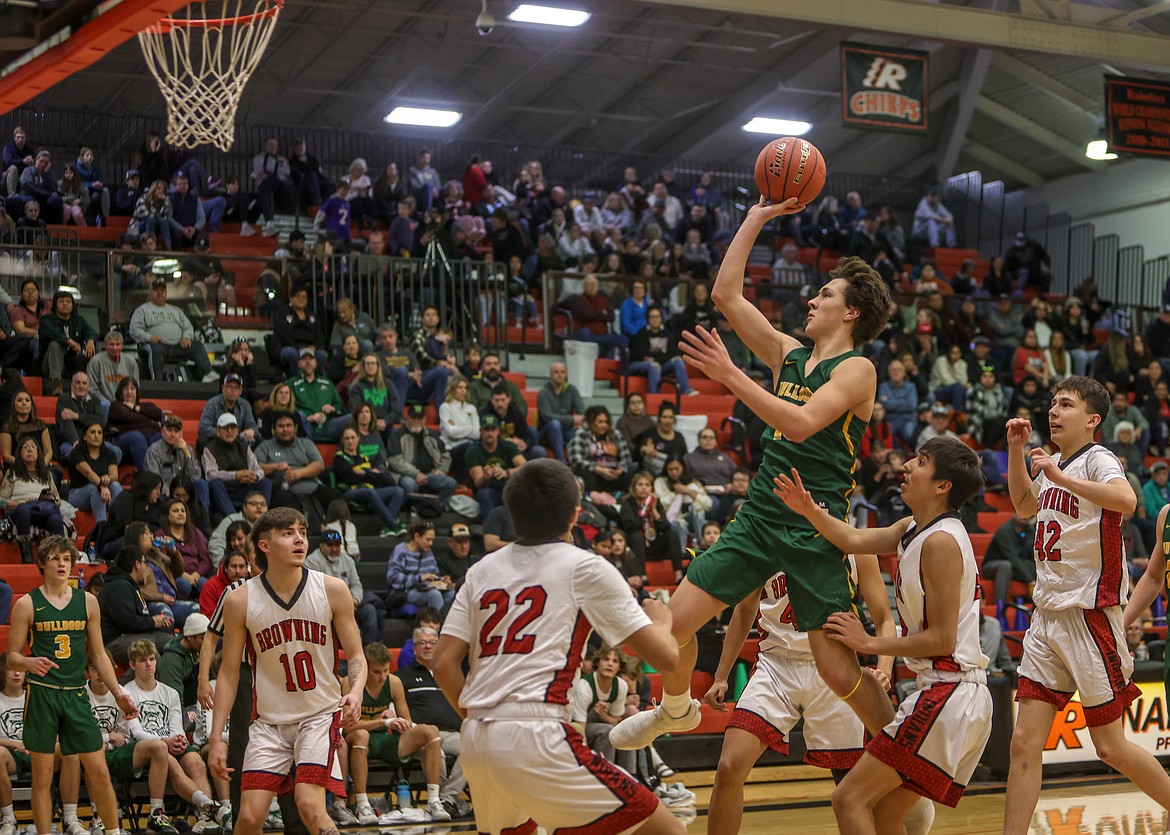 Junior Mason Kelch takes a shot on Friday against Browning in the Western A Divisional Tournament in Ronan. (JP Edge photo)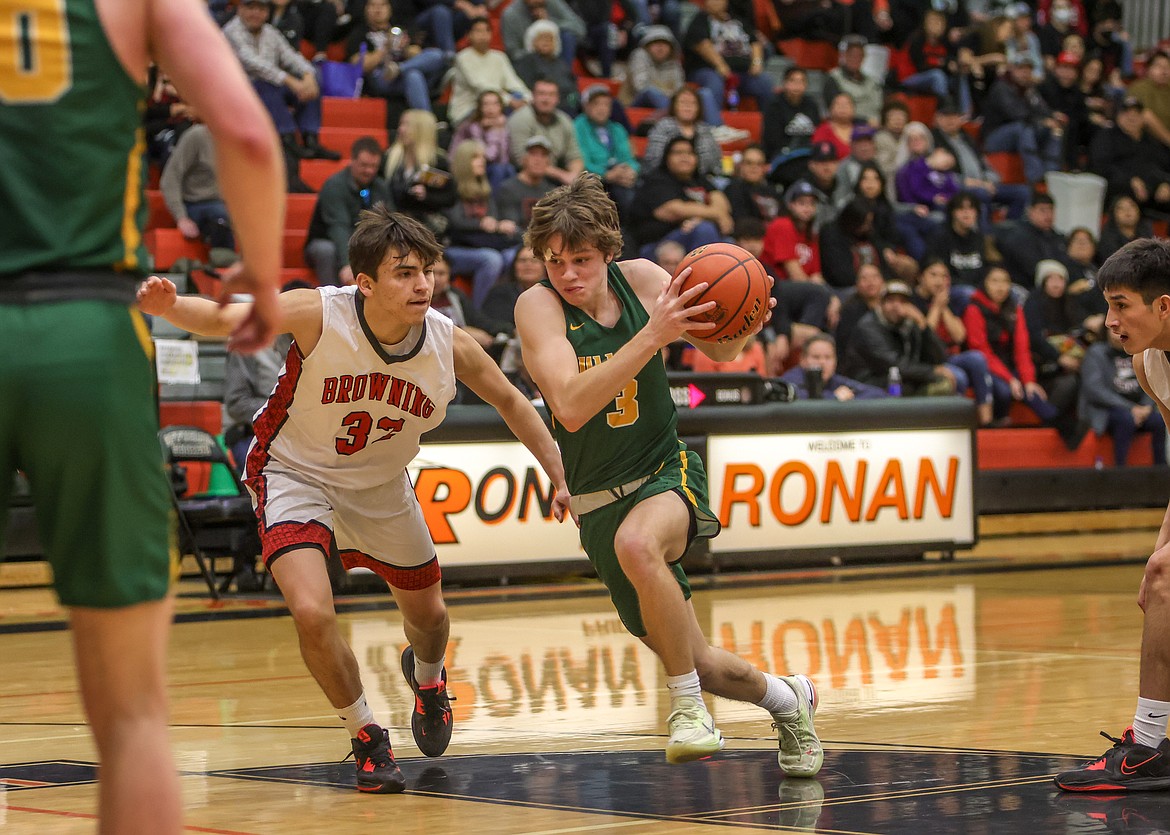 Sophomore CJ Thew drives towards the basket on Friday in the Western A Divisional Tournament in Ronan against Browning. (JP Edge photo)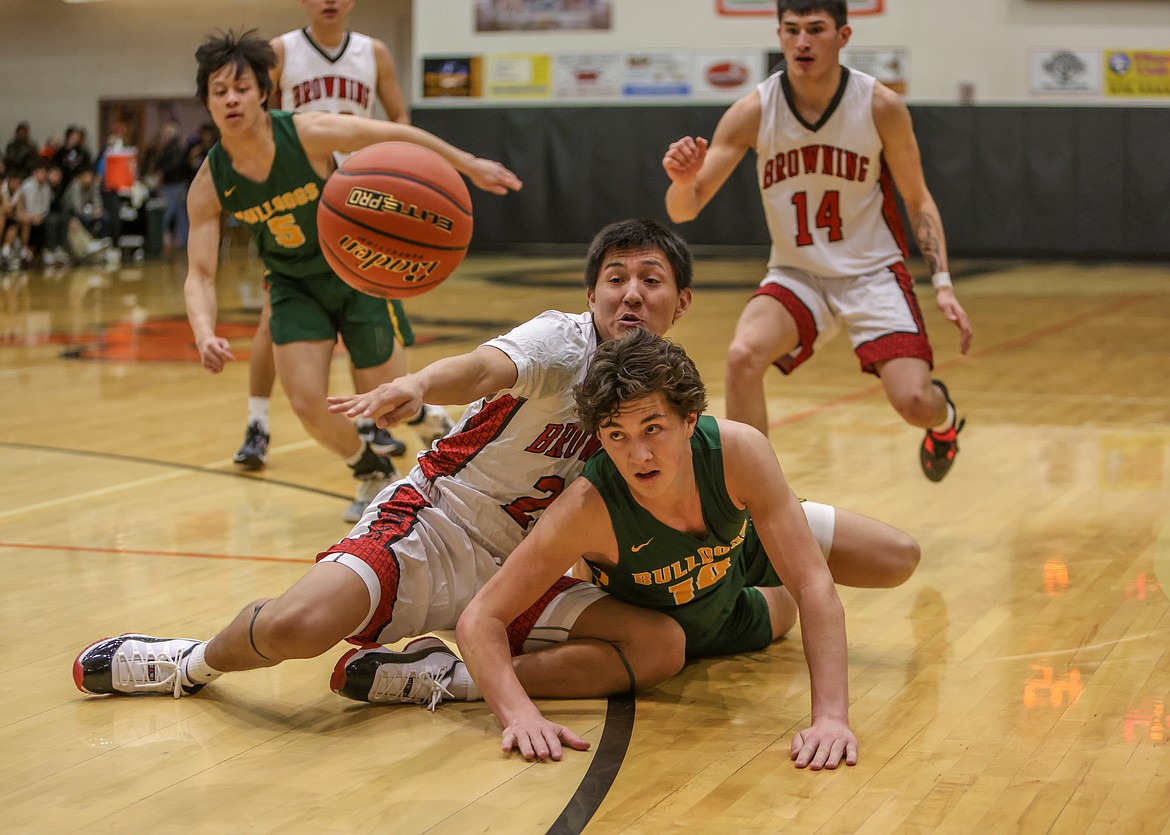 Junior Mason Kelch fights for a loose ball on Friday against Browning in the Western A Divisional Tournament in Ronan. (JP Edge photo)
Previous
Next
by
WHITNEY ENGLAND
Whitefish Pilot
|
March 1, 2023 1:00 AM
After an unexpected turnaround to end the regular season, the Whitefish Bulldogs boys basketball season ended at the Western A Divisional Tournament in Ronan last weekend.
Whitefish started and ended the season with a thin roster, but what changed over the course of two months was their belief in themselves and their ability to respond to the coaches' adjustments. This helped them to earn a spot at divisionals and gain postseason experience.
"I think that I couldn't ask for anything more from the kids," Whitefish head coach Alex Gonzalez said. "I'm sure a lot of people didn't expect us to even make it to divisionals. I think that every time I asked something of them, as a team they responded."
Whitefish started the tournament with a game against defending state champions, Butte Central, on Thursday evening. Though the Dogs hung with them to start, Butte Central slowly kept adding to its lead and eventually won 63-41.
The Maroons who were 17-1 heading into the game, were led by star player Dougie Peoples with 19 points. Butte Central put up a 25-point third quarter that made it nearly impossible for Whitefish to make a comeback in the final period of play.
Whitefish's Jack Sears led the team with 10 points and Mason Kelch put up 7. Eight Bulldogs scored in the game.
"Even playing Butte Central, which is a great team, we played them tough, really tough for the first half," Gonzalez said. "Long-term, throughout the game they just extended… but my kids never gave up throughout that game."
The following day, Whitefish was matched up with familiar Northwest A foe, Browning. Whitefish had not beaten them in two meetings in the regular season. The two teams played a tough first half and went into the locker room at the break tied at 22 points each.
The Indians came out firing in the third quarter and quickly started to build a lead. A big second half from Browning put away the Bulldogs 66-44. The loss ended Whitefish's season, which finished with a 6-13 overall record.
Kelch led the Dogs in the game with 17 points. Bulldogs CJ Thew and Carson Krack scored 11 and 10 points, respectively. Browning stifled the normal scoring out of Sears who ended the game with just 4 points.
Browning's Maurice Redhorn III scored 21 points to lead his team.
"I'm so proud of them, I really am. With that experience that we got this year, I think it's going to help them," Gonzalez said.
"We were there, we battled. I'm excited for what the future holds," he added.
Whitefish 10 5 12 14 - 41
Butte C. 14 13 25 11 - 63
WHITEFISH — Jack Sears 10, Mason Kelch 7, Josh Downie 6, Scott Dalen 6, Carson Krack 4, Dane Hunt 4, CJ Thew 2, Daniel To 2.
BUTTE CENTRAL — Dougie Peoples 19, Kyle Holter 11, Eric Loos 11, Zane Moodry 9, Joshua Sutton 6, Owen McPartland 3, Riley Gellingg 2, Jack Keeley 2.
Whitefish 9 13 10 12 - 44
Browning 10 12 26 18 - 66
WHITEFISH — Mason Kelch 17, CJ Thew 11, Carson Krack 10, Jack Sears 4, Josh Downie 2.
BROWNING — Maurice Redhorn III 21, Brayds Vielle 16, Robert Reagan 8, Jamerson Lazy Boy 6, Isaiah Running Rabbit 4, Delbert Blackman 3, Randon Boyce 2, Payton Grant 2.
Recent Headlines
---