WTC presents Mediterranean vibes of Seffarine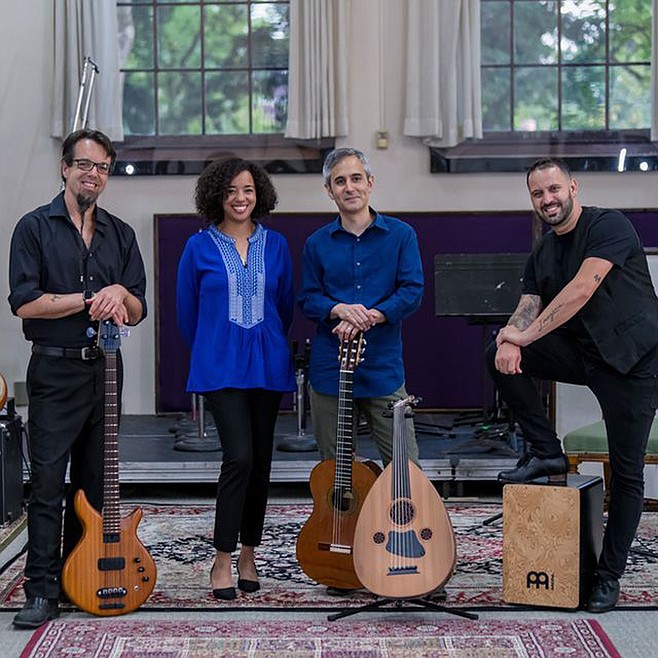 Seffarine is a brilliant quartet that fuses Moroccan, Arab-Andalusi and Spanish flamenco music with modern sounds. (Photo courtesy of Seffarine)
by
Whitefish Pilot
|
January 25, 2023 1:00 AM
The Whitefish Theatre Company presents Seffarine, a brilliant quartet that fuses Moroccan, Arab-Andalusi and Spanish flamenco music with modern sounds. An ensemble of highly accomplished musicians, Seffarine will perform on Friday, Feb. 3 at 7:30 p.m. at the O'Shaughnessy Center in Whitefish.
The sounds that stir the dry winds of Southern Spain and Morocco, two countries separated by only a whisper of the Mediterranean, are the musical DNA of the beautifully complex music of Seffarine. Seffarine was formed by riveting singer Lamiae Naki, who sings in Arabic, Farsi, Spanish and French, and musician Nat Hulskamp, who plays the flamenco guitar and oud. Their repertoire varies from classical Arabic and Andalusian music to original compositions influenced by the music of widely varying cultures, such as Spanish flamenco, classical Persian music, and American jazz. They are joined by acclaimed bassist Damian Erskine who brings a soulful groove to the band and Manuel Gutierrez who plays the cajón and wows audiences with explosive flamenco dance footwork. Get your passport ready as Seffarine takes us on a lively and enriching musical journey throughout the Mediterranean and Middle East.
Seffarine takes its name from the ancient metalworking square in Lamiae's home city of Fes, Morocco, which is famous for the complex rhythms that ring out from the blacksmiths' hammers. Seffarine has performed at prestigious events and venues around the world, winning over audiences from Indonesia to Spain. Their debut album "De Fez a Jerez" was supported by a grant from the Regional Arts and Culture Council, allowing the group to work and record in Jerez, Spain with several of the living legends of flamenco music. The album received international acclaim with its release placing in the top 20 of the Transglobal World Music Charts. Seffarine continues to tour the globe as they create fresh, innovative works that reconnect their shared Mediterranean roots.
Tickets are $30 for adults and $20 for students with reserved seating. Tickets can be purchased at the Box Office, 1 Central Avenue, Whitefish, or by calling 406-862-5371. Box office hours are from 11 a.m. to 3 p.m. Monday through Friday and one hour before a performance. Tickets can also be purchased online at www.whitefishtheatreco.org. This show is sponsored by Steve Lull. It is also supported in part by a Challenge America grant from the National Endowment of the Arts and a grant from the Western States Arts Federation. A free outreach performance for elementary and middle school students is sponsored by Flathead Electric.
Recent Headlines
---