Local author's latest novel inspired by a true story about choice
by
JULIE ENGLER
Whitefish Pilot
|
January 25, 2023 1:00 AM
A local author's method of writing fiction involves trusting the characters to tell him the story. It allows him to feel like a reader while he is writing – always wanting to see what happens next.
An avid reader, John Zaiss spent hours poring over books and often thought he could write one himself. Even with a demanding career and three small children, he persevered and wrote his first book. Zaiss recently released his third, a novel called "Love, Lizzy."
Zaiss' newest tale is inspired by a family story. His aunt, his mother's sister, contracted rheumatic fever when she was in high school. She was told never to have children because rheumatic fever can cause permanent damage to the heart and increase the risk of complications in pregnancy and childbirth.
Later, she married, and in his book, Zaiss investigates the societal pressures she faced in the 1950s to have a family, as well as the serious health issues surrounding her pregnancies.
"But what would happen back in the day when your husband said, 'We're having a family,' and society said you have to have a family?" Zaiss said. "Her husband was pretty insistent on having a family and three children later, she died at the age of 38 from a failed heart."
That story was the genesis of the idea for the book. Zaiss says the story goes down a dark path and that it is not at all his aunt's biography. He said it is a historical novel and his favorite part about writing fiction is allowing the characters to tell their story.
"Part of the story is told from Emma's viewpoint in the 1950s and then, 50 years later, an unrelated woman, Maddie, discovers Emma's story and starts unraveling the mystery," he explained.
For Zaiss, being a man writing fiction from a woman's point of view was his greatest challenge.
"It was my biggest fear… can I have an authentic voice?" he said. "Because the story needs to be told with empathy and with emotion and not maybe some of the cut and dry, black and white type stuff."
Four of the five major characters in the book are women. He said making sure his voice was authentic and rang true was his biggest concern while writing, so in order to hone his craft, he read numerous stories written by women.
"Every book I read for a year, about 35 books, was fiction and written by a woman," Zaiss said. "That was the only thing I would read, every night, just to make sure I was having an authentic voice."
He said one of the early reviewers of "Love, Lizzy" gave him his biggest compliment yet by saying she "couldn't believe it was written by a man." Zaiss said that made him feel good.
He found it interesting that the day he finished one of the working drafts coincided with the day that Roe v. Wade was overturned.
"I think that this book, although it's not about abortion, it is about choice and what a woman went through in the 1950s in terms of choice. And what a horrific, unfathomable choice this poor girl had and what it was like back then, even though she met the requirements for a therapeutic abortion," he said. "And that's the journey… that was her journey."
A TRAINED certified public accountant, Zaiss grew up in Omaha, Nebraska, transferred to Dallas, Texas with a CPA firm and moved to Las Vegas where he lived for several years before moving to Whitefish nearly 20 years ago. He worked as a financial advisor, had his own investment advisory business and retired recently.
"Once I retired and was pretty eager to start writing again and I had this story bubbling up for a long time because 'Love, Lizzy' was actually inspired by a family story," he said.
He worked on the book for a year and a half. The first draft took nearly eight months and the editing and crafting took another eight months. He describes his latest work as a bittersweet-type novel because it will likely evoke a few tears but at the same time, the reader will feel good about the story.
Zaiss has been a big fan of Whitefish since he first came here on a trip in 2000 and his family moved here soon after. Together, he and his wife have four children, three sons, and their youngest, a daughter who graduated from Whitefish High School in 2009.
He has always considered himself a mountain person and loves Whitefish for its summer and winter sports.
"Whitefish is home," Zaiss said. "The winters are a little harsher for me now. I'm almost 70 years old, so (they are) a little bit more of a challenge now than they were, but still Whitefish is home."
When he stopped skiing he and his wife decided they would spend winters in Vegas, where he'd lived for years. The end of his skiing meant more time for his other passion, golf.
"When I started getting tentative on the ski mountain, I made the call and said, if I'm tentative I'm gonna get hurt and I don't want to be hurt for golf. I'm a very avid golfer," he said. "My wife and I are both avid golfers."
Zaiss' latest book, "Love, Lizzy" is available on Amazon.com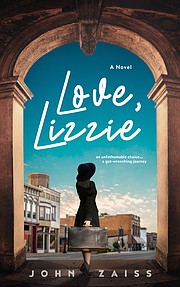 Recent Headlines
---