Zignegos to reign as Whitefish Winter Carnival king and queen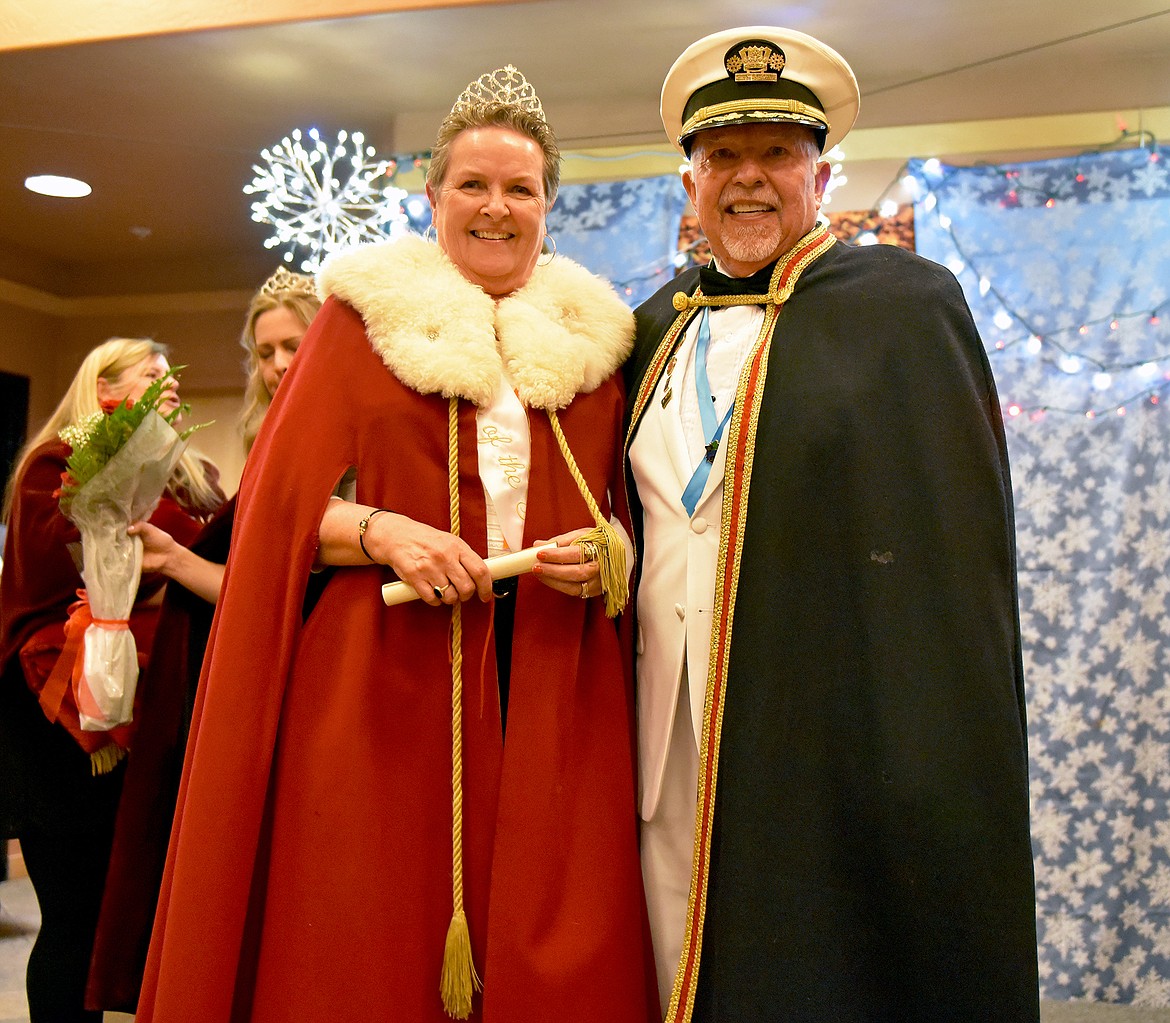 The LXIV King Ullr Doug Zignego and Queen of the Snows Chris Zignego at the Whitefish Winter Carnival Coronation on Saturday, Jan. 14 at the O'Shaughnessy Center in Whitefish. (Whitney England/Whitefish Pilot)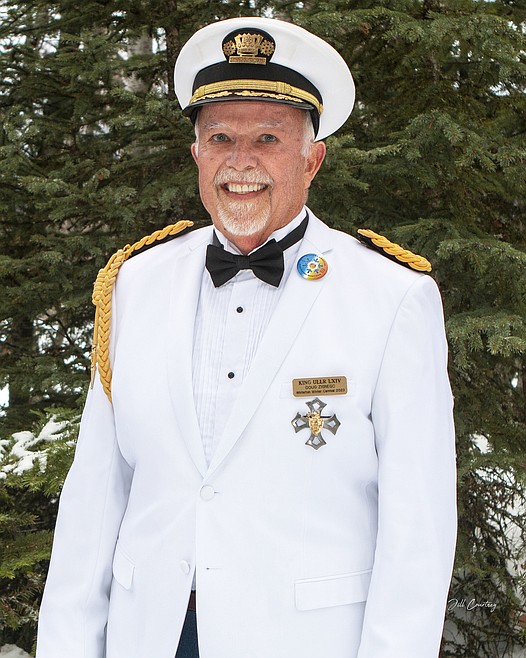 Doug Zignego is the Winter Carnival King Ullr LXIV. (Jill Courtney photo)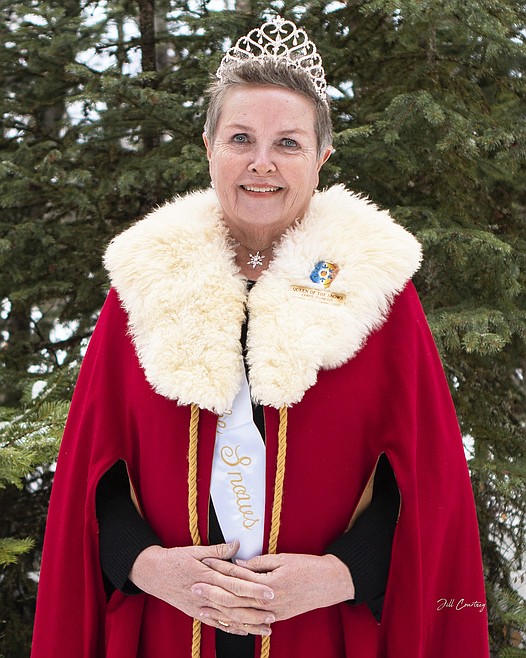 Chris Zignego is the Winter Carnival Queen of the Snows LXIV. (Jill Courtney photo)
Previous
Next
by
Whitefish Pilot
|
January 18, 2023 1:10 AM
Whitefish residents Doug and Chris Zignego will reign as the Whitefish Winter Carnival King Ullr LXIV and Queen of the Snows. They were crowned during a coronation ceremony Saturday evening in downtown Whitefish.
Doug was born and raised in Miles City and graduated from Sacred Heart High School in 1969. His father owned and operated DeLuxe Motors, the Chrysler-Plymouth dealership in Miles City and Doug and his six siblings worked in the automotive world as they grew up. Doug attended Montana State University, graduating with a mechanical engineering degree in 1974.
Following his father's footsteps, Doug joined the Navy and became a Naval Aviator. In 1975, he joined his first VP squadron in Moffett Field, California, flying the P-3 which is a four-engine turboprop aircraft used in anti-submarine warfare. During his next tour, while stationed at Whidbey Island with VA-128, he met his future wife, Christine. They married in August of 1980 with plans to see the world and raise a family. Matt, the first of their island babies, was born in September 1981.
Orders and opportunities followed with the first duty station as a family was at Anti-Submarine Warfare Operations Center, Lajes Air Force Base, Terceira Island, Azores, Portugal for two years and their second island baby, Nick was born on Terceira Island in September 1984.
After Lajes, they transferred to the Naval War College at Newport, Rhode Island, to attend the Command and Staff College for a year. Doug earned two master's degrees (strategic studies and international relations) while in Newport.
They were then transferred to VP-17, Barbers Point, Hawaii for Doug's last operational command in anti-submarine warfare and is where Katie Lee, the last of their island babies was born in March 1987.
In 1988, they took a set of orders to Naples, Italy to join the staff which controlled all of the U.S. Navy logistical support throughout the Mediterranean Sea, Doug worked in Operations and Plans for COMFAIRMED. Naples provided an excellent opportunity to continue their plans to see the world. They were able to visit many parts of Europe including Italy and other neighboring countries.
In 1990, Doug transferred to Headquarters, European Command, J-3 Operations Directorate, located in Stuttgart, Germany and was a command duty officer for the Crisis Action Team which monitored and controlled operations in Northern Iraq and the Balkans.
In 1994, he received orders to his final duty station at Naval Air Warfare Center Weapons Division, Pt Mugu, California, where he was involved with flying the P-3 range aircraft and managing all of the aviation personnel as the executive officer. He retired as a Navy Commander (O-5) after 21 years of service and with over 4,600 hours of accumulated flight time.
Choosing to live in Whitefish, they moved with three children and a trailer full of essential items to survive the summer of 1995 and prepare for another new school in the fall. Chris became immediately involved with the schools and local fundraising.
Doug was fortunate enough to be hired by Semitool in Kalispell to initially manage training and documentation for Semitherm. He soon transferred to technical marketing to present Semitool's products to the semiconductor industry. He traveled extensively to Asia to meet with and answer technical questions from customers.
In 1999, Doug became a real estate agent and joined RE/MAX of Whitefish where he spent the next 14 years. During this time, Doug participated with the Northwest Montana Association of Realtors, joined the Kiwanis Club in Whitefish, served on the Whitefish Chamber of Commerce board, Boy Scout Troop 36 Committee Chairman, and other volunteer organizations. He was honored to be selected as Realtor of the Year for 2011. Since 2015, he has been a broker associated with National Parks Realty Whitefish where he works with his son, Matt.
AN ARMY brat, Naval Officer, Navy wife and Navy mom, Chris began her life in Asmara, Eritrea where her father was stationed with the U.S. Army. Between then and her arrival in Whitefish in 1995 she moved 23 times and attended 17 different schools, four high schools and two colleges.
Following Doug's retirement, there was no question that the family would return to Montana; Bozeman or Whitefish in the running. Familiar with Whitefish from the early days of skiing, ownership of property purchased in 1981 and the allure of a small town in which to raise their children they arrived in August of 1995.
Children, Matthew a freshman, Nicholas a fifth grader and Katie a third grader entered Whitefish High School, Central School and Muldown respectively. In those early years, Chris did the usual mom activities, room mother, Girl Scout leader and cookie chairman, founding member of Boy Scout Troop 1936, its first committee chairman and later Scoutmaster, and of course chauffeur.
She soon joined the Whitefish Community Center fundraising effort as secretary/girl Friday. Staying with the organization to realize the building of Whitefish's beloved library and O'Shaughnessy Center. Next on her fundraising endeavors was a similar position with Project Whitefish Kids seeing the Smith fields become a reality. She has volunteered faithfully at the annual Wine and Food Tasting event that benefits both Whitefish Theatre Company and the Smith Fields.
A member of St Charles Borromeo Catholic Parish, Chris has long served in various positions; choir member, Lay Eucharistic Minister, Religious Education Teacher and cook. Always a Pie Social contributor.
Chris worked 21 years as the laboratory manager at Glacier Medical Associates from which she recently retired. She witnessed its growth from a small clinic housed across from the Whitefish Post Office to the large independent clinic that now serves Whitefish, Columbia Falls and surrounding areas with caring professionalism.
Now retired Chris looks forward to lots of grandchildren time, gardening, maybe beekeeping, new volunteer opportunities and travel. It is time she sees all that Montana and the U.S. have to offer after her many years living in Europe.
She is honored and excited to serve Whitefish as Queen of the Snows and looks forward to representing her much-loved hometown, the only hometown she has ever known, in the coming year.
The Whitefish Winter Carnival continues through Feb. 5. For a full slate of events go to whitefishwintercarnival.com.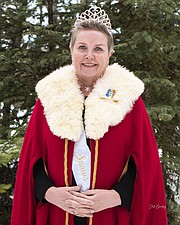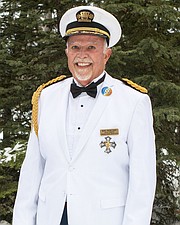 Recent Headlines
---