Schmidt keeps community first in new role as bank president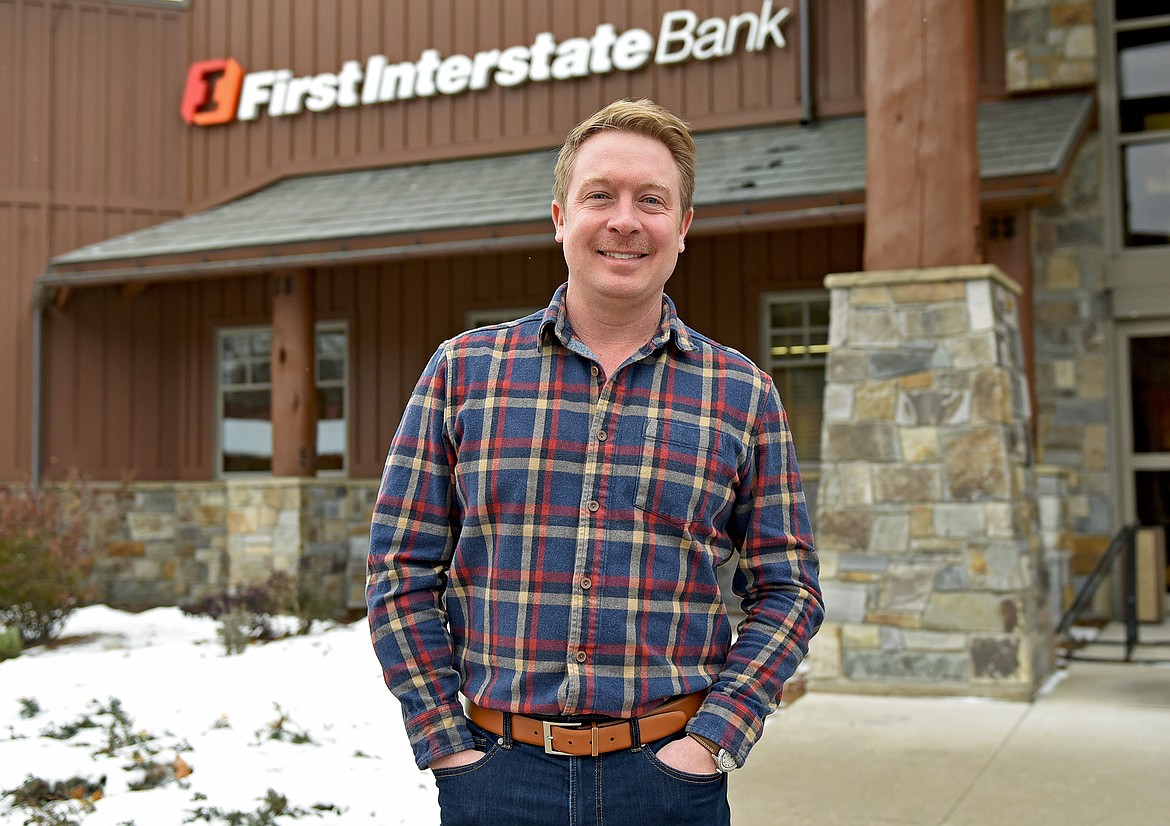 Eric Schmidt is the president of First Interstate Bank in Whitefish. (Whitney England/Whitefish Pilot)
by
WHITNEY ENGLAND
Whitefish Pilot
|
January 18, 2023 1:05 AM
All set to start a career in finance right out of college, Eric Schmidt's life took an unexpected detour that landed him back in his hometown of Whitefish.
Schmidt says he never planned on moving back to town, but sometimes life has a way of working out for the better. He was able to be closer to his family, see the world and, eventually, cultivate a rewarding career at a bank that he grew up visiting often as a kid.
"I have been coming into this bank since I was a child," he said. "I remember running in here when my mom would come and stealing as many Dum Dums off the teller line as I could."
Schmidt began his career at First Interstate Bank of Whitefish over eight years ago as a personal banker. He then earned a promotion to a mortgage loan officer and for about six years he was the Market Real Estate Sales Manager. In the fall of 2022, longtime Whitefish First Interstate Bank President David Dittman retired and Schmidt applied for the job opportunity. Schmidt took over the role of bank president late last year and is looking forward to continuing community-first banking in Whitefish.
"Now I'm here – I'm the president of a bank that I came into when I was a kid and it feels surreal," Schmidt said. "I just feel honored to continue the tradition of the legendary community bankers that this town has always seen with the banks that have been here for a long time."
SCHMIDT IS a fifth-generation Montanan with his mother's family homesteading in Columbia Falls and his father's family homesteading in Whitefish. He grew up surrounded by family, often hunting and fishing on the weekends and enjoying Sunday dinner at Grandma and Grandpa's house.
He attended Whitefish schools — a captain of the soccer team and also president of the choir — and graduated from Whitefish High School in 2004. Leaving the valley to attend college at Montana State University, Schmidt was ready to leave town for new experiences. Nearing the end of college he lined up an internship at a financial institution and expected to jump right into starting his career. But, in a turn of events he missed his internship and moved home to Whitefish instead.
In his last semester of college, he found out his cousin in Wyoming was in need of a kidney transplant. The baby was born with a non-functional kidney and one that was failing fast, needing dialysis several times a week. Schmidt and his brother decided to get tested to see if either was a match.
Schmidt was eligible to donate his kidney and planned to do so after he graduated from MSU. He flew to Denver for the surgery the day after graduation and unfortunately he suffered serious complications from the procedure. This put his life on hold, or so it seemed, and he moved back in with his parents who could help him recover. Slowing down to recuperate and being near his family again, he realized he wanted something different out of life.
"After the complications I had and I got back to Whitefish and I was like, alright life is too short to work an 8 to 5 right out of college, I don't think that's for me."
He had worked summers at the Whitefish Lake Restaurant on the golf course for several years and so he started waiting tables. He would save up money throughout the summer and then fly off to travel the world in the offseasons. He traveled all over Europe, the U.K. and South America.
Schmidt says he enjoyed being near his family, as he and his brother and his parents were "like the four amigos." When his father sadly passed away from cancer in 2012, it just confirmed to him that living near family was the right decision for his life.
"[My mom], my dad and my brother were really my mentors on how to treat people, on how to work hard, so when my dad passed away I really couldn't see myself leaving my mom and my brother either…" he said.
AFTER WAITING tables and traveling for a few years, Schmidt took a job as a deputy clerk of Flathead County District Court — mainly for the health insurance. After a while, an attorney he often worked with convinced him that he needed to be in banking.
"I've always been really good with numbers since I was a kid… she said, your personality with your skill set is just made to be a perfect banker," Schmidt recalled.
Shortly after that conversation he started at First Interstate and hasn't looked back since.
"I don't ever really see myself leaving (Whitefish). I think I'm in the right spot... I feel like I want to be the banker that this community has always had," Schmidt said.
Through his time at the bank, he says his mentors who have influenced his career the most are Dittman, Brenden Craig, Flathead market president for First Interstate, and Glacier Bank Whitefish President Lin Akey. He says all three have helped him to flourish in his career and are examples of how to put the community first in banking.
When he started at First Interstate he sat at the first desk near the front door and learned clients' names and faces. He cares greatly about putting people first and maintaining a commitment to the community, two of First Interstate's core values.
The building has been a longstanding bank in Whitefish, which was Mountain Bank in the 1980s and became First Interstate Bank in 1996. The bank regularly donates to local nonprofits and is involved in community events. Last year alone, the Whitefish branch donated over $100,000 to local charities.
"That's the number one priority that we have is the communities that we serve," Schmidt said. "That just solidifies to me that this is a really good bank to work for, that they put (the community) above everything else."
Not only is the bank involved in the Whitefish community, but Schmidt himself is on the board of North Valley Music School, Logan Health Foundation and Whitefish Winter Carnival. He also chairs the Carnival's Penguin Plunge which raises money for the Special Olympics of Montana. Schmidt stays involved in the local 4-H organization as well as he grew up raising pigs and selling them to help pay for his education.
Schmidt enjoys outdoor activities like waterskiing and mountain biking, and travel has remained a priority in his life. He loves spending time with friends and family, and even though he's now the president of First Interstate Bank, you can still catch him hosting at Whitefish Lake Restaurant on Monday nights with his crew.
The longtime Whitefish resident says he loves this community and the opportunity to lead First Interstate is one he accepts with pride.
"I couldn't be happier that they've entrusted the leadership of this office to me, and then I just look forward to continuing the tradition," he said.
Recent Headlines
---