Lady Dogs down Libby for Northwest A victory, fall to CFalls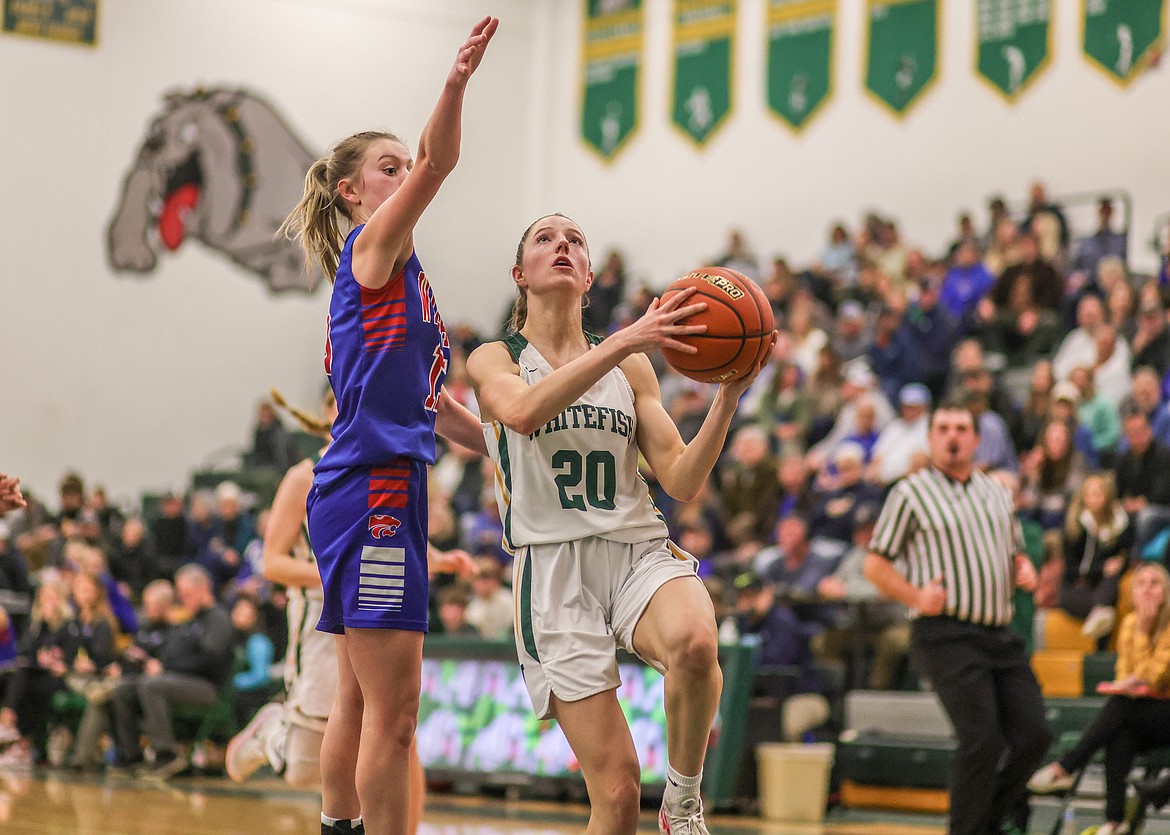 Whitefish junior Hailey Ells drives to the net at home on Thursday. (JP Edge/Hungry Horse News)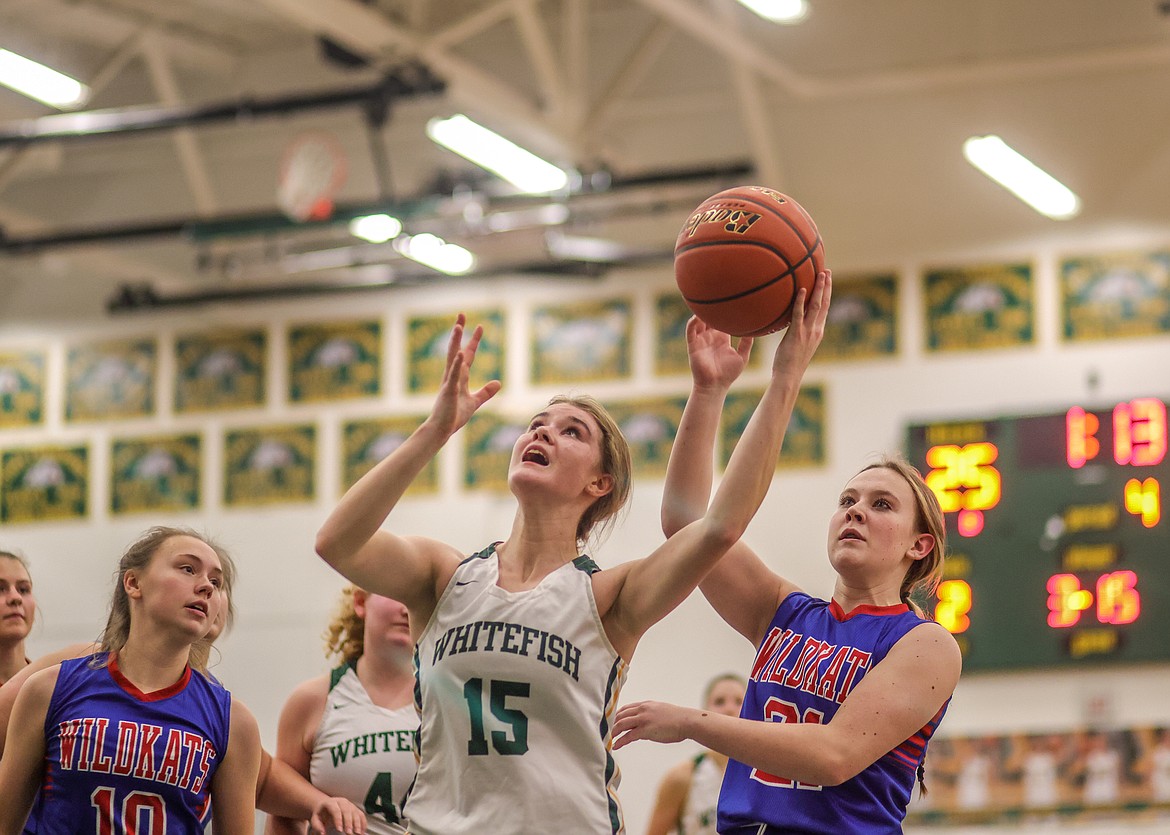 Bulldogs junior Bailey Smith drives to the net on Thursday at home against the Wildkats. (JP Edge/Hungry Horse News)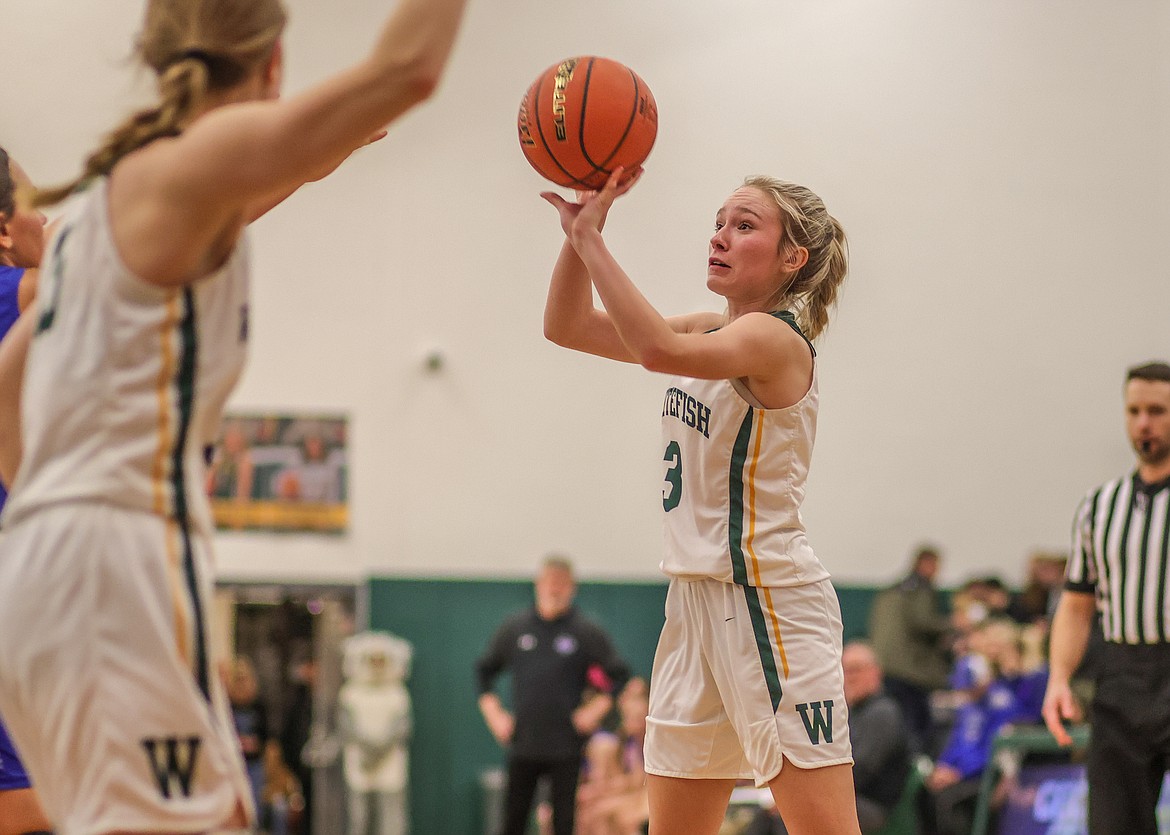 Whitefish sophomore Madi Gordon takes a shot at home on Thursday against the Wildkats. (JP Edge photo)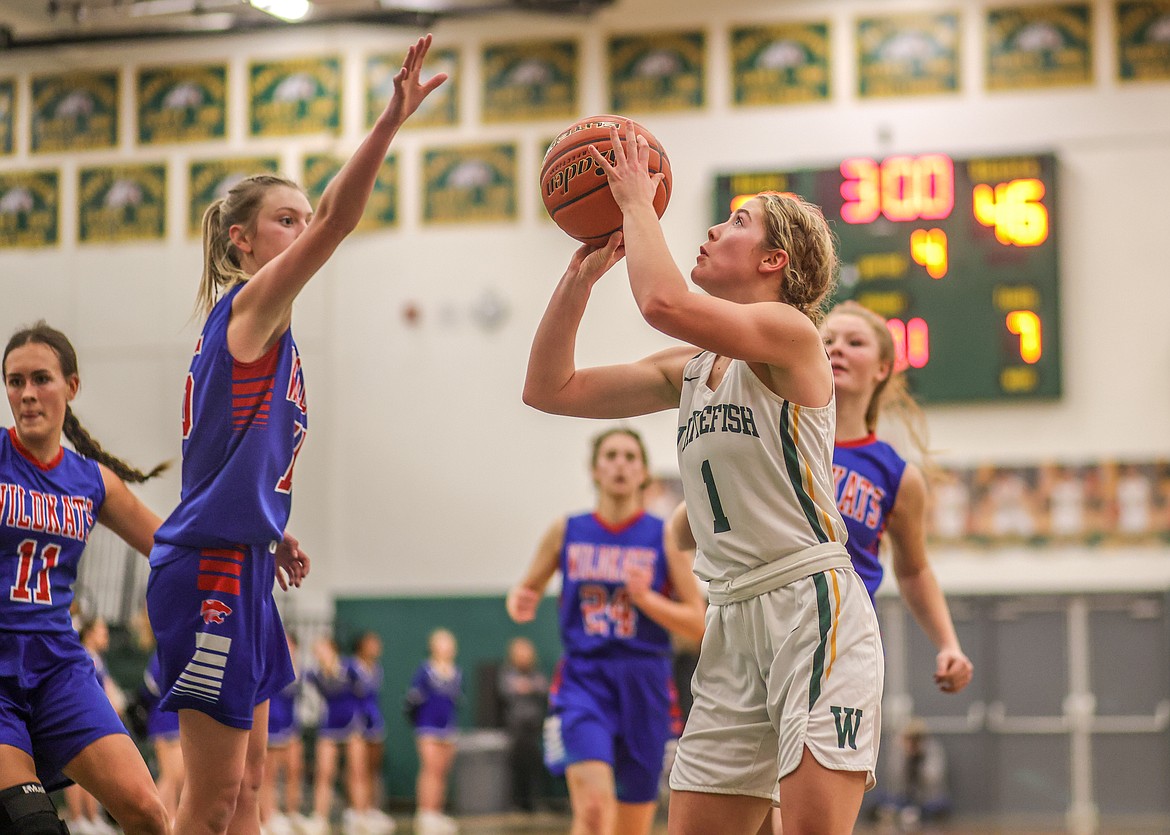 Bulldogs senior Brooke Roberts takes a shot at home on Thursday. (JP Edge/Hungry Horse News)
Previous
Next
by
WHITNEY ENGLAND
Whitefish Pilot
|
January 18, 2023 1:00 AM
Led by Jude Perry and Bailey Smith who both scored in double figures, Whitefish routed the Libby Loggers in the Bulldogs' first Northwest A conference win on Friday. Whitefish won 56-25.
The Lady Bulldogs got off to a slow start in the game, but a second-quarter offensive blitz gave Whitefish a commanding advantage, 25-14, at halftime. Coming off a 17-point second quarter, the Bulldogs stayed hot in the third, making an 18-1 run. Whitefish held a 43-15 at the end of three quarters and played several younger girls in the last period.
Perry ended the game with 18 points, Smith had 15 and sophomore Yoli Krastev scored 8 points, all of those coming in the fourth quarter. Smith was also 9-for-9 from the free-throw line.
Whitefish (4-5 overall, 1-3 league) also played Columbia Falls on Thursday. The Wildkats downed the Bulldogs 52-30.
The difference in the game was the Wildkats' 19-0 second quarter. After an uneventful first quarter by both teams, the game was tied 7-7 before CFalls ramped up its full-court defense to create turnovers by the Bulldogs. The huge run in the second quarter by Columbia Falls gave them a 26-7 lead at the half. Whitefish continued to battle in the second half with increased defense and hustle on the court. The nearly 20-point disadvantage was too much to come back from though.
Leading Whitefish in the game were Brooke Roberts and Smith with 6 points each; Hailey Ells added 5 points while Ainsley Scott had four.
Whitefish plays again on Saturday when the Bulldogs host the Browning Indians at 4 p.m. at Whitefish High School.
Libby 7 7 1 10 - 25
Whitefish 8 17 18 13 - 56
LIBBY — Rylee Boltz 7, Madison Vincent 5, Kinzee Boehmier 6, Rachel Kosters 2, Ashley Freese 3, Bergen Fortner 2.
WHITEFISH — Jude Perry 18, Bailey Smith 15, Brooke Roberts 3, Hailey Ells 3, Ainsley Scott 6, Yoli Krastev 8, Madi Gordon 3.
Columbia Falls 7 19 11 15 - 52
Whitefish 7 0 13 10 - 30
COLUMBIA FALLS — Taryn Borgen 15, Hope McAtee 14, Lexi Oberholtzer 7, Emalee Alton 4, Addy Bowler 3, Kya West 2, Demye Rensel 2
WHITEFISH — Brooke Roberts 6, Bailey Smith 6, Hailey Ells 5, Ainsley Scott 4, Yoli Krastev 3, Madi Gordon 2, Jude Perry 2.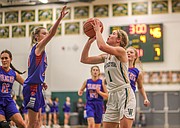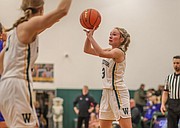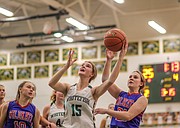 Recent Headlines
---