FVSEF ski racers with podium finishes at Big Sky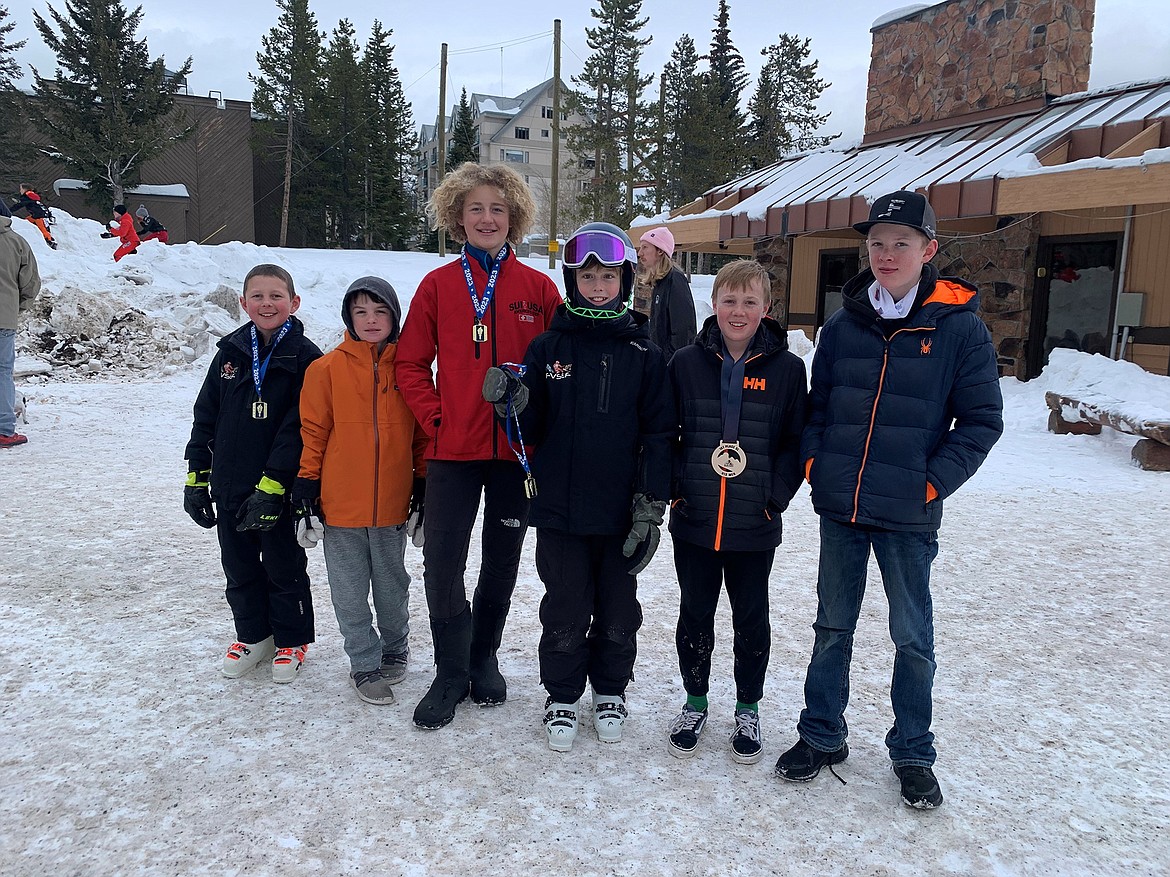 FVSEF ski racers with their awards in Big Sky. Pictured from left to right is, Louis Groom, Nolan Shaw, Leo Bungener, Rylan Hoover, Colter Bengston and Wyatt Nadeau. (Photo courtesy of FVSEF)
by
Whitefish Pilot
|
January 18, 2023 1:00 AM
Flathead Valley Ski Education Foundation (FVSEF) ski racers Kira Paatalo of Whitefish, Colter Bengtson of West Glacier and Henryk Hadidi of Whitefish all found podium success at the first Northern Division alpine ski races of the season at Big Sky, Montana. The Youth Ski League (YSL) race series included two giant slaloms and two slaloms for age classes U14, U12, U10, and U8.
Paatalo earned a third-place finish for U14 girls in one of the giant slaloms (GS). Bengtson won the first GS for U12 boys and was second in the other. He also had a first and second in the two slaloms. Young Henryk Hadidi, in his first YSL races, won one of the slaloms for the U8 boys. Despite limited training in December, many other FVSEF athletes put in great effort and had strong performances in their age classes, which are listed below. Training at Whitefish Mountain Resort started the first weekend of mountain operations, Dec. 10-11, and continues through the third week of March.
The race series was a qualifying event for the U14 age group end-of-the-year Western Region and Tri-Divisional championships in March, to which FVSEF hopes to qualify many athletes.
Race Results:
GS 1
U14 Girls
Kira Paatalo 5th
Lola Zinser 10th
Lillie Groom 26th
Dynalea Tomblin 27th
U12 Girls
Kessa Drendel 14th
U14 Boys
Wyatt Nadeau 9th
Holden Hadidi 11th
Rylan Hoover 16th
Cristiano Wright 17th
U12 Boys
Colter Bengtson 1st
Louis Groom 11th
Nolan Shaw 14th
Soren Lund 18th
GS 2
U14 Girls
Kira Paatalo 3rd
Lola Zinser 10th
Lillie Groom 30th
Dynalea Tomblin 31st
U12 Girls
Kessa Drendel 18th
U14 Boys
Leo Bungener 7th
Holden Hadidi 10th
Wyatt Nadeau 14th
Rylan Hoover 16th
Cristiano Wright 17th
U12 Boys
Colter Bengtson 2nd
Louis Groom 14th
Nolan Shaw 15th
Luke Rothfuss 18th
Slalom 1
U14 Girls
Kira Paatalo 14th
Lillie Groom 24th
Dynalea Tomblin 26th
U12 Girls
Kessa Drendel 15th
U14 Boys
Leo Bungener 5th
Wyatt Nadeau 9th
Holden Hadidi 13th
U12 Boys
Colter Bengtson 2nd
Louis Groom 8th
Nolan Shaw 12th
Soren Lund 14th
U10 Boys
Stephan Hadidi 5th
U8 Boys
Henryk Hadidi 1st
Slalom 2
U14 Girls
Lola Zinser 7th
Lillie Groom 18th
Kira Paatalo 21st
Dynalea Tomblin 25th
U12 Girls
Kessa Drendel 14th
U14 Boys
Leo Bungener 5th
Rylan Hoover 8th
Cristiano Wright 14th
U12 Boys
Colter Bengtson 1st
Louis Groom 8th
Soren Lund 11th
Nolan Shaw 12th
Recent Headlines
---