Whitefish girls miss divisionals; split play-in games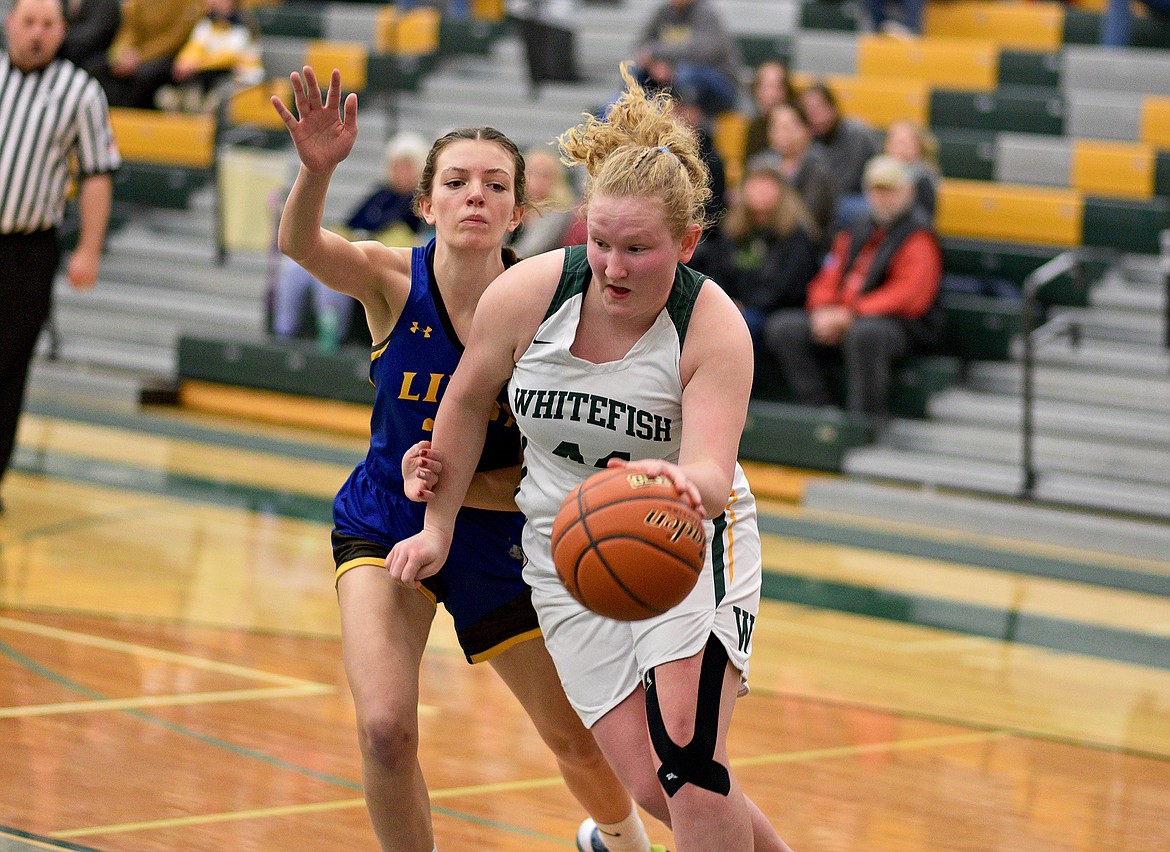 Whitefish's Ainsley Scott drives baseline in a game against Libby on Thursday in Whitefish. (Whitney England/Whitefish Pilot)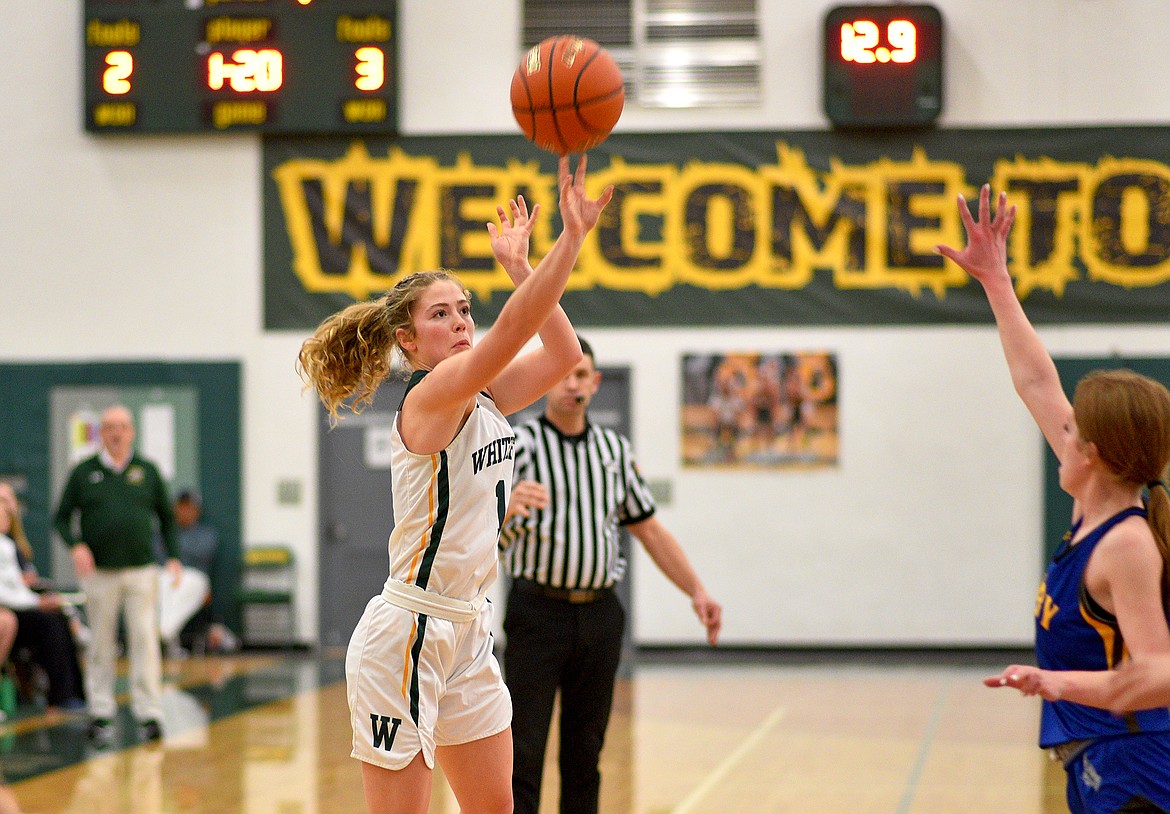 Bulldog senior Brooke Roberts shoots a 3-pointer in a game against Libby on Thursday in Whitefish. (Whitney England/Whitefish Pilot)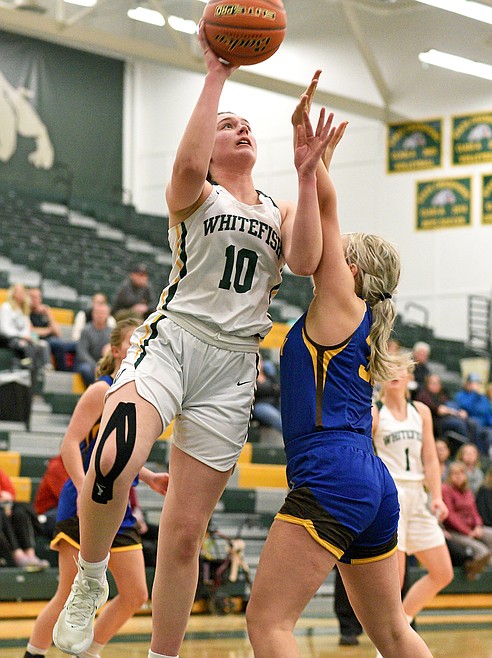 Bulldog Jude Perry takes a shot in a game against Libby on Thursday in Whitefish. (Whitney England/Whitefish Pilot)
Previous
Next
by
WHITNEY ENGLAND
Whitefish Pilot
|
February 22, 2023 1:00 AM
The Lady Bulldogs unfortunately saw the end to their season on Saturday as Ronan took Whitefish down in a divisional play-in game.
Whitefish, fifth in the Northwest A, defeated Libby on Thursday to make it to the fourth-fifth seed play-in game. The Lady Bulldogs came out strong against Ronan in the first quarter, but a lackluster second quarter proved to be the difference in the game. The Maidens outscored the Bulldogs 19-7 in the second, to take a 14-point lead into halftime.
The Dogs played a good second half but couldn't overcome the deficit, losing the game 47-38.
"We haven't really gotten back on teams when we've gotten down (in previous games), but they played a good second half," Whitefish coach Bob Bolam said. "We outscored them in the second half and held them down offensively. We just didn't have enough to finish with."
Whitefish's Bailey Smith led her team with 14 points and Jude Perry put up 9 points. Ronan's Leina Ulutoa had nearly half of the Maidens' points with 23.
"I'm really proud of the way they played. I think it's one of our better games for four quarters against a tough opponent, so we were happy to see that," Bolam added.
On Thursday Whitefish won a game against the Northwest A sixth seed Libby, 39-30.
Perry led the way with 16 points and Brooke Roberts scored 10. Ainsley Scott added 7 points and also had nine rebounds.
The Bulldogs jumped out to a commanding lead in the first quarter holding Libby scoreless, 14-0. Then before halftime, Whitefish kept piling on the points taking a 24-5 lead into the break.
"The girls came out and played really well," Bolam said. "The first half was probably as good as we could've expected to be."
Libby came out stronger in the second half to cut into Whitefish's lead but the Dogs were able to hold on for the win.
Whitefish finished the season 6-12 overall.
The Bulldogs will graduate two seniors, Rya Hirsch and Roberts, but will hopefully bring a strong group of returners back next season.
"I think as I look into next year, we're going to have to have some people that improve and step up for us," Bolam expressed. "Depth will be a concern again next year. I think we can have a good top seven if they all come back and we work hard this summer to get better."
Whitefish 15 7 9 7 - 38
Ronan 17 19 5 6 - 47
WHITEFISH — Brooke Roberts 6, Jude Perry 9, Bailey Smith 14, Hailey Ells 6, Ainsley Scott 3.
RONAN — Leina Ulutoa 23, Margaret Cordova 1, Lauryn Buhr 7, Olivia Heinder 5, Arianna Zepeda 5, Isabella Devereaux-Trahan 6.
Libby 0 5 12 13 - 30
Whitefish 14 10 4 11 - 39
LIBBY — Rylee Boltz 16, P Waggoner 6, A Gilden Vincent 2, Kinzie Boehmier 3, Madison Vincent 3.
WHITEFISH — Jude Perry 16, Brooke Roberts 10, Ainsley Scott 7, Hailey Ells 4, Bailey Smith 2.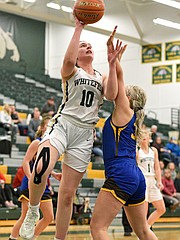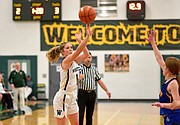 Recent Headlines
---