Two Nordic athletes qualify for Junior Nationals in Alaska
by
Whitefish Pilot
|
February 22, 2023 1:00 AM
A crew of 13 Glacier Nordic Club athletes, seven from the comp team and five from the prep team, raced at the last Junior National Qualifier in Bozeman over the weekend. Supported by Coaches Logan Mowry, Jennie Bender, Cameron Blake and Ed Visnovske, two athletes, Maeve Ingelfinger from Whitefish and Findley Dezzani from Columbia Falls, locked in some of their best results of the season, as well as qualified for Junior Nationals in Fairbanks, Alaska.
Saturday was a classic sprint, with temps in the low 20s and overcast skies. In the prologue, athletes go individually around the 1.5K course to qualify for the top 30, which gets them into the heats. If they make the heats, they race six athletes at a time, and the top two fastest from each heat move on to race again. Through the process of eliminating her competition, Ingelfinger raced through her second place prologue result to win three more heats to capture the overall victory for U18/U20 girls.
For U18/U20 men, Ruedi Steiner looked strong racing into the heats, qualifying in 15th and placing 22nd in the heats. Nate Ingelfinger missed the heats by one second placing 31st, but had his redemption race on Sunday. Deneb Linton crushed his first JNQ as a U18, placing 50th.
For U16 girls, Dezzani qualified in 13th, and raced to 11th in the heats. For U16 buys, Ethan Amick and Liam Browne both qualified for the heats with a qualification of 13th and 23rd, and kept their placing in the heats.
GNC U14 racers were Jessup Hutcheson, Boden Dezzani and Euell Browne. They placed 14th, 20th and 21st, respectively. For U12 girls, Addie Nerdig lead the way and podiumed, placing 3rd in the classic sprint. Abby Visnovske placed 14th.
Sunday was a mass start, and as the last race opportunity to gain points for Junior Nationals, tensions were high.
However, first time Junior National qualifier, U16 Findley Dezzani, knew what she needed to do. Fighting hard and moving up in the pack throughout the race, Findley skied her way into 9th, locking in her the spot for the Intermountain Division's Junior Nationals Team.
Amick and Browne raced a competitive 5K for the U16 boys, finishing in 19th and 27th. Nate Ingelfinger and Steiner raced a valiant last Junior National Qualifier of their high school ski careers, navigating the large mass start and working their way through the field, racing to 18th and 27th respectively. Linton powered through the four laps, beating his Saturday finish with a 46th place.
Addie Nerdig raced to yet another impressive podium getting third in the U12's 3.5K, and Abby Visnovske captured a 15th place. All weekend these glitter sporting girls were the teams MVPs cheer squad for all Glacier Nordic skiers.
Boden Dezzani raced to 27th and Euell Browne to 28th in the U14 3.5K. These boys have been chasing their older siblings (Liam and Findley) and it shows in their grit and perseverance.
As a fun challenge for the kids at the beginning of the season, Glacier's new head comp coach Logan Mowry daringly told the comp team that if they won a Junior National Qualifier race this winter he would get a small tattoo of their choosing. Well, now he's up for two after Maeve Ingelfinger's weekend, and he jokingly said he's reevaluating his coaching strategy.
Coach and Executive Director Jennie Bender was in Fairbanks for two years coaching at the University of Fairbanks where Mowry was racing and attending school. Past comp coach, Rebecca Konieczny coached Mowry in high school in Fairbanks. Now as he goes to Fairbanks with these qualified athletes, it's truly a full circle of coach development and giving back, behind the scenes at Glacier Nordic.
The Junior Nationals location changes regions each year, and this year is in Fairbanks, Alaska. Mowry is attending as a wax tech for the Intermountain Division Team, and has a hometown advantage as he knows the Birch Hill Nordic Trails by heart. Although at sea level, Birch Hill does not lack in difficulty due to its hilly terrain. The Intermountain Division is made up of Utah, Montana, Idaho, and Wyoming ski programs.
To donate to support these athletes' race trip to Fairbanks in March, checks can be made out to Glacier Nordic Ski Team: Travel Scholarship, and sent to Glacier Nordic Club, PO Box 403, Whitefish, MT 59937 or specially designate to Junior Nationals via our online donation portal. The cost for two athletes is $7,400, and anything helps support their journey.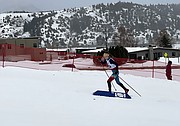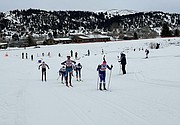 Recent Headlines
---