Katherine Taylor, 88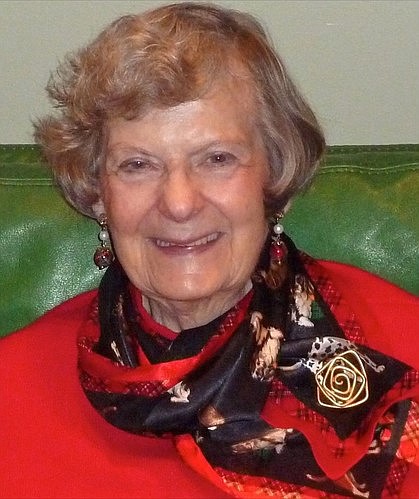 |
February 22, 2023 1:00 AM
Katherine Ann (Kay Flinn) Taylor passed away of natural causes Feb. 4, 2023, with the love of family and the caring staff at both the Montana Veterans Home in Columbia Falls, Montana and Logan Health Whitefish. She lived a full life of love for family, friends, dogs, a strong faith, and a deep desire and commitment to help other people.
Kay was born in 1935 in Helena, Montana, the fifth of five children born to Dr. James Flinn and Kathryn Meagher. She attended St. Helena grade school, Cathedral High School, and graduated from St. Mary's Notre Dame with a degree in philosophy.
In 1958 she married Thomas Hanrahan of Glendive. The couple lived in Helena during their early years and had four children: Kathy, Rorie, Tom, and Mamie.
The family relocated to Glendive, where she worked at Dawson Community College, and after completing her certification in addiction counseling (licensure No. 14th in the state) she offered addiction counseling to many across Eastern Montana.
Kay and Thomas later divorced, and in 1978 she moved to Helena where she worked for the Montana Department of Corrections in addiction program compliance for the state. She later opened a private practice in addiction and family counseling until she retired in her 70s.
She had a deep faith life both spiritually and religiously. She volunteered with St. Helena's Cathedral as a cantor and was an active leader with the Cursillo movement.
Kay deeply loved Montana, its landscape, its people, and was proud of her Irish Heritage and the ancestors that had come to Montana. One of them was Thomas Francis Meagher, the First Territorial Governor of Montana.
In her 60s, Kay met her great love, Dr. Jack Taylor, a retired MSU professor, whose avocations were music, writing, lecturing, and traveling. Jack is also a foremost expert on Lewis and Clark. In 1995 the two married and created a wonderful life of music, entertaining, art, travel, river trips, and picnics.
Kay will be remembered for her love of friends and family. Her brilliance and wisdom, her elegance, quick wit, musical talent, style, sense of adventure, love of convertibles, creator of beauty, kindness, and being a warrior advocate for healing.
"I was well loved in my life and I believe I loved well. I felt very blessed to live in Montana all my life with appreciation for its beauty, people, and quality of life." - Kay Taylor
Kay is preceded in death by her parents; Dr. James Flinn and Kathryn Flinn, her siblings; Pat Verwest, Shelia Kincannon, Micheal Flinn. She is survived by her Husband Dr. Jack Taylor, her sister Mary Rathman (Stan), sister-in-law Doris Flinn, her children Kathy Crockett (Doug), Rorie Hanrahan, Tom Hanrahan, and Mamie Flinn ( Neil). Her grandchildren Micheal, Tyler, Dani, Bailey, Makenzie, Jacob, Katie, Grace, and Abi. Also her bonus children from Jack; Diana Norton (Gregg), Hillary Grant (Ian), David Taylor (Jaelyn), grandchildren Chelsea, Hannah, Riley, Nick, Quinn, Will, and 10 great-grandchildren.
A Funeral Service is planned for 12 noon, April 20, 2023 in Helena at St. Helena Cathedral. In lieu of flowers please consider a tax-deductible donation to: Boyd Andrew Community Services, Chris 406-447-3262, 60 Last Chance Gulch Helena, MT, 59601. To send online condolences please visit Kay's tribute page at www.columbiamortuary.com. Columbia Mortuary in Columbia Falls is caring for the family.
Recent Headlines
---