Junior ski racers find podium at Great Divide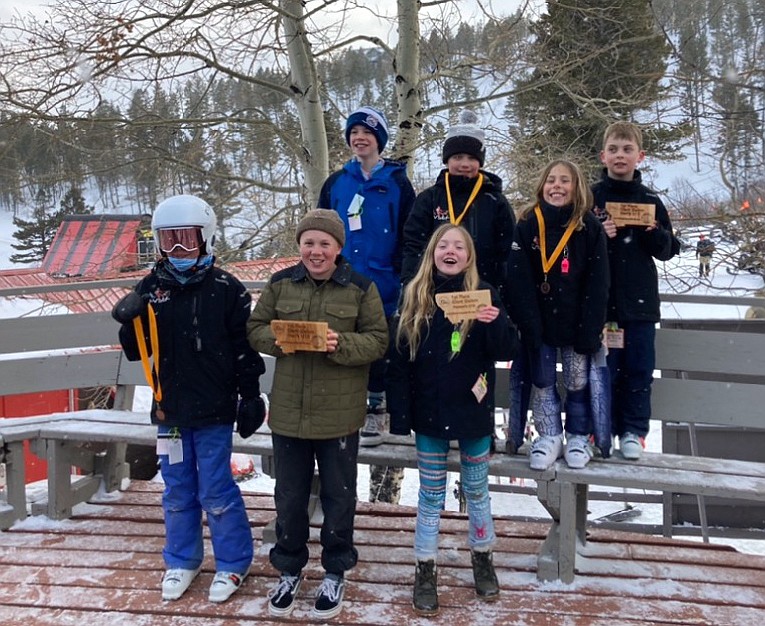 FVSEF kids displaying their medals from the race. (Photo provided)
|
February 22, 2023 1:00 AM
Flathead Valley Ski Education Foundation (FVSEF) junior ski racers Colter Bengtson (West Glacier), Theo Elliott (Kalispell) and Lucy Love (Polson) all scored victories in their age classes at Northern Division Youth Ski League (YSL) alpine races held at Great Divide Ski Area near Helena, Montana over the weekend. The race series included one giant slalom and one slalom for U8, U10, U12 and U14 age classes.
Bengston, who competes in the U12 age class, won both the giant slalom (GS) and the slalom (SL) races overall. Elliott won both races for the U10 boys, and Love won the GS and came second in the SL for the U10 girls. Many other FVSEF athletes put in great efforts and had strong performances in their age classes.
There are two more YSL race series on the calendar for FVSEF athletes including at Red Lodge and Big Sky in March. FVSEF's U16 and U18 athletes have a chance to compete at home this week with three SLs scheduled at Blacktail Ski Area Feb. 23-24, and two GSs to be held at Whitefish Mountain Resort Feb. 25-26.
Race Results:
GS
U10 Girls
Lucy Love 1st
Cadence Ackerschott 6th
U12 Girls
Ella Elliott 9th
Sierra Nelson 10th
Kessa Drendel 12th
U10 Boys
Theo Elliott 1st
Riley Ralston Love 6th
Jude Petro 10th
U12 Boys
Colter Bengtson 1st
Arthur McIntosh 13th
SL
U10 Girls
Lucy Love 2nd
Cadence Ackerschott 6th
U12 Girls
Claire Graham 9th
Ella Elliott 11th
Kessa Drendel 14th
U10 Boys
Theo Elliott 1st
Jude Petro 7th
U12 Boys
Colter Bengtson 1st
Recent Headlines
---