Students initiate Leo club reboot, host Kiddie Carnival Saturday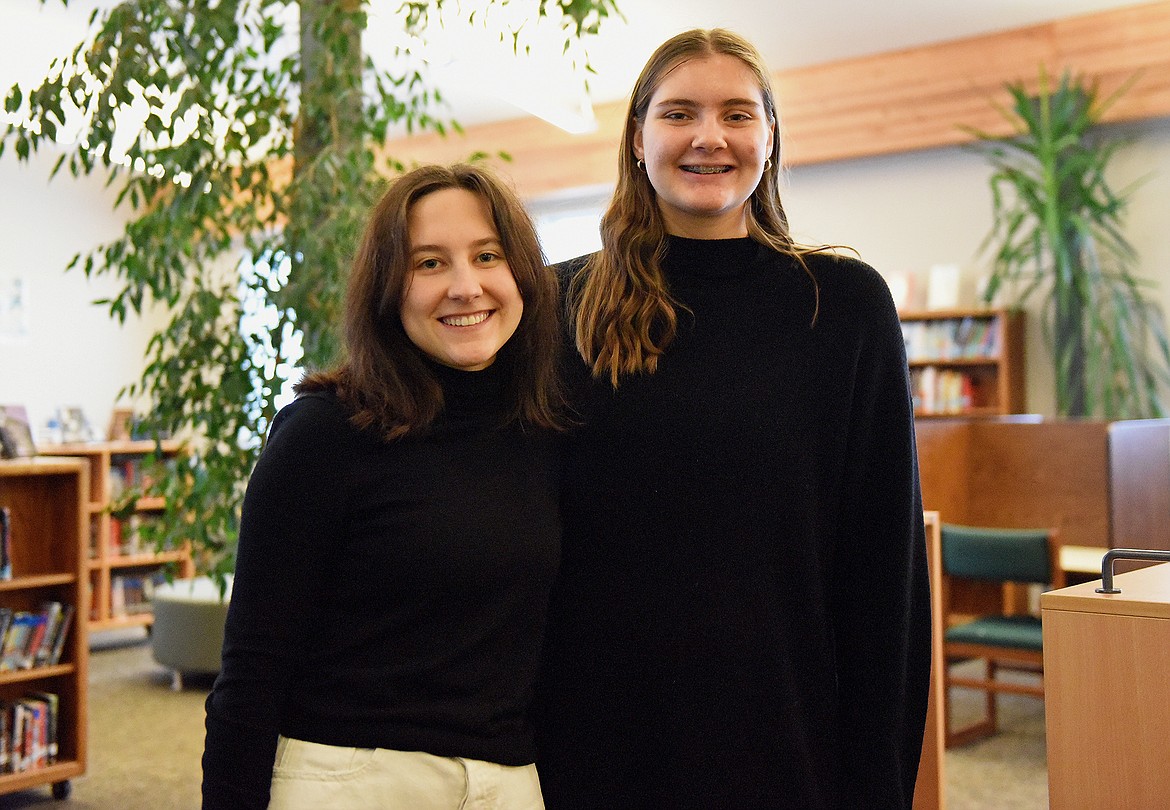 Whitefish High School Leo Club President Rya Hirsch, right, and vice president Avery Dunker, left, together restarted the club with help of their advisor and WHS teacher Damian Estrada and the Lions Club. (Whitney England/Whitefish Pilot)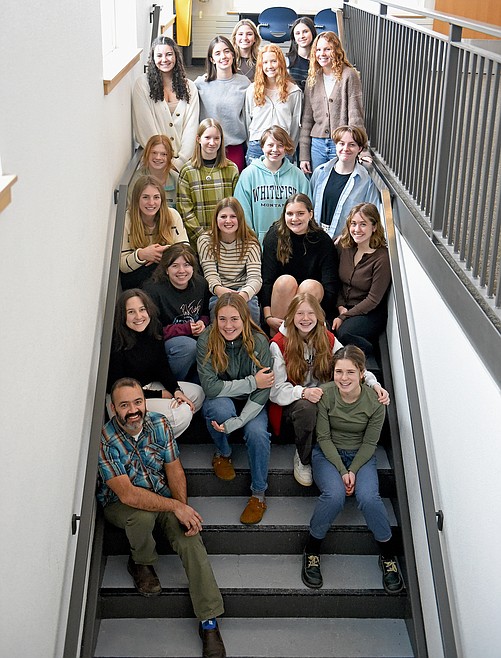 Members of the Whitefish High School Leo Club, a division of the Lions Club, pose for a photo during a club meeting last week. (Whitney England/Whitefish Pilot)
Previous
Next
by
WHITNEY ENGLAND
Whitefish Pilot
|
February 1, 2023 1:00 AM
Two Whitefish High School students this year took the initiative to restart the Leo Club at their school as a way to be more involved in the community and help other students also find fulfillment through service.
WHS seniors Rya Hirsch and Avery Dunker, president and vice president of the Leo Club, saw a need for a service-oriented club on campus that wasn't tied to academics. Clubs like the National Honors Society require students to have a certain GPA and are by invitation only. Hirsch and Dunker wanted the Leo Club to be more inclusive of all students.
"The thing we like about it so much is it's not academic based… we wanted this to be inclusive for everyone," Hirsch said. "We thought that there wasn't anything we had at the school right now that fit those standards."
There was a Leo Club, which is a youth organization associated with the Lions Club International, at Whitefish High School in previous years but it fell away after the seniors running it graduated several years back. Hirsch was inspired to bring it back and with the support of Dunker and club advisor Damian Estrada, they attracted over 20 members to join the club.
The idea for the club was contingent on getting enough students to join so it could be a sustainable club that will continue on in the future. Hirsch and Dunker were the first members, invited their friends to join and enticed others to sign up on Club Day at the high school by providing snacks. It worked as 15-20 members consistently show up for meetings now.
Leo stands for "Leadership, Experience, Opportunity" according to the Lions Club website. A Leo Club is dependent on a Lions Club to sponsor and initiate the Club. The local Whitefish Lions Club agreed to sponsor WHS's Leo Club and Lions' member Audra Tasa is the club advisor. Leo Club is even able to apply for grants through the Lions Club to help with various projects.
"The Lions Club has been super helpful throughout the whole process of getting this club rebooted again," Hirsch said.
So far the Leo Club has had a few successful projects with more in the works. In the fall and spring, club members do trash cleanup on a stretch along Big Mountain Road that the high school is responsible for. The club also wrote cards to seniors living at retirement homes during Thanksgiving and hosted a holiday food drive in December. The drive collected nearly 1,000 pounds of food that were donated in part to North Valley Food Bank and also helped kickstart the new PAWS Pantry, a food bank directly for high school students, that is located at WHS.
Now the Leo Club is organizing the Kiddie Carnival, a Whitefish Winter Carnival event that has been on a hiatus since the previous club dissolved. The Kiddie Carnival acts as the Leo Club's main fundraiser while also providing a fun child-friendly event for the community.
To get ready for the Kiddie Carnival, Hirsch and Dunker say the club has been going through the old games and updating the inventory. They bought prizes, made posters and will be donating their time to run the event. They also recruited help from NHS and the Lions Club to assist in running the booths. The Kiddie Carnival is on Saturday at the Whitefish Middle School from 10 a.m. to 1 p.m.
DUNKER AND Hirsch hope the club will continue on after they graduate in the spring. They say there are a lot of passionate members that will hopefully step into bigger roles.
"A big goal for us restarting the club was to get a lot of involvement from everybody, but also underclassmen who would be able to continue it on and have a background knowledge for what's going on," Dunker said.
Both students took on this large task of starting the Leo Club again during their senior year because they love the community they call home. Hirsch says she grew up in Whitefish and has grown an appreciation for everything local residents do and how influential they are in young people's lives.
"For me, Leo Club is kind of a way to get out into the community a bit more, not just by myself though. One thing that I really like about the club is that so far we've been a pretty tight-knit club… It's really cool to see all of us together getting out into our community," Hirsch said.
Dunker agreed, adding that she moved here from a big city and has always appreciated the small-town feel of Whitefish.
"The community is very welcoming to anybody who is new here. I've always really appreciated that," she said. "So through this club, being able to be involved in the community more and help give back to the community has been a really big part. It's nice to feel like you are contributing to something that's been a big part of your life."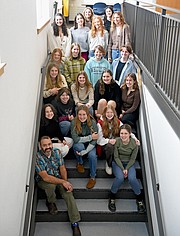 Recent Headlines
---