Maya Lacey signs with Carleton College for soccer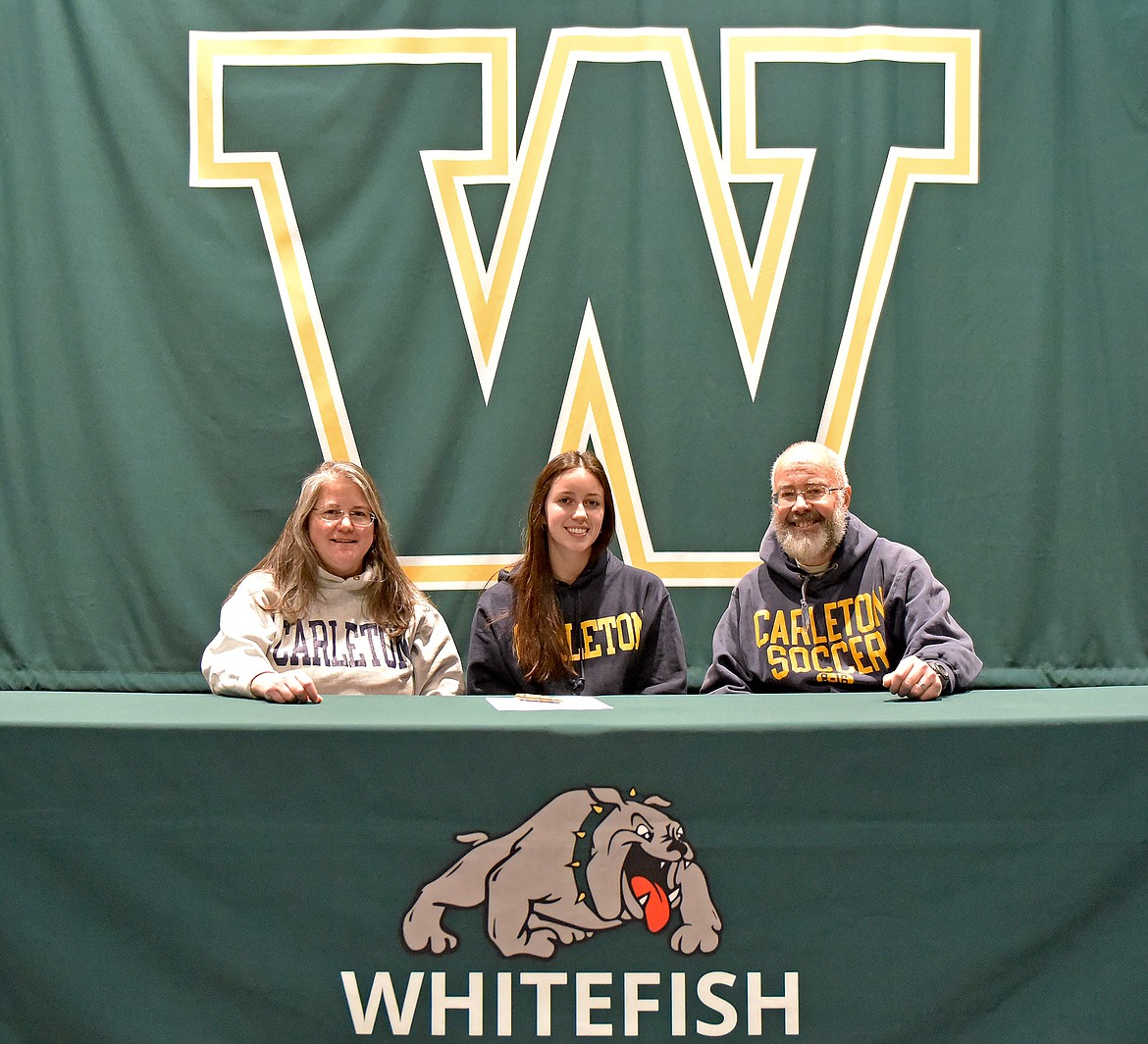 Whitefish High School senior Maya Lacey last week signed a letter of intent to play soccer at Carleton College in Minnesota. She had friends, family and coaches there to support her on signing day. Pictured from left to right is her mother Dana Lacey, Maya Lacey and father John Lacey. (Whitney England/Whitefish Pilot)
by
WHITNEY ENGLAND
Whitefish Pilot
|
February 1, 2023 1:00 AM
Whitefish soccer captain and four-year varsity starter Maya Lacey will play at the collegiate level in the fall.
Last week she signed a letter of intent to play soccer for Carleton College in Northfield, Minnesota. Lacey says both of her parents attended Carleton and her brother is currently a junior there, so the school has been on her radar. Until recently she was unsure if she wanted to play soccer at the next level, but touring some schools during junior year made her want to pursue the goal.
"That's when I realized that I might want to keep playing soccer to have that kind of soccer family to help me with my transition into college," Lacey said.
Last spring she went to Carleton to visit her brother and did a clinic with the team. It felt like a good fit for her.
"I really love the coach, I really love the campus and I got to play with about half of the players there, they were all super kind," she said. "It made me realize that I want to continue playing soccer and Carleton seemed like a really good fit for me."
Lacey, who was a top defender for the Bulldogs and then made a switch to central midfield for her senior season, will bring plenty of talent to Carleton. Lacey was selected as Class A All-State her senior year and was second-team All-Conference for both her sophomore and junior seasons.
In her senior year, the majority of plays ran through Lacey and she was able to keep control through the midfield to set up her teammates. The Whitefish soccer team lost in the State A final to Billings Central, though had an unforgettable playoff run defeating Laurel and Hamilton both in overtime.
Lacey is most looking forward to meeting new people and being in a new environment. She plans to major in biology.
Recent Headlines
---