Bulldog golf starts its season in windy conditions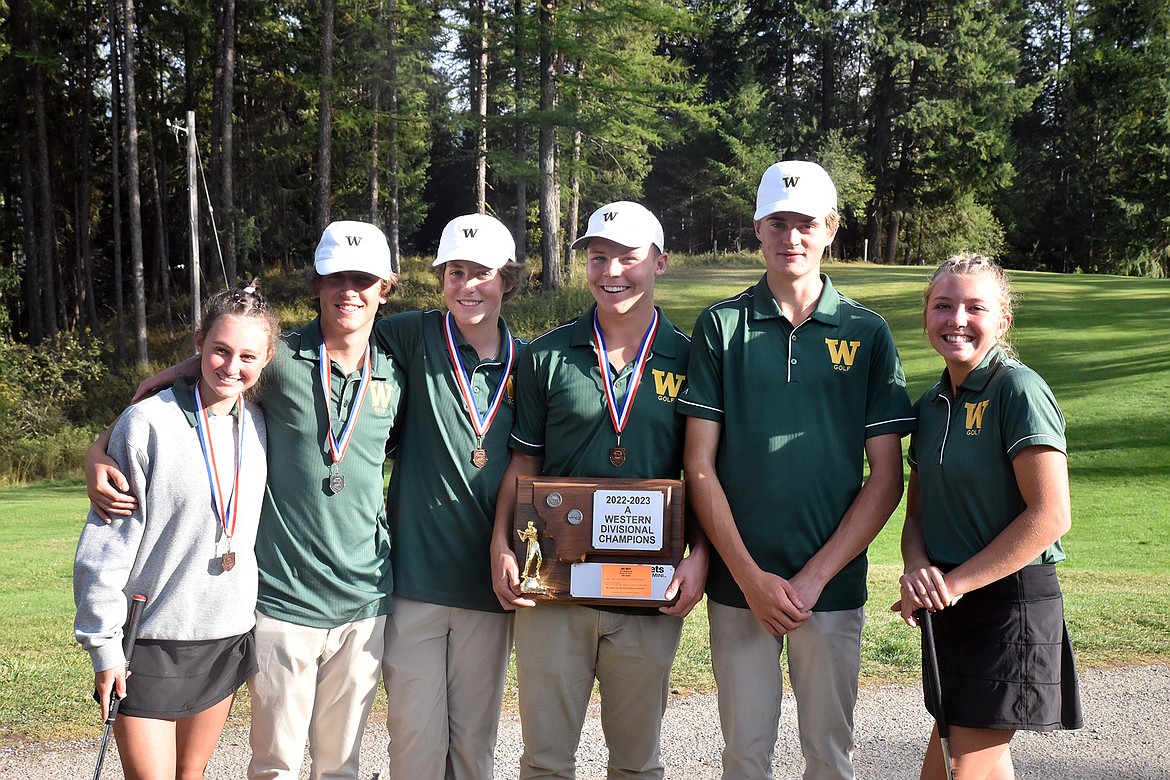 Whitefish High School golfers took second at the Western A Divisional last year. (Scott Schindledecker/Western News)
The Whitefish High School golf teams traveled to Shelby for the Browning Invitational on Aug. 18 at the Marias Valley Golf and Country Club.
Conditions were difficult, as the afternoon saw wind gusts up to 40 miles per hour. The fast greens made scoring a challenge. Despite the weather, the results were solid for the team's first outing of the season.
The Bulldog boys team secured fourth place behind a strong Polson team. Polson's Carson Hupka shot a 75 and his teammate, Christian Lund came in third place with a 78.
"Riley Brown put up a solid 79 for us to anchor our boys team," said Whitefish Coach Tait Rocksund. "For the girls team, Ryhlee Scott shot 93 in her first ever high school tournament on a challenging golf course in tough conditions."
Polson won the girls team competition, too, with Ashley Maki shooting an 81 behind Frenchtown's Katie Lewis who shot the best for the day with a 74.
Despite the challenges, Rocksund enjoyed the course and he is looking forward to future tournaments.
"Marsias Valley Country Club was in excellent shape and was great prep for the state tournament in Sidney," he said.
Whitefish's golf teams are a little younger this year, but the opportunities remain for a successful season.
"I think this year, we have a younger team," Rocksund said. "We are only returning two players that made it to state last year. That being said, we are very athletic and have a lot of opportunity to improve over the course of the season."
On the boy's side, Riley Brown will be the leader this year after qualifying for state last year. Tait also added that the Bulldogs have three boys who can shoot in the 80s: Otto Klein, Christian Schwaderer, and Aiden Rickels.
"Elijah Adams-Griffin will be playing in a few tournaments for us, trying to balance golf and soccer," Rocksund said. "He's very athletic and can make an impact as well."
The girls will be anchored by senior Leia Brennan and sophomore Ava Zignego. Brennan qualified for the state golf tournament last year.
"We have Ryhlee Scott and Karlee Brown, who is Riley Brown's sister, as freshmen to watch," Rocksund said. "Rhylee shot a 93 in 40 mph wind gusts in her first-ever high school tournament at Marias Country Club. She's definitely going to make an impact for us."
Rocksund said he expects Laurel, Polson, and Livingston to mix it up as top teams this year for the boys, while Polson girls and Hamilton should be powers.
"It will be competitive on both sides in order for a team to qualify for state," Rocksund said. "Lots of teams close for third and fourth seeds to come out of the divisional tournament. Looking forward to hosting the divisional tournament this year."
While young, Whitefish has a lot of potential to improve throughout the season and compete for a spot at state in Sidney.
The Bulldogs head to Ronan on Thursday for their next tournament.
Results:
Boys Teams: Polson 26, Columbia Falls 60, Havre 75, Whitefish 76, Ronan 88, Frenchtown 94, Libby 158, Bigfork 184
Whitefish Boys: 5 Riley Brown 79, 17 Otto Klein 93, 18 Aiden Rickerls 93, 24 Christian Schwaderer 99, 31 Mason O'Neil 103
Girls Teams: Polson 87, Havre 115, Bigfork 141, Frenchtown 152, Browning 202
Whitefish Girls: 5 Ryhlee Scott 93, 12 Ava Ziyneyo 103, 14 Leia Brennan 105
Recent Headlines
---