Reflecting on growth in Whitefish Schools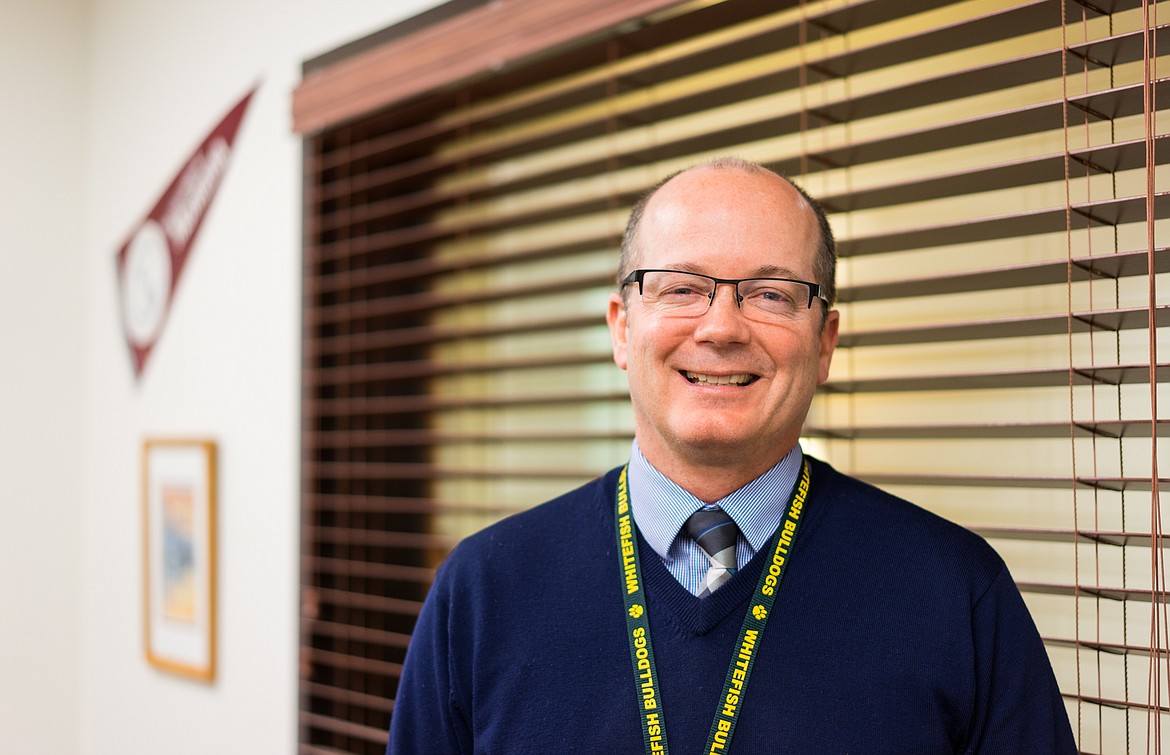 Whitefish School District Director of Educational Services Dave Means has been named Interim Superintendent for the district. (Daniel McKay/Whitefish Pilot)
by
By Dave Means
|
September 28, 2022 1:00 AM
Dear Whitefish Community,
As we begin autumn, I'd like to reflect on change and progress in Whitefish Schools. We've had a fantastic start to the school year! It has also been wonderful to see the pride demonstrated in homecoming week as it represents the beginning of fall and is also a time for reflection, celebration, and looking forward.
I arrive to work each day excited and honored to serve our students, families, faculty, and staff. The excellence of education and community support for our schools is tremendous. Whitefish High School has again earned national and state rankings in "2022 Best High Schools," published by U.S. News. We are ranked as one of the best schools in Montana and the nation. This does not happen by accident.
Our staff, administration, board of trustees, and the students of our entire school district are dedicated to our success. We are also fortunate to have tremendous support from our parents and the Whitefish community. Over the past several years, we have been through many challenges, but by working together we have remained focused on the success of each student.
Last school year we spent some time in our Enrollment and Facilities Committee evaluating the growth we are seeing in our schools and developing our WSD Long Range Facility Plan. While we celebrate what we have accomplished, there is a vital need to look forward. Ten years ago, 1,567 students were enrolled in the Whitefish School District. Today, 1,902 students attend classes. We anticipate a 2% annual growth based on the 10-year average and our capacity at Whitefish High School is now nearly met.
We currently have 593 students at the high school and our expected enrollment for next year is beyond the 600 students the high school has been designed for. Due to current limitations on classroom space, we are using the WSD annex for four classrooms and the Sustainability Center for two classrooms. You can learn more by visiting our website at whitefishschools.org and clicking on the document titled "WHS Expansion–Growth in Our Schools".
Our needs for a high school expansion go beyond enrollment and traditional classrooms. Career and technical education interests are continuing to grow and our classrooms are unable to expand due to space limitations. Our sports teams also need expanded facilities, as they have limited access to on-site practices and games. Ten years ago, 400 students participated in activities. Today, more than 500 students choose to join our teams and clubs.
We also want to increase our elective courses and integrate our instruction with math and other core subjects. Ten years ago, we offered four AP classes at the high school. Today, we offer 10. Beyond accelerated course offerings, flexible spaces are needed for classrooms to offer hands-on experience, career and technical programs, building trades, culinary arts, biotechnical offerings, and more.
Just in the past year, we have doubled our career and technical internship opportunities from 21 to 40 — and we want to keep expanding these programs for our students. These internships, as well as other career and technical education-focused courses, will provide both learning opportunities for our students, as well as opportunities to help support our community.
These are excellent challenges to have in a thriving community. We have created a stakeholder group to closely investigate the high school expansion and will seek input from the Whitefish community as we move forward through this process. Our first Community Engagement meeting will be held on Oct. 10 at 6 p.m. at Whitefish High School.
It has been great to see so many people come together during our homecoming events and festivities last week and this past weekend. It's a tremendous symbol and reminder of our schools and community working together.
Thank you for your time and input as we look to the future together!
Happy fall everyone!
Dave Means is Superintendent of the Whitefish School District.
Recent Headlines
---