Community members to participate in Soles of the Flathead fundraiser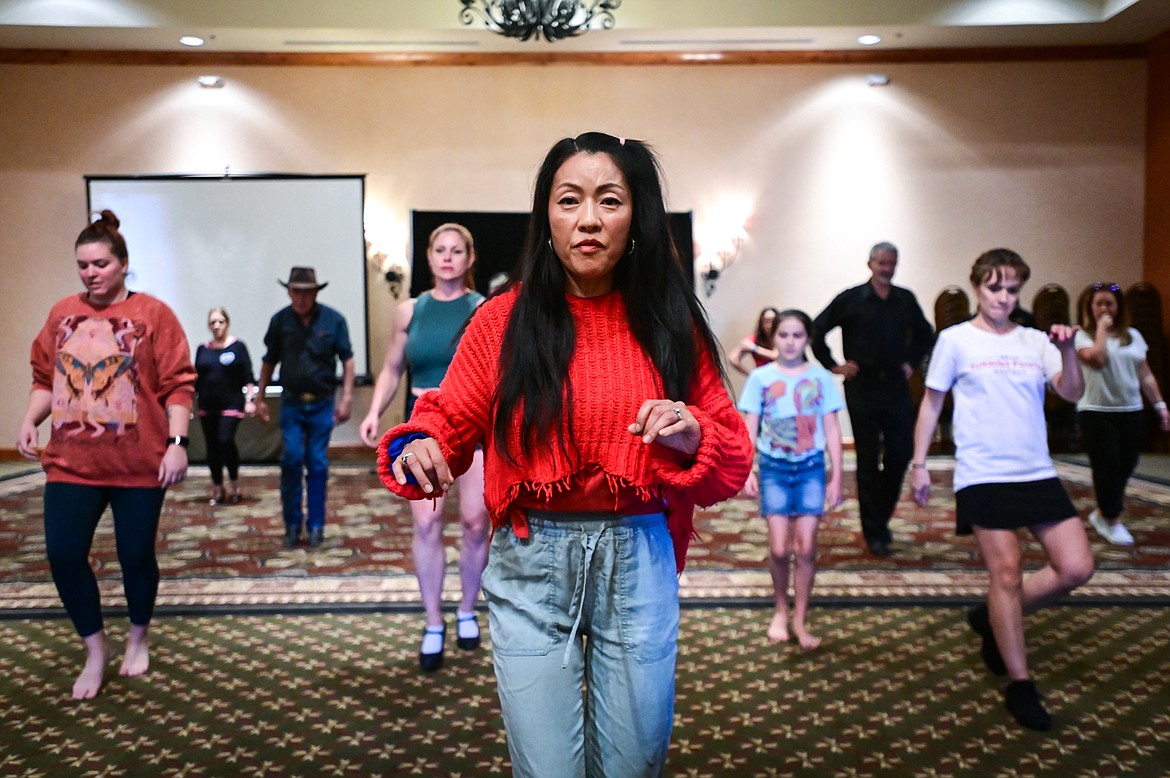 Hyesun Jang, CEO of HyesunLife Dance & Fitness in Whitefish, leads a line dancing lesson for contestants in the Soles of the Flathead Dancing With the Stars fundraiser for the Warming Shelter at the Hilton Garden Inn in Kalispell on Saturday, Sept. 10. (Casey Kreider/Daily Inter Lake)
by
HILARY MATHESON
Daily Inter Lake
|
September 21, 2022 1:00 AM
Local law enforcement and legal professionals will be kept on their toes at the inaugural Soles of the Flathead Dancing with the Stars gala and competition on Sept. 23 to benefit the Flathead Warming Center.
The night's stars include Flathead County Sheriff Brian Heino, Kalispell Police Chief Doug Overman, Public Defender Nick Aemisegger, Flathead County Attorney Travis Ahner, and David Boye of Black Diamond Mortgage in Whitefish.
Flathead Warming Center Executive Tonya Horn said law enforcement and legal professionals were the first group of people to come to mind when selecting participants for the fundraiser.
"We work so closely with them," Horn said, noting it's allowed them to work with community leaders in a new way.
"Part of my vision will be to find different niches within our community and highlight them for that year," Horn said.
She hopes to get community leaders from a variety of backgrounds involved in the center, who might not otherwise be.
Stars and their dancing partners will showcase the Argentine tango, cha-cha, line dancing (with a touch of swing and two-step), waltz and Viennese waltz. The couples were paired with local dancing instructors to rehearse the choreographed routines.
For some competitors, such as Heino, who will dance the Argentine tango with his wife, it's a new experience that has taken him far out of his comfort zone. When asked if he has any previous dancing experience Heino let out a quick laugh before replying.
"Nothing to the level we're looking at right now," he said. "We have a very good instructor."
Dancing the tango is not easy.
"For some people, it takes a couple of years to learn," he said.
The Heinos began at step one in August to perform at the September event. They've been working with Tony Popp, who founded a tango group in Kalispell.
"We're trying to commit two days a week to rehearsing," Heino said.
Flathead Warming Center volunteer Kjersti Day, who is serving as the gala production manager and director, also commended their efforts.
"As these couples have had little to no dance experience whatsoever, for them to put themselves on display in such a vulnerable way is to be commended," Day said. "None of these traditional dance forms are easy. From posturing and timing, to expression and connection, these couples are learning to master it all in a very short amount of time. In my eyes they are winners and all thanks to the gifts and sacrifice of our local professional dance instructors who all devoted many hours working one on one with each of them."
In addition to learning the dance, Heino said Popp taught him about the historical aspects of the Argentine tango, which is known for its close embrace and bold, sweeping movements.
"It's going to be a fun evening," he said. "I think it's good to spend time focusing on family, community and learning something new with my wife of 21 years."
From a law enforcement perspective, Heino said the warming shelter offers a low-barrier option for homeless people who need immediate or temporary shelter. Low-barrier means requirements for entry are minimal as opposed to traditional longer-term shelters.
Last winter, the Flathead Warming Center served 349 people seeking shelter from the weather, food and access shower and laundry facilities. The center was also open in the summer to provide continued access to showers, laundry and food. During the summer, 140 people were served. The center also brings in other agencies and nonprofits such as the Job Service and Shepherd's Hand to provide job services and medical care, for example.
While tickets to attend the gala in person have sold out, people may still contribute to the cause by purchasing $25 tickets for access to watch the event online. The gala will be held from 6 to 9 p.m. with an opening dance by all the night's competitors.
So far, about $50,000 has been raised through ticket sales, sponsorships and donations.
For more information, or to purchase tickets visit flatheadwarmingcenter.org.
Recent Headlines
---