Whitefish's Billy Smith takes honors in Libby tourney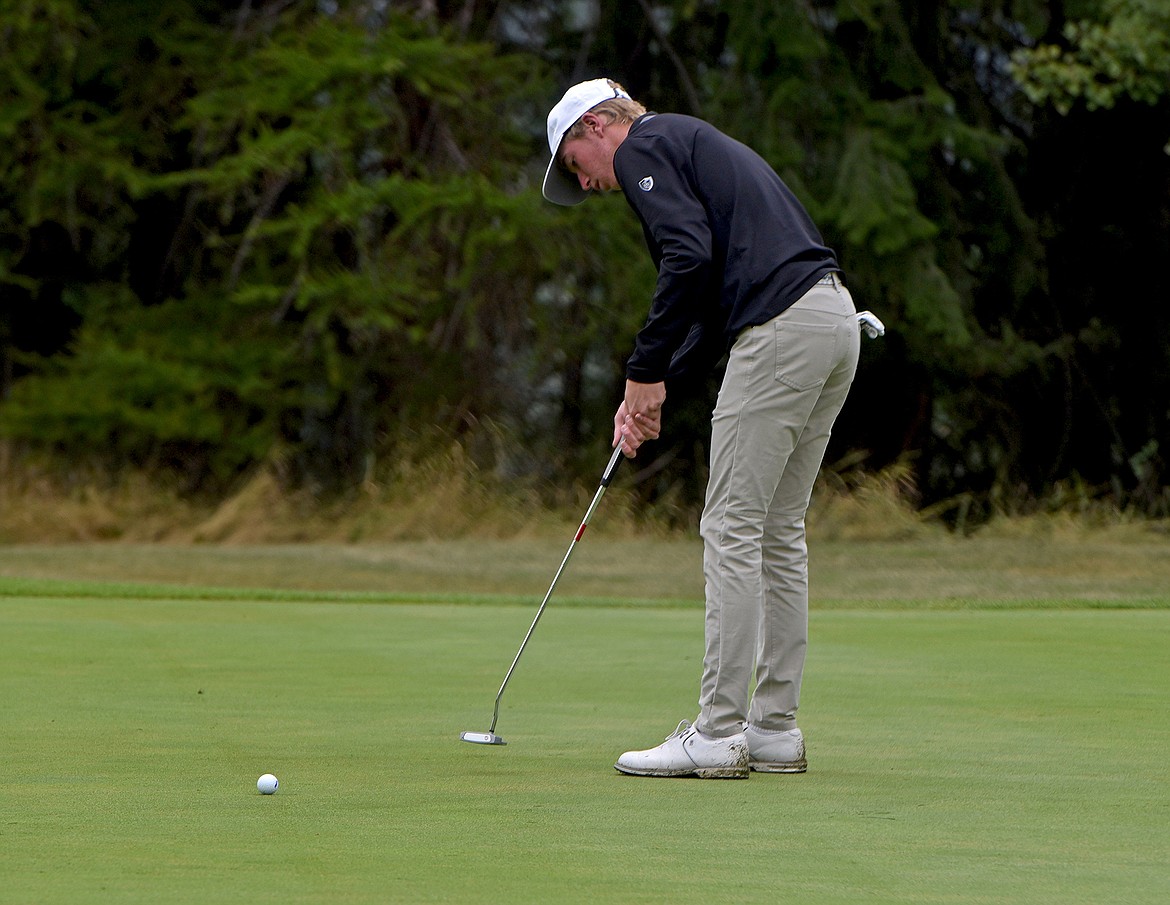 Bulldog Billy Smith completes a putt on his way to taking medalist honors at the Libby Invite on Friday. (Scott Shindledecker/Western News)
by
JULIE ENGLER
Whitefish Pilot
|
September 14, 2022 1:00 AM
Last Friday Bulldog golfers competed in the Libby Invitational on the Cabinet View Golf Course. The Whitefish boys took second place and Billy Smith was the top golfer of the day.
Polson won the team scoring with 313, Whitefish finished in second with 316 and Corvallis took third with 338
"This was a great warm-up for the Western A Divisional tournament, which will be in Libby in two weeks," said Whitefish coach Tait Rocksund.
Bulldog Billy Smith shot an impressive 71 while teammates Johnny Nix and Matthew Peschel finished in the top eight, scoring 76 and 79 respectively.
"Billy brings a strong presence to the golf course and is a great leader for us," Rocksund said. "Johnny Nix and Matthew Peschel also are consistently in the 70s and are reliable to put up competitive numbers."
Polson won the girls team scoring with 383.
Individual girls results saw Katie Lewis on top with 81. Ashley Maki scored 88 for second place while Brooklyn Brown and Tayler Hadley tied for third with 92.
Bulldogs Stella Jaffe and Leia Brennan came in 13th and 14th places, just two strokes apart.
"Stella Jaffe put up a decent score for us, 100, on a difficult golf course," Rocksund said. "Stella has a lot to build on from this tournament and will have a different strategy on a few holes for the Divisional tournament. Leia Brenna played great, shooting a personal best 102."
The golf teams have a big week with an invite in Polson on Sept. 12, the two-day Kalispell Invite on Sept. 14-15, and an invite in Hamilton on Sept. 17.
Libby Results
Boys Team: 1. Polson 313, 2. Whitefish 316, 3. Corvallis 338, 4. Hamilton 358, 5. Columbia Falls 362
Boys Individual: 1. Whitefish Billy Smith 71, 2. Brady Powell 73, 3. Reece Malyevac 74, 4. Johnny Nix 76, 5. Hunter Emerson 77, 5. Espn Fisher 77
Girls Team: 1. Polson 383
Girls Individual: 1. Katie Lewis 81, 2. Ashley Maki 88, 3. Brooklyn Brown 92, 3. Tayler Hadley 92, 5. Cambree Praast 93, 5. Kylee Seifert 93
Recent Headlines
---