Bulldog spikers battle with CFalls; pick up win over Browning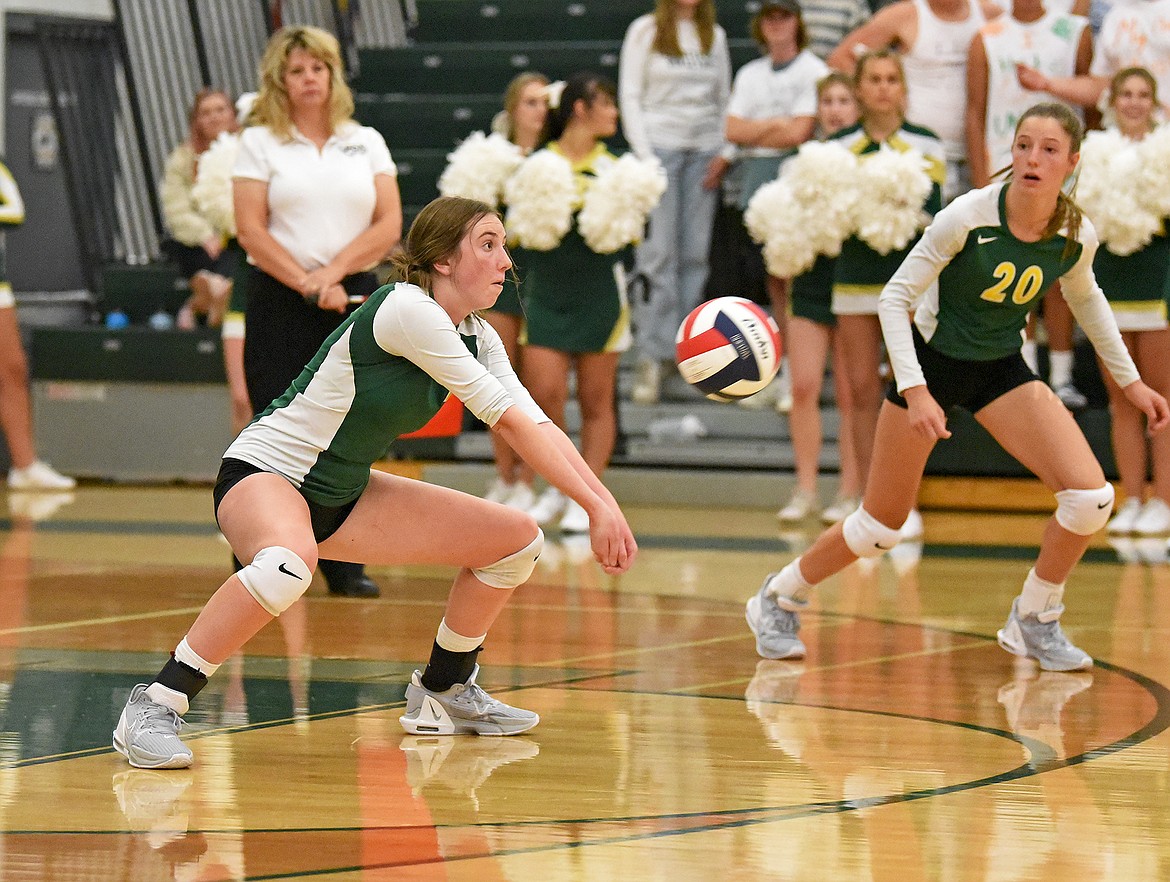 Whitefish's Myli Ridgeway passes the ball in a match against Columbia Falls on Thursday in Whitefish. (Whitney England/Whitefish Pilot)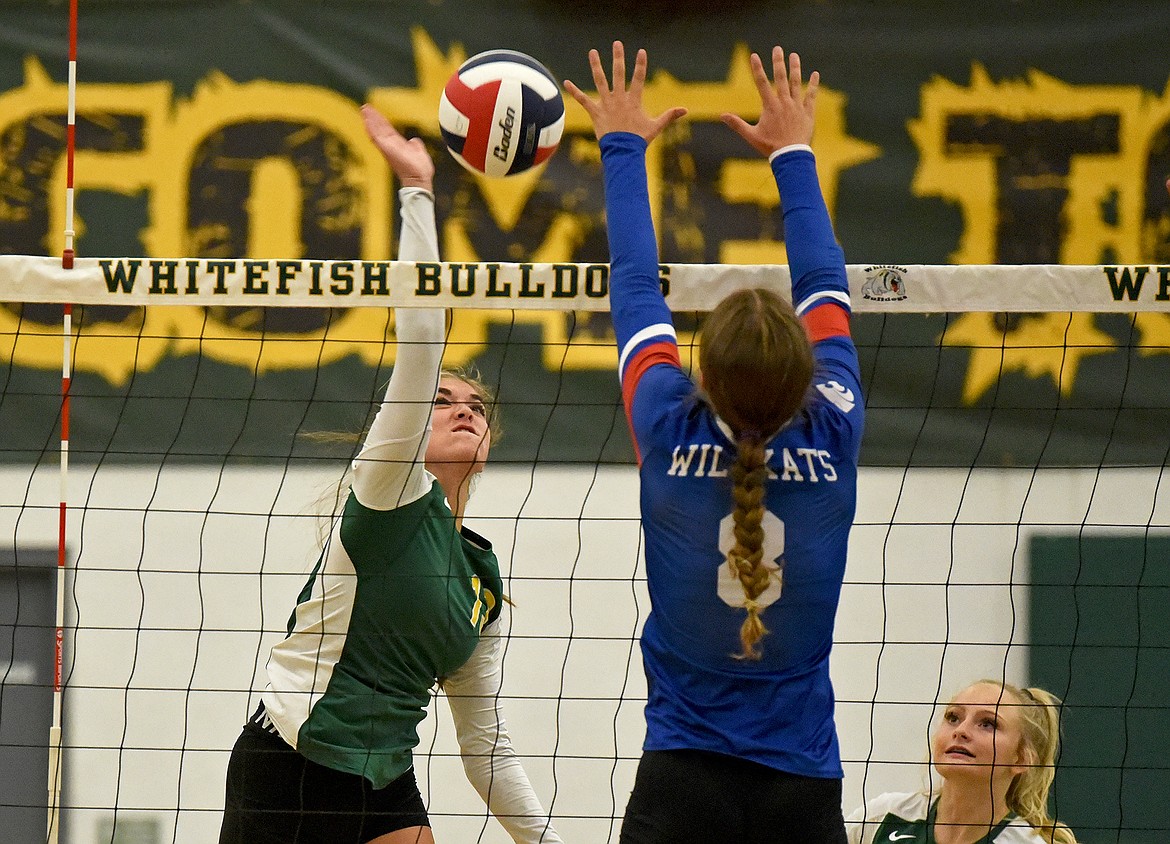 Whitefish's Nayvee Miller spikes the ball over the net in a match against Columbia Falls on Thursday in Whitefish. (Whitney England/Whitefish Pilot)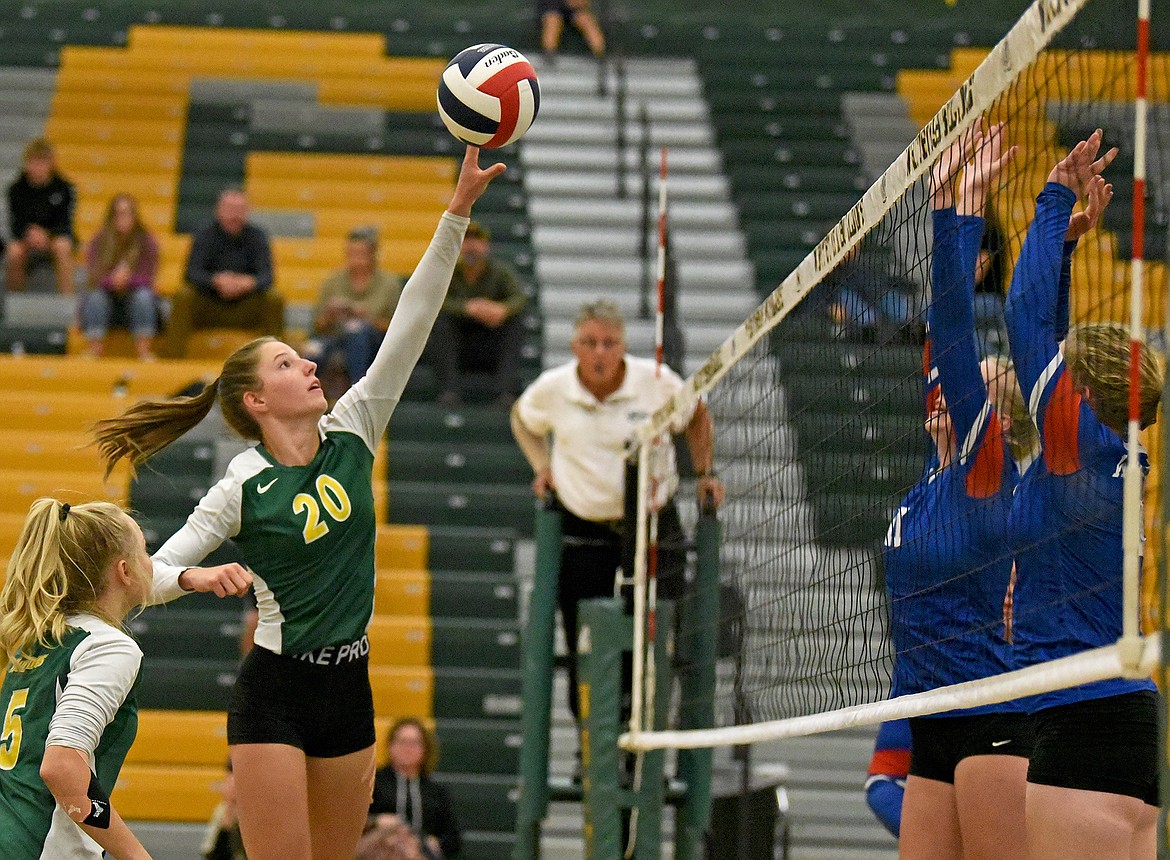 Whitefish's Hailey Ells looks to hit the ball back over the net in a match against the Wildkats on Thursday. (Whitney England/Whitefish Pilot)
Previous
Next
by
WHITNEY ENGLAND
Whitefish Pilot
|
September 14, 2022 1:00 AM
To the final set, Whitefish spikers battled back and forth with Columbia Falls all the way through the last point but fell in five sets in the end.
The Wildkats topped the Lady Bulldogs in the rivals' first meeting of the season — 28-26, 15-25, 25-19, 20-25, 17-15.
After barely falling to Columbia Falls in the first set, Whitefish responded well by getting a significant lead on the Kats early in the second which helped them take the set 25-15. The Wildkats battled back in the third and Whitefish responded in the fourth to push the match to five sets.
In the fifth set, both teams showed their strengths on the court and several points were long with each team fighting for the win.
"(It was) a battle to the very end, CFalls came out on top in five," Whitefish coach Addy Connelly said. "Brooke Zetooney had a stand-out game after returning from an injury while Isabella Hartwig was a force at the net.
"Hailey Ells led us in the backcourt… These girls continue to fight and are figuring out how to play on a varsity court," Connelly added.
In her return to the court, Zetooney lit up the net with 17 kills and also recorded three aces. Sophomore teammate Isabella Hartwig had 15 kills and also a team-high six blocks.
Ainsley Scott led Whitefish in assists with 19 and Ells earned 14 digs for the home team.
For Columbia Falls, Maddie Moultray led her team with 15 kills, Kierra Kiemppainen had 32 assists and Demye Rensel recorded eight digs.
On Saturday, Whitefish picked up its first win outside of the Tip-off Tournament when the team defeated Browning in five sets. In that match, Zetooney led again with 10 kills and six aces. Myli Ridgeway had a big day hitting as well with eight kills and picked up 10 digs.
"Myli Ridgeway was our constant on the day all the way around. It was a good game for us to dig deep and fight our way out the hole we had dug ourselves," Connelly said.
Whitefish was scheduled to play in Polson on Tuesday after press time. Then the Bulldogs will travel to Libby on Thursday.
Col. Falls 3, Whitefish 2
28-26, 15-25, 25-19, 20-25, 17-15
Aces — Whitefish 14 (Ainsley Scott 4); Col. Falls 12. Kills — Whitefish 48 (Brooke Zetooney 17, Isabella Hartwig 15); Col. Falls 42. Assists — Whitefish 38 (Scott 19, Kaydence Blackwell 17); Col. Falls 38. Blocks — Whitefish 10 (Hartwig 6); Col. Falls 7. Digs — Whitefish 50 (Hailey Ells 14); Col. Falls 34.
Whitefish 3, Browning 2
Full stats were not available.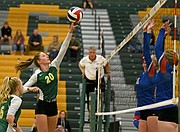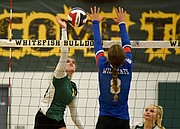 Recent Headlines
---