Bulldogs big 4th quarter plays seal win over Maroons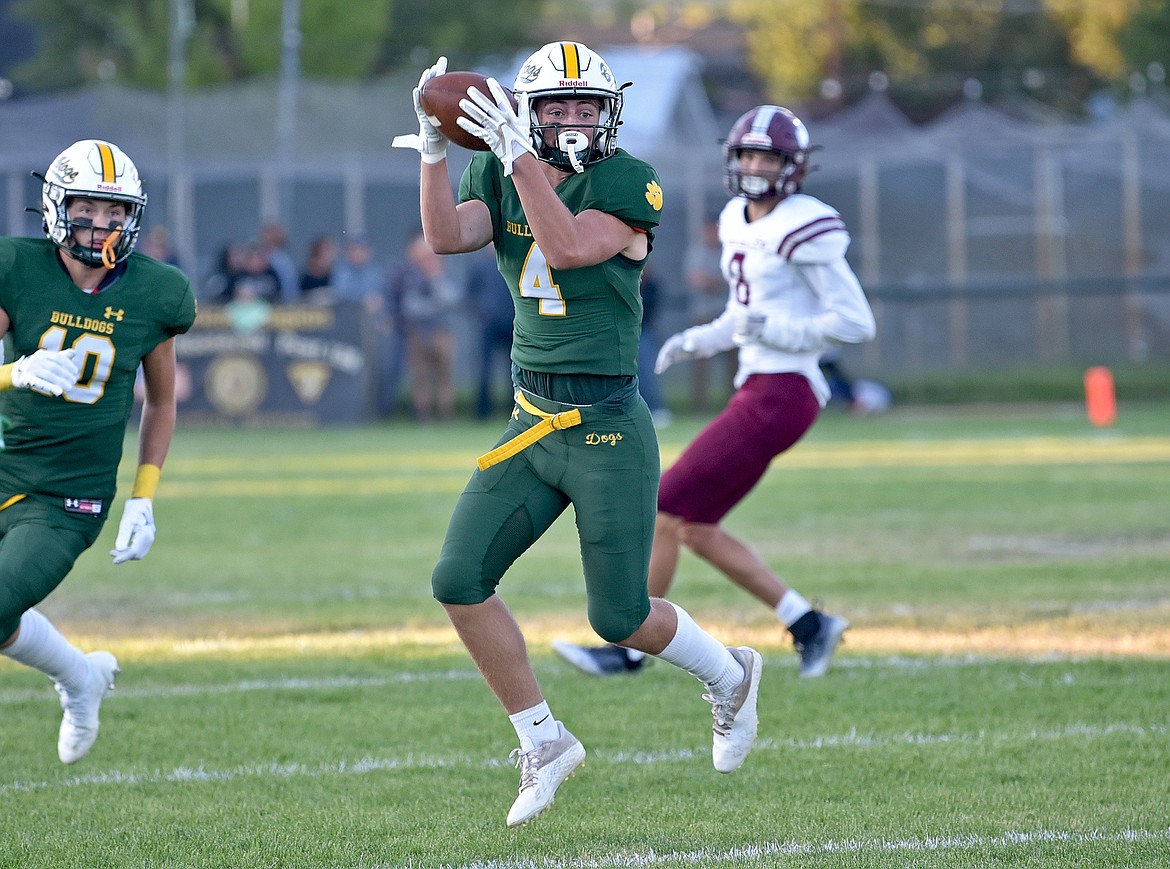 Bulldog Dane Hunt catches an interception in the first half of a game against Butte Central on Friday in Whitefish. (Whitney England/Whitefish Pilot)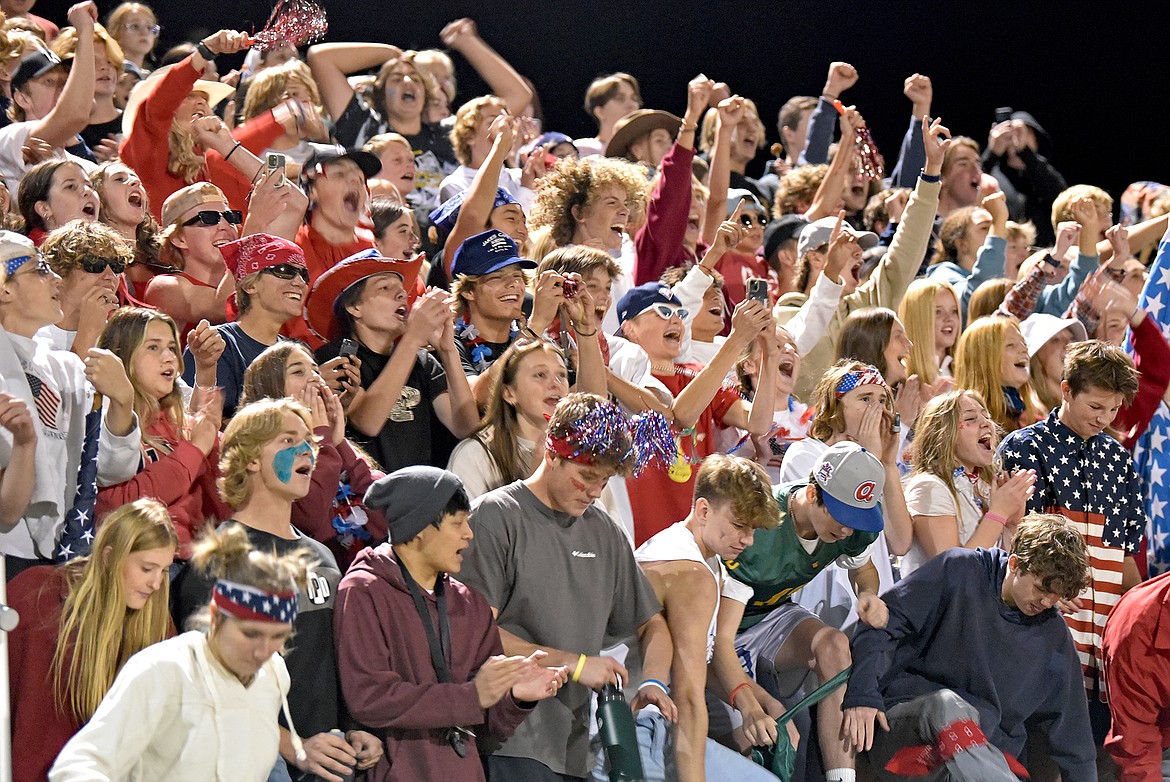 The Whitefish High School student section goes wild as the Bulldogs win over Butte Central on Friday night. (Whitney England/Whitefish Pilot)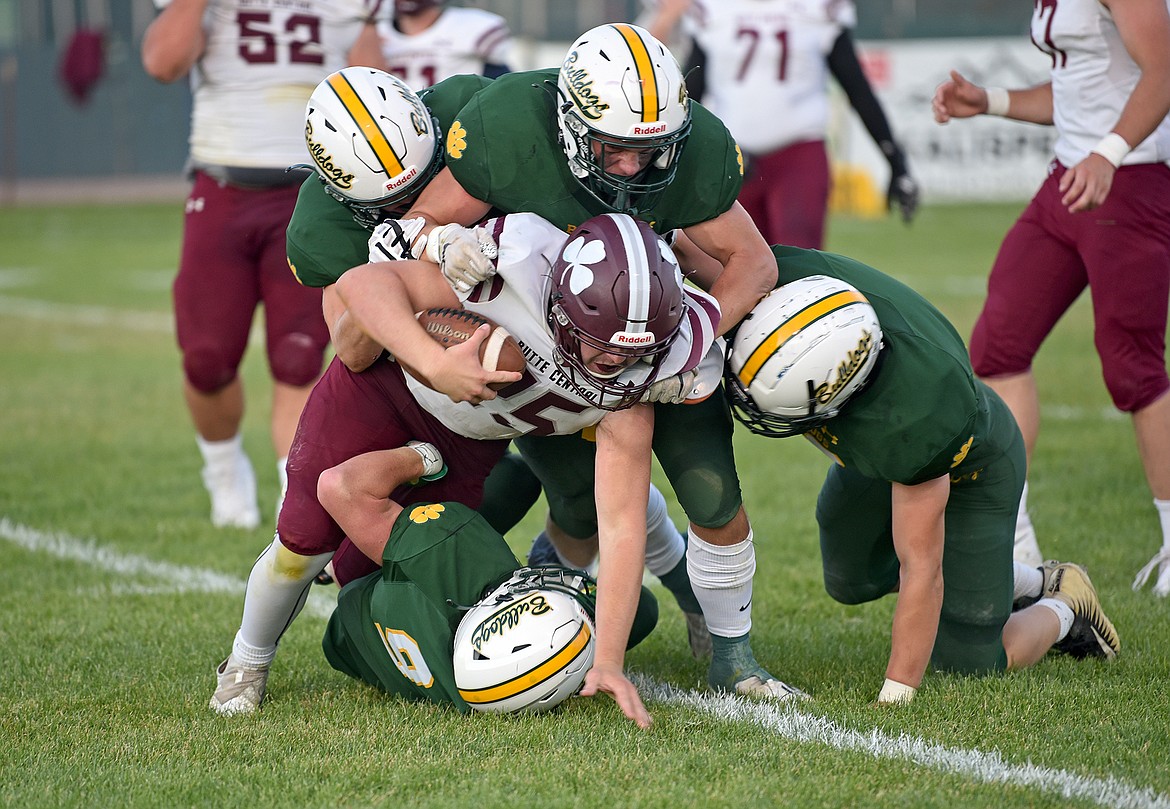 Multiple Bulldogs take down a Butte Central player for a loss of yards in a game on Friday in Whitefish. (Whitney England/Whitefish Pilot)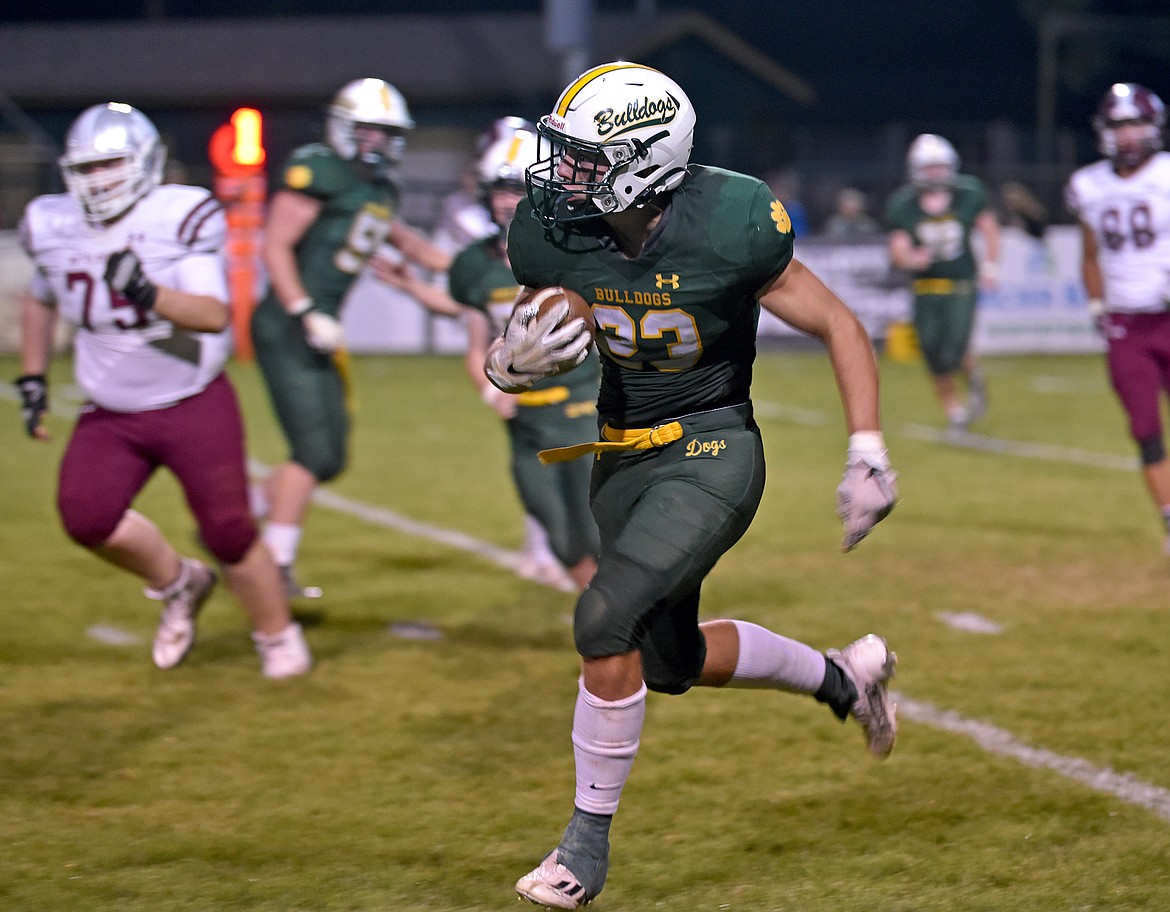 Whitefish's Ty Schwaiger returns a kick near the sideline during a game against Butte Central on Friday in Whitefish. (Whitney England/Whitefish Pilot)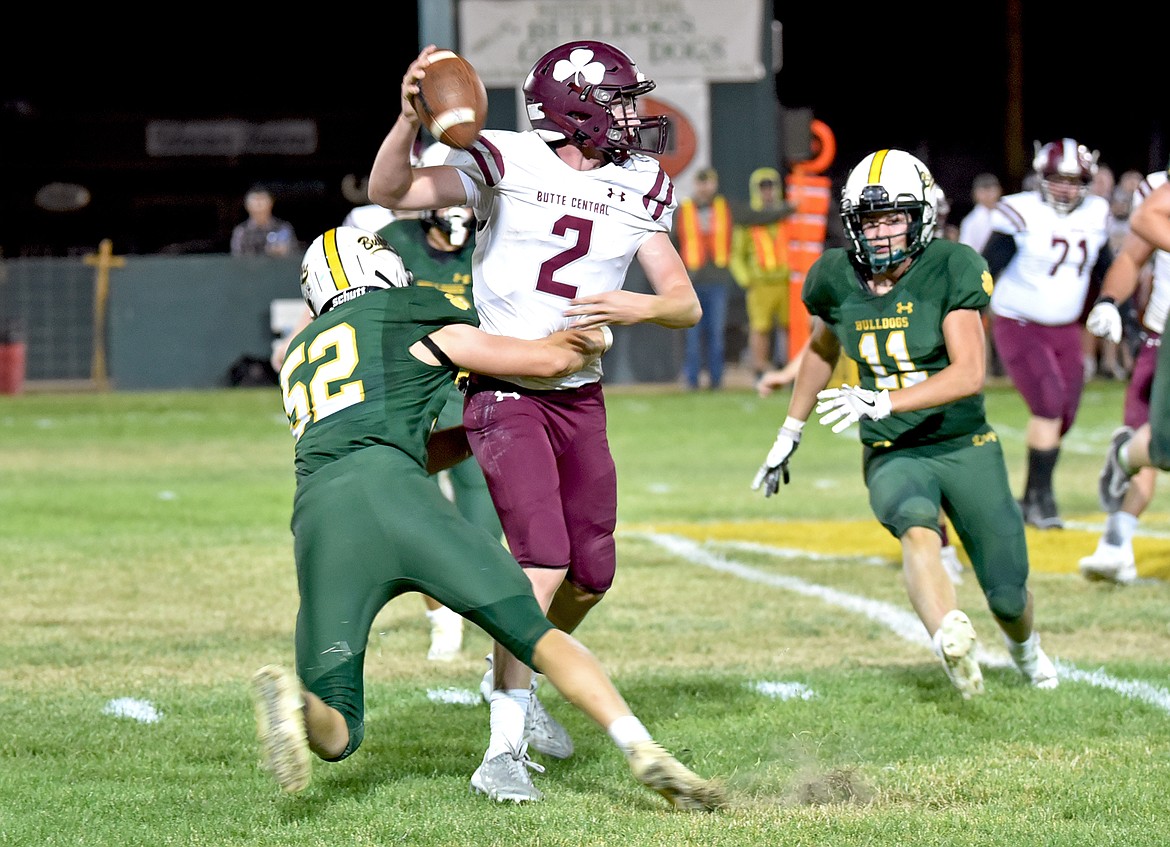 Whitefish's Henry Bennetts (52) breaks through the line for a sack on Butte Central quarterback Jack Keeley in a game on Friday in Whitefish. (Whitney England/Whitefish Pilot)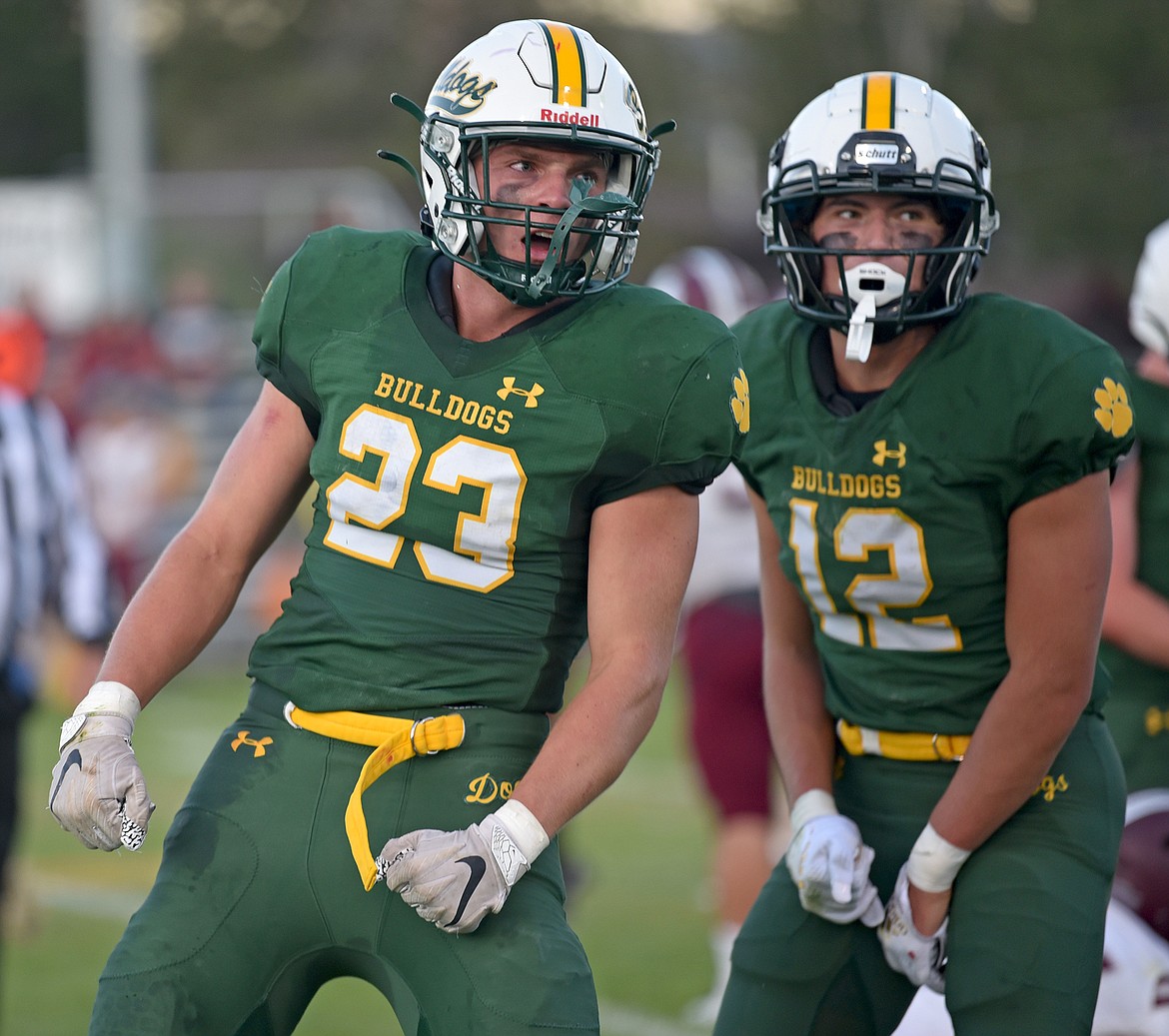 Whitefish players Ty Schwaiger and Luke Moses celebrate a big defensive play in a game against Butte Central on Friday in Whitefish. (Whitney England/Whitefish Pilot)
Previous
Next
The Whitefish Bulldogs were all smiles after jumping out to a 21-0 lead in the first quarter, but Butte Central fought back and made it a close game on Friday in Whitefish.
It took a fourth-quarter touchdown by Bulldog running back Ty Schwaiger and an interception by Whitefish's Mason Kelch in the final minutes to seal the 34-20 victory over the Maroons. With the win, Whitefish improved its record to 2-1 this season.
"I was really pleased with our kids' will to win…" Whitefish head coach Brett Bollweg said. "We had a nice start to the game and then we started to let them back in by hurting ourselves a little bit, but we found a way to continue to move forward."
Schwaiger found the endzone early in the game for the home team with a 2-yard TD run and Whitefish quarterback Fynn Ridgeway led his team on another successful drive which he finished off with a 13-yard touchdown run to put the Bulldogs up 14-0 midway through the first quarter. Just a few plays into Butte Central's next drive, Bulldog Dane Hunt came down with the interception; that drive quickly turned into another Whitefish touchdown as Ridgeway broke through for a short run into the end zone.
The tide shifted in the second quarter when Whitefish began making some mistakes and were called for too many penalties. As the Bulldogs struggled to find their groove again, Butte Central compiled two solid drives behind the arm of quarterback Jack Keeley. The Maroons scored on a 1-yard run by Kyle Holter and then just before halftime Eric Loos caught an 8-yard TD pass that cut Whitefish's lead to 21-13 going into the break.
The Bulldogs tightened up their defense and cut mistakes in the third quarter while also putting up another touchdown after Clayton Godsey caught a big pass from Ridgeway to get into the red zone and then Ridgeway himself broke through tackles for a 33-yard rushing touchdown.
"Our offensive line did a really nice job on Friday night of giving our guys space — we have some pretty dynamic football players in the backfield there with Ty and Fynn," Bollweg said. "The offensive line, as selfless as those guys are, they moved the line of scrimmage for us."
The Maroons yet again cut Whitefish's lead in the final quarter of play, but Whitefish intuitively used up the clock and scored again with just 3 minutes left on the clock. As Butte Central tried to gain ground quickly, Kelch snagged a one-handed interception that sealed the win for Whitefish.
"We used the clock and we scored, Coach Roche did a great job of setting us up with our offense there and a lot of credit to him," Bollweg expressed.
"Mason's play was pretty cool, special play by that kid… he's a pretty talented and gifted kid," he added.
Ridgeway led the Bulldogs with 114 yards on 13 carries while Schwaiger had 69 rushing yards. Ridgeway also passed for 82 yards and one interception. Godsey brought down three passes for 60 yards. Kicker Ryder Barinowski also made his return from a small injury that kept him out the first two games and he was 4 of 5 on PAT attempts.
Bollweg also specifically called out the great work from the offensive and defensive linemen.
"I thought Montana Cohenour had a great game on the defensive line, he made a big difference for us up front," Bollweg said.
Whitefish will hit the road this week, facing Stevensville on Friday at 7 p.m.
Whitefish 21 0 6 7 - 34
Butte Cent. 0 13 0 7 - 20

W — Ty Schwaiger 2 run (Ryder Barinowski kick)
W — Fynn Ridgeway 13 run (Barinowski kick)
W — Ridgeway 1 run (Barinowski kick)
BC — Kyle Holter 1 run (kick failed)
BC — Eric Loos 8 pass from Jack Keeley (Tony Stajcar kick)
W — Ridgeway 33 run (kick failed)
BC — Holter 6 pass from Keeley (Stajcar kick)
W — Schwaiger 3 run (Barinowski kick)
Recent Headlines
---