Bulldogs threaten but Pirates hold on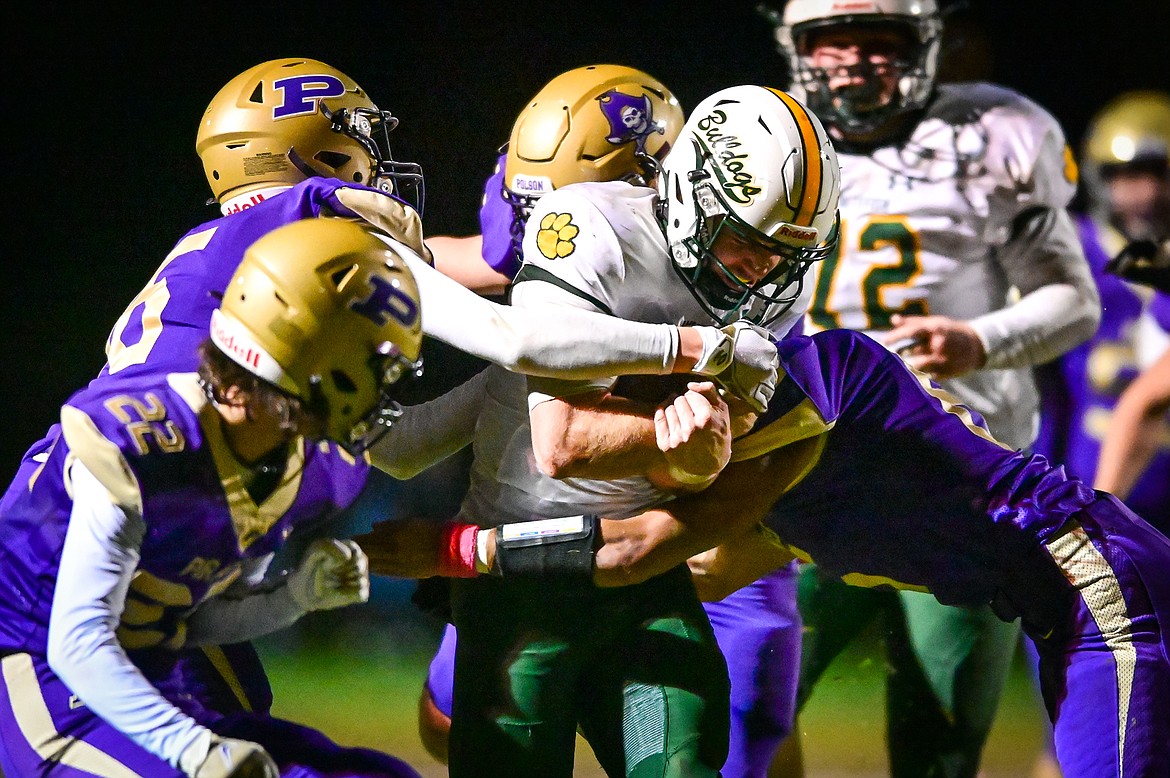 Whitefish quarterback Fynn Ridgeway (7) is swarmed by Polson defenders on a run in the second quarter against Polson at Polson High School on Friday, Oct. 21. (Casey Kreider/Daily Inter Lake)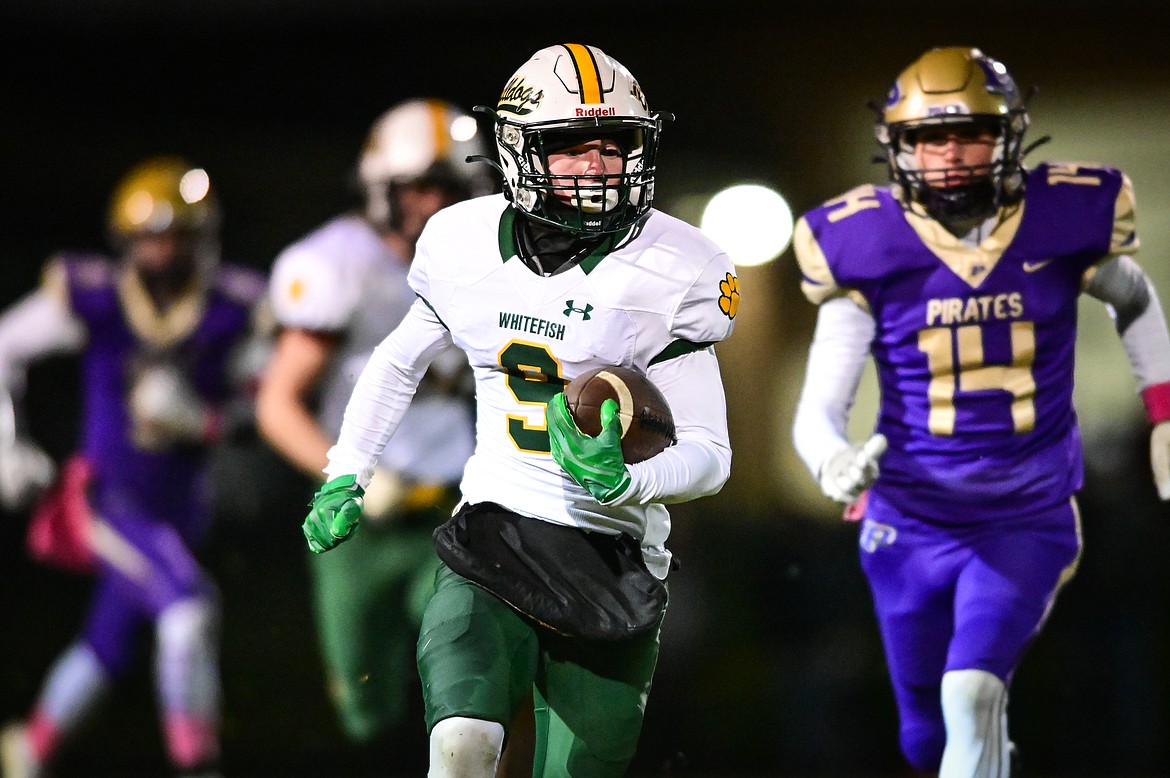 Whitefish kick returner Clayton Godsey (9) breaks a return into Polson territory in the first quarter at Polson High School on Friday, Oct. 21. (Casey Kreider/Daily Inter Lake)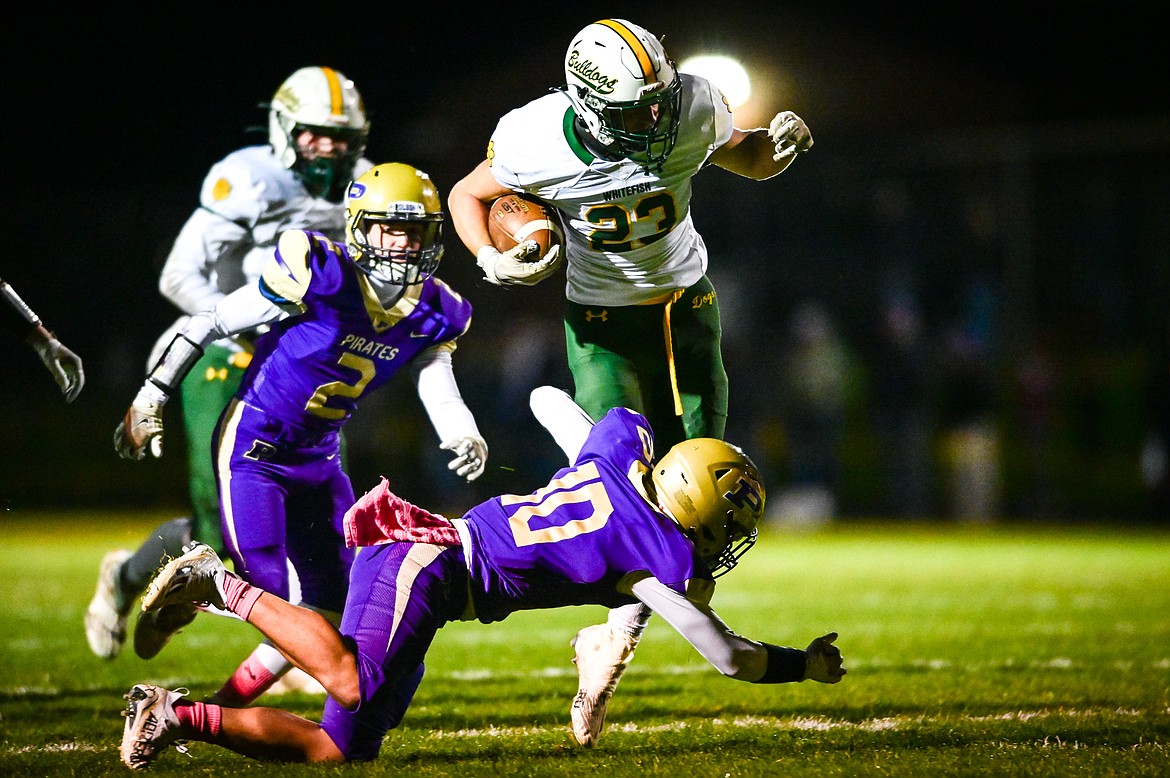 Whitefish running back Ty Schwaiger (23) picks up yardage on a first quarter run against Polson at Polson High School on Friday, Oct. 21. (Casey Kreider/Daily Inter Lake)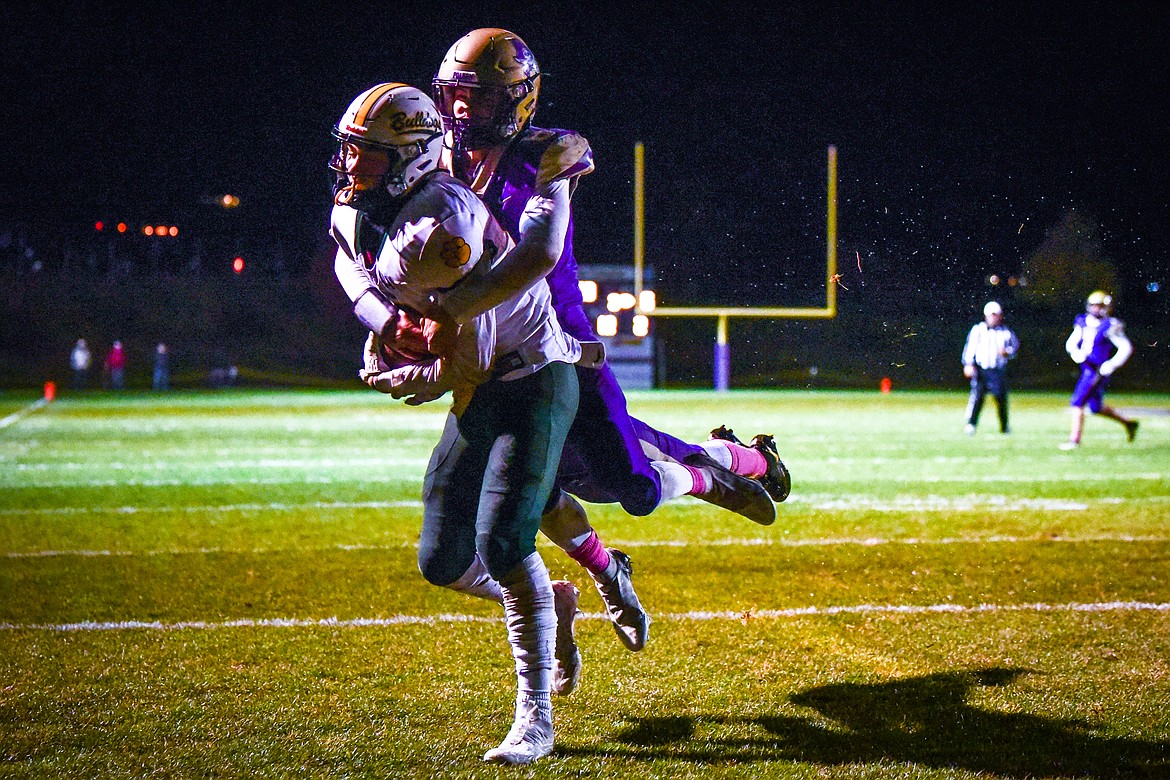 Whitefish wide receiver Mason Kelch (10) catches a pass for a touchdown in the second quarter against Polson at Polson High School on Friday, Oct. 21. (Casey Kreider/Daily Inter Lake)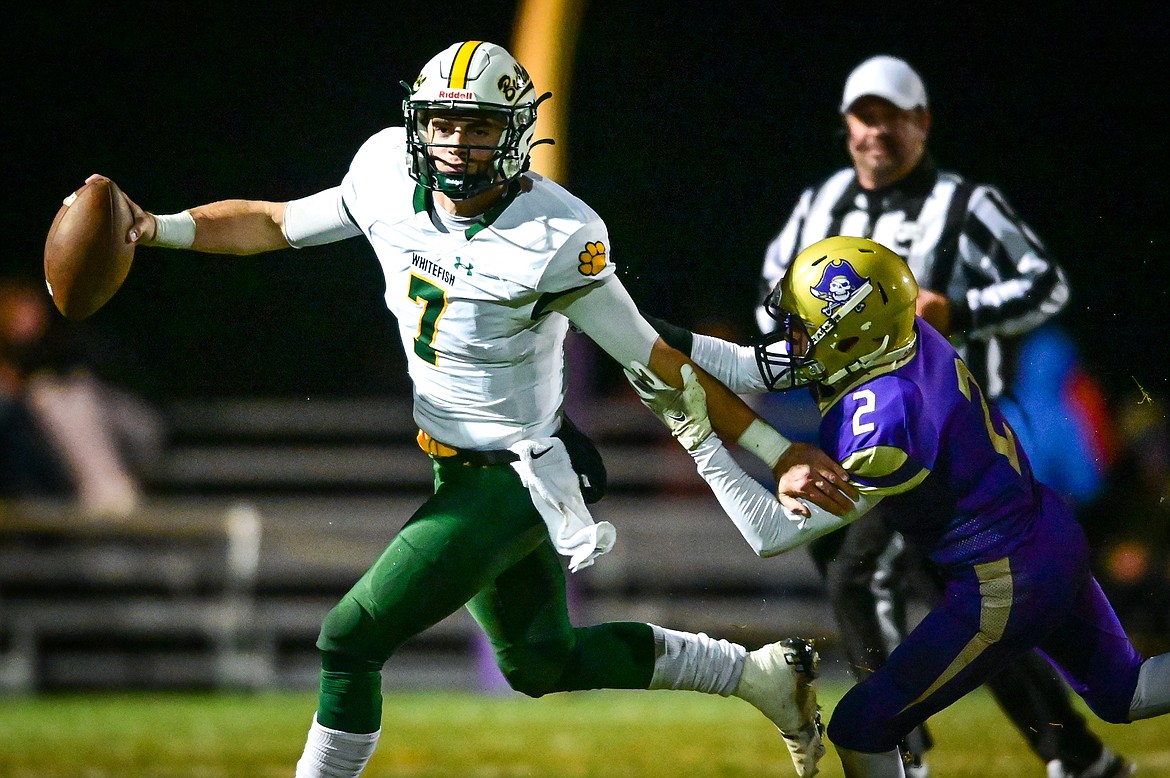 Whitefish quarterback Fynn Ridgeway (7) rolls out looking to pass under pressure from Polson's Colter Wilson (2) in the first quarter against Polson at Polson High School on Friday, Oct. 21. (Casey Kreider/Daily Inter Lake)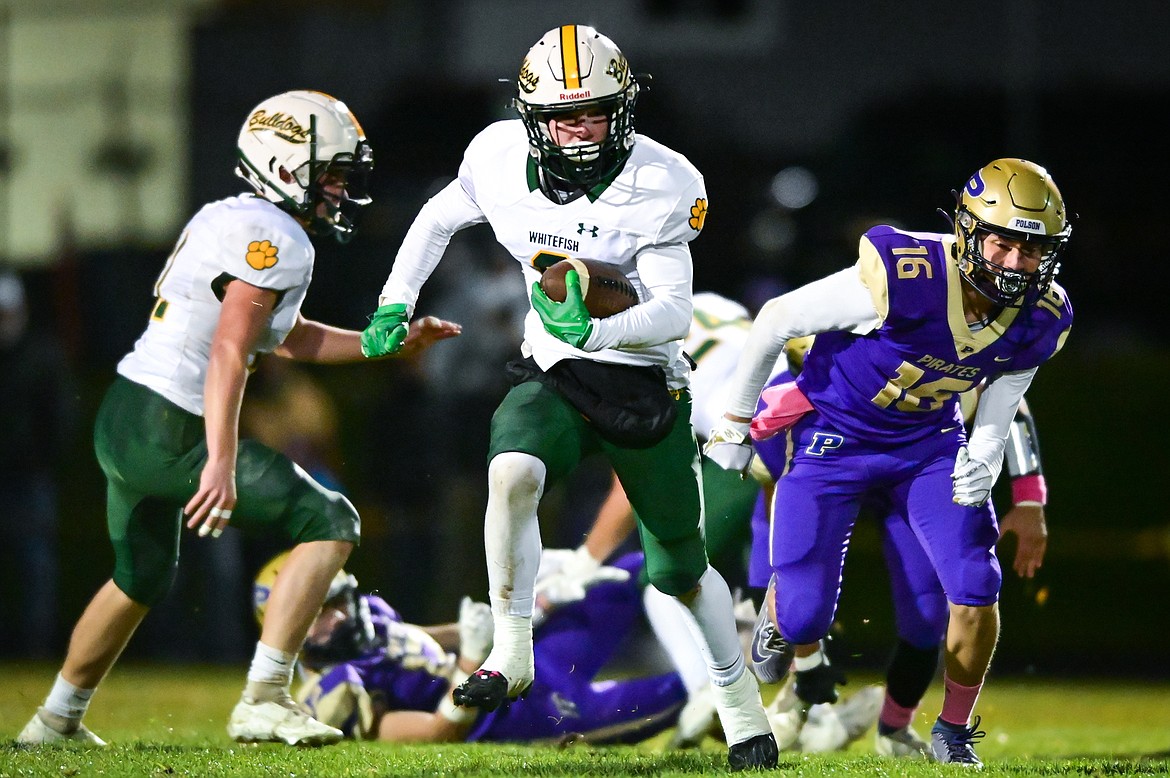 Whitefish kick returner Clayton Godsey (9) breaks a return into Polson territory in the first quarter at Polson High School on Friday, Oct. 21. (Casey Kreider/Daily Inter Lake)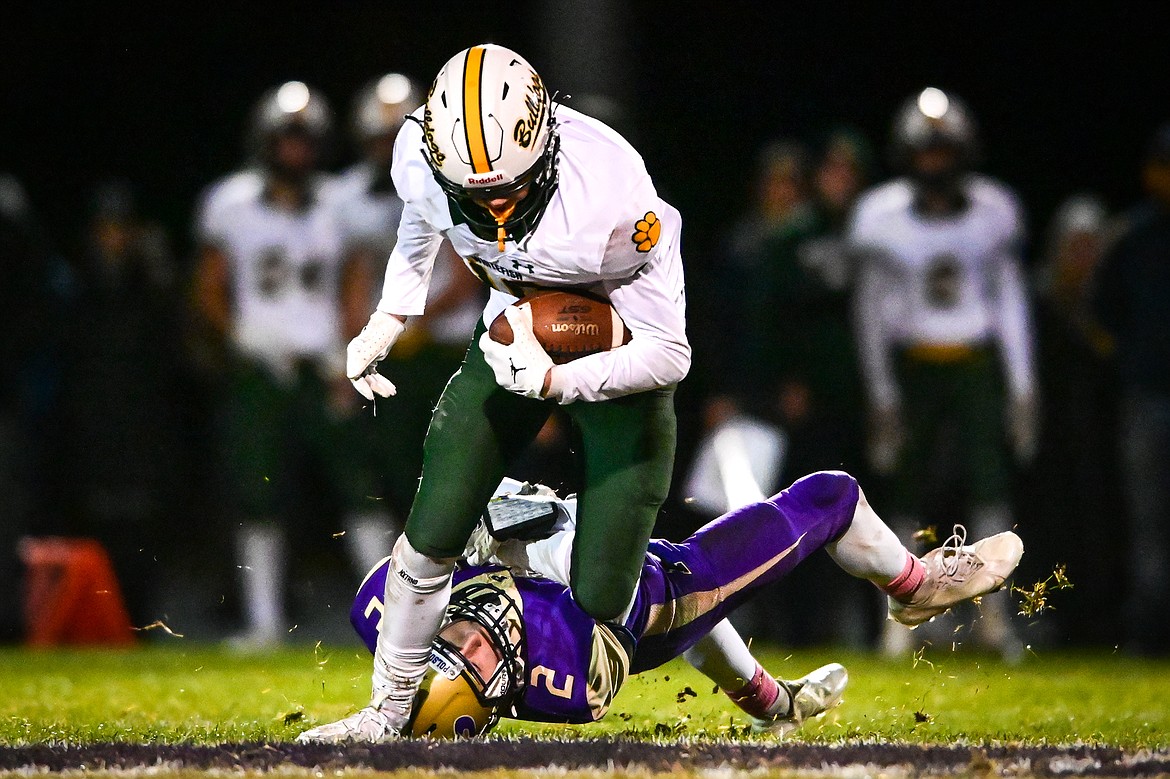 Whitefish wide receiver Mason Kelch (10) is brought down by Polson's Colter Wilson (2) on a reception in the second quarter at Polson High School on Friday, Oct. 21. (Casey Kreider/Daily Inter Lake)
Previous
Next
by
JULIE ENGLER
Whitefish Pilot
|
October 26, 2022 1:00 AM
Despite a powerful push by the Bulldogs in the second half, the unbeaten Polson Pirates came out on top, 34-27 when the two battled in Polson Friday night.
"Our guys really came out of halftime and battled," said Coach Brett Bollweg. "They left it all on the field and I am really proud of their effort."
Polson's Jarrett Wilson helped the Pirates to a 34-13 halftime lead, first with a 7-yard scoring run and then with four touchdown passes. The senior QB connected TD passes to Tyler Wenderoth, Dawson DuMont, Tommy Sherry and Trent Wilson.
Whitefish answered, getting a 2-yard run from Ridgeway early in the third quarter, then a 55-yard catch and run from Ryder Barinowski on the first play of the fourth.
"Fynn Ridgeway was exceptional again," said Coach Bollweg. "There wasn't a moment during the game that he didn't believe we were going to be in it and he led our guys to that belief."
Polson gained just one first down in two fourth-quarter possessions, the Bulldogs had their chances.
"Our defensive line played well against a really great quarterback and Ty Schwaiger made some huge plays for us defensively." said Coach Bollweg
Mason Kelch caught nine passes for 89 yards for Whitefish, including a first-half TD. Ridgeway was 14 for 24 for 188 yards, with one interception, and ran 22 times for 147 yards — putting him at 1,144 rushing yards for the season.
"Our team really proved they belong in the conversation of the top teams around," added Bollweg.
Whitefish, the No. 5 seed, will travel to play Havre, the No. 4 seed out of the East on Saturday, Oct. 29. The first round Class A playoff game is scheduled for 1 p.m.
Polson 14 20 0 0 - 34
Whitefish 3 10 7 7 - 27
P — Jarrett Wilson 7 run (Tia Mercer kick)
W — Ryder Barinowski 26 FG
P — Tyler Wenderoth 4 pass from J.Wilson (Mercer kick)
P — Dawson DuMont 28 pass from Wilson (Mercer kick)
W — Barinowski 28 FG
P — Tommy Sherry 25 pass from Wilson (Mercer kick)
W — Mason Kelch 13 pass from Fynn Ridgeway (Barinowski kick)
P — Trent Wilson 7 pass from J. Wilson (kick failed)
W — Ridgeway 2 run (Barinowski kick)
W — Barinowski 55 pass from Ridgeway (Barinowski kick)
Recent Headlines
---