Bulldogs run season-best times at Class A State cross country meet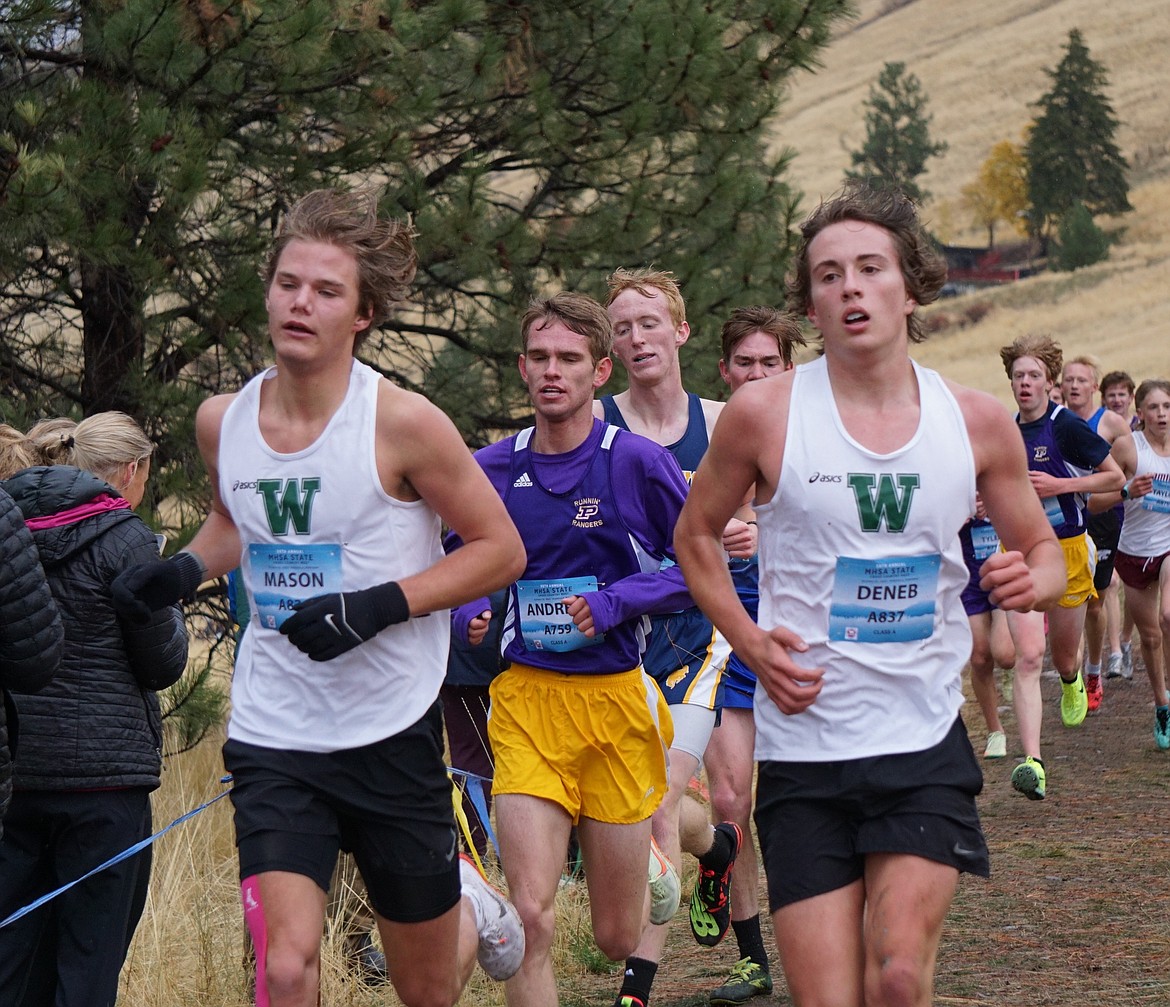 Juniors Mason Genovese and Deneb Linton each ran sub-17 minutes on Saturday to earn All-Conference honors and solidify the boy's second place standing at the MHSA State Cross Country Championship. (Photo courtesy Matt Weller)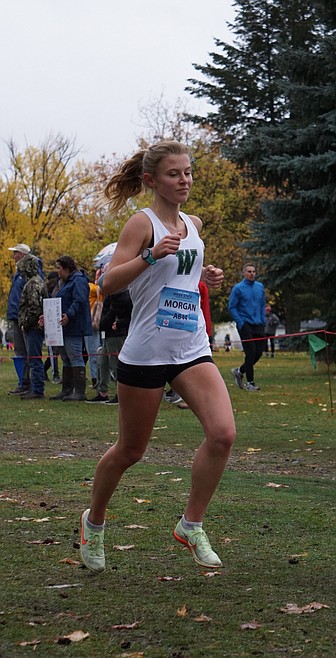 Junior Morgan Grube pushes towards the finish line at the MHSA State XC Championship on Saturday. (Photo courtesy Matt Weller)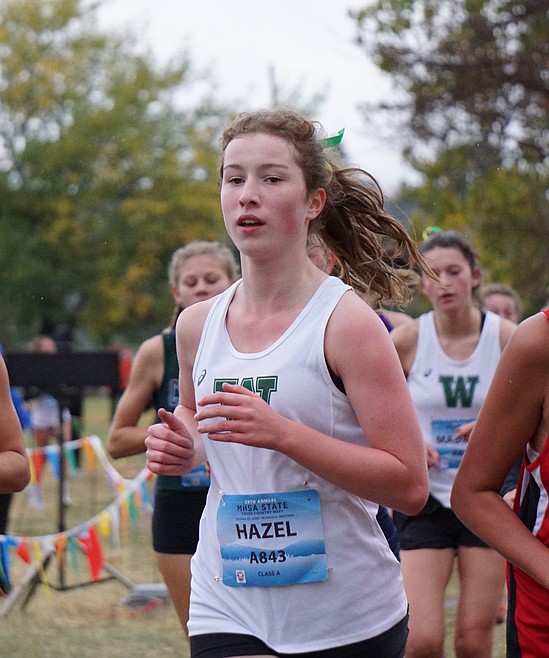 Junior Hazel Gawe pictured at the one-mile mark during the MHSA State Championship in Missoula. (Photo courtesy Matt Weller)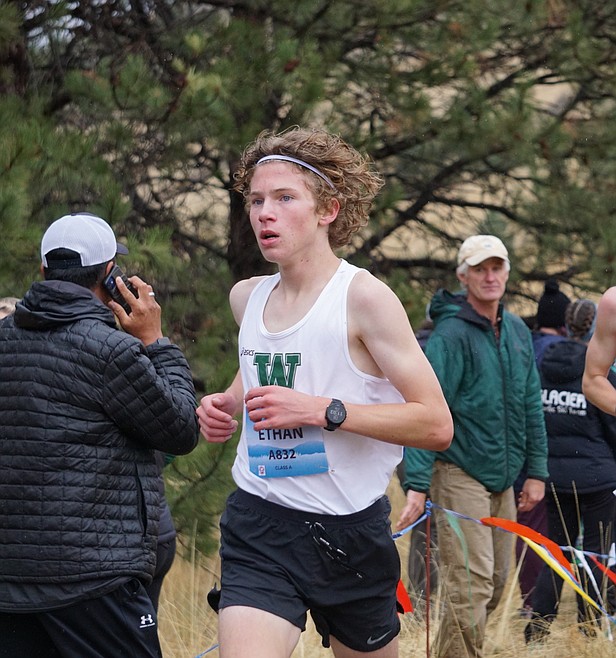 Sophomore Ethan Amick peaks at the State meet earning a personal best time of 17:29.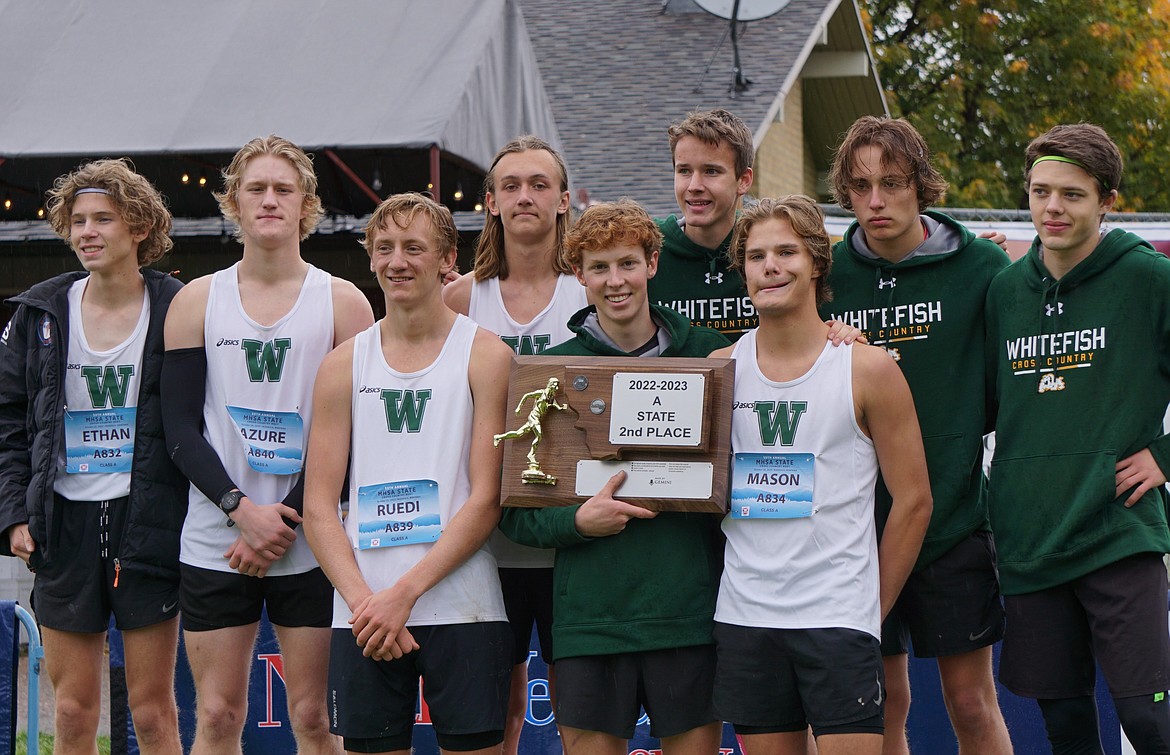 The Whitefish Bulldogs with their state trophy. From left to right: Ethan Amick, Azure Stolte, Ruedi Steiner, Zachary Chiarito, Nate Ingelfinger, Bowdrie Krack, Mason Genovese, Deneb Linton, Henry Seigmund. (Photo courtesy Matt Weller)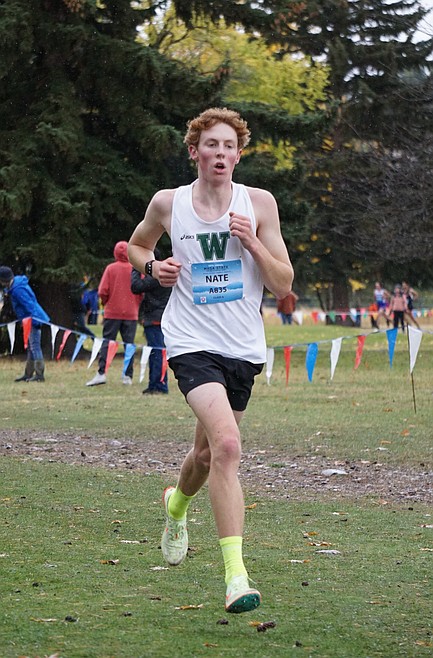 Senior Nate Ingelfinger charges towards the finish at his final State Championship race. (Photo courtesy Matt Weller)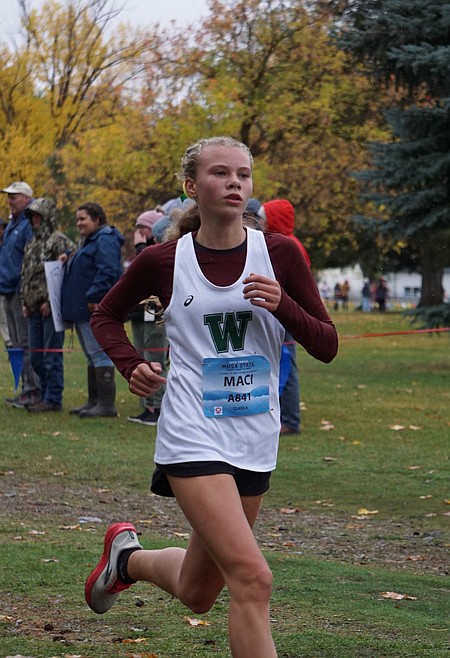 Freshman Maci Brennan competes in her first State Championship lowering her personal best time by over a minute (22:45). (Photo courtesy Matt Weller)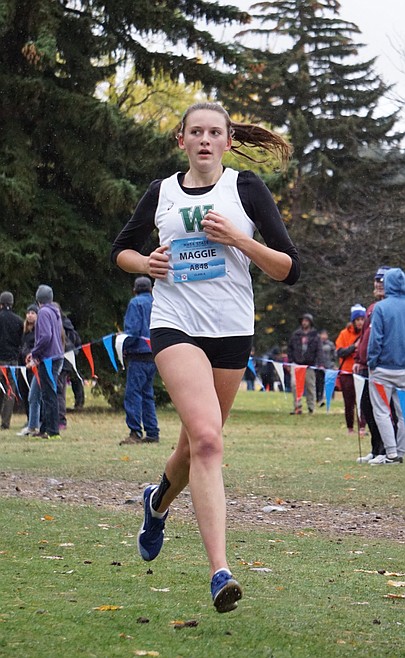 Senior and team captain, Maggie Pulsifer, ran a season best 22:33 in her final high school cross country race. (Photo courtesy Matt Weller)
Previous
Next
by
JULIE ENGLER
Whitefish Pilot
|
October 26, 2022 1:00 AM
The All Class State Cross Country Meet was held Saturday in Missoula under rainy skies. The Whitefish boys team ran into second place just behind Livingston, while the Whitefish girls team secured 11th place.
Whitefish Bulldog Coach Richard Menicke said that nine of the 14 Whitefish runners who raced at state ran season-best times. He called it a fantastic result when it counted the most.
The girls team from Hardin won top honors with 37 points, followed by Corvallis in second with 91 and last year's champs, Columbia Falls, in third with 93.
Hardin took not only the top spot as a team, they also had runners finish in the top three individual positions. The individual girls winner was Hardin's Karis Brightwings-Pease who ran a blistering 19:01. Her teammates, Mariah Aragon and Ellyse Moccasin ran 19:35 and 19:42, respectively, and the three ran as a pack for much of the race.
The Whitefish Bulldogs performed better than the 11th place finish lets on.
"The girls team, I am so proud of their efforts — lots of challenges were overcome and they got it done," said Coach Richard Menicke. "Sure, we all wish for higher placing… but given how some girls battling injury, Morgan (Grube) and Hazel (Gawe), overcame to produce a solid time, well that was awesome.
The fastest Bulldog of the day, Grube ran in a time of 22:20. Pulsifer and Brennan finished within 25 seconds of her. Cromie, Gawe, Ward and Klepper had strong times, all within 15 seconds of each other, to have a strong finish to the season
"I am particularly stoked about our two freshmen, Maci Brennan and Maren Cromie, who had big season-best times," said Menicke. "Also, kudos to senior Maggie Pulsifer for her excellent leadership."
The coach added he is excited for the girls team to continue to grow in the sport.

The Park High School boys team earned the championship this year with 78 points. Whitefish finished in second with 90 points and Corvallis earned third with 132. Whitefish's podium appearance was the first for the boys team in 10 years.
"Our boys team ran its fastest team race of the season — they were fantastic — unfortunately, Park County was better and hats off to them," Menicke said. "Five of our guys ran their best of the season, they truly emptied the tank."
Freshman Greyson Piseno from Billings Central won the individual boys race in 16:16, for his first title. He was followed by Hardin's Ben Bird in 16:24 and Dillon's Ben Steadman who ran 16:30.
Whitefish's Linton ran a lightning fast 16:44 and Genovese crossed the finish line a mere 12 seconds later.
"Deneb (7th) and Mason (11th) did their job leading the team, both earning All State honors," said Menicke. "I want to acknowledge the pressure on these two young men in that role, and they did a fantastic job at State."
Bulldogs Ingelfinger, Amick, Steiner ran strong times, as well.
"Nate (Ingelfinger) was near his season best time, placing 20th, and both sophomore Ethan Amick (23rd) and senior Reudi Steiner (29th) ran PR's as well," gushed Menicke. "What can you say, each guy passes one more athlete and we are right there.....but I am positive the boys gave all they had."
Coach called out his sixth and seventh athletes, junior Zach Chiarito and junior Azure Stolte, who each ran excellent races.
"(They) both had massive PRs and that was awesome… something to build on in spring track and next fall as seniors." Menicke said.
Seniors Bowdrie Krack and Henry Seigmund were on the State team and concluded four-year careers as teammates and Whitefish Bulldog cross country runners.
"(They're) both such solid young men, not necessarily the fastest on the team, but of quality character that made us better." said Menicke.
Girls: 1. Hardin 37. 2. Corvallis 91. 3. Columbia Falls 93.
Whitefish Girls: 46. Morgan Grube 22:20. 50. Maggie Pulsifer 22:33. 57. Maci Brennan 22:45. 79. Maren Cromie 23:40. 84. Hazel Gawe 23:45. 85. Madison Ward 23:47. 87. Kellie Klepper 23:55.
Boys: 1. Park 78. 2. Whitefish 90. 3. Corvallis 132.
Whitefish Boys: 7. Deneb Linton 16:44. 11. Mason Genovese 16:56. Nate Ingelfinger 17:26. 23. Ethan Amick 17:29. 29. Ruedi Steiner 17:40. 68. Zachary Chiarito 18:42. 78. Azure Stolte 18:57.
Recent Headlines
---