Eileen Delores (Ohs) Sandefur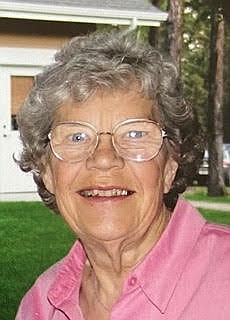 |
October 19, 2022 1:00 AM
Eileen Sandefur, age 94, passed from this earthly life into her forever home with the Lord on Friday afternoon Sept. 23, 2022.
Eileen was born to Karolina and Oscar Ohs on Dec. 12, 1927, on the family homestead. The farm was located on prairie land east of Malta and south of Saco, Montana in a small homestead community they called Harb.
She was the youngest of nine children with her sister Elsie being the oldest. Sandwiched between them were seven brothers. Eileen's father and mother had come from Sweden with four of their children on the hopeful promise of homestead land.
Eileen and her brothers attended North Harb school, a one-room affair, 3 miles from their home which they faithfully hiked each day no matter the weather. When she was 14 years old they moved to Malta, Montana, where she went to Junior High and graduated from Malta High School. Eileen attended St. Paul Bible Institute for a year before returning to Malta to work at the Phillips County Courthouse and help to care for her father.
In 1955 she moved west to Whitefish, Montana and married Arnold Quentin Sandefur. They built the family home just south of town all the while Quentin worked on the railroad. They raised three children there.
Eileen loved being a mother and her children lived very memory-filled lives growing up in those "early" years of Whitefish. Eileen made many dear friends, was a gracious host, had a good sense of humor, and was quick to put the coffee on. She enjoyed many activities and crafts including ceramics classes at Dalen's, crocheting, quilting, and tended a large garden from which she cooked many a fine meal.
She and Quentin enjoyed the outdoors and would walk several miles most days. They would take the whole family out to gather firewood or pick huckleberries. When their children were 6-10 years old, they took them on a very memorable hike across the Highline Trail in Glacier Park.
Eileen and Quentin were married for 65 years.
Eileen put her faith in Jesus at age 17 around the time of her mother's death. She and Quentin were members of First Baptist Church of Whitefish for many years.
Eileen's smile and inclusive love will be missed by all who knew her.
Eileen was preceded in death by her husband, Arnold Quentin Sandefur, oldest daughter Kathy, and youngest grandson, Brian Cantu.
All eight of her siblings preceded her; Elsie, Gust, Carl, Eric, Martin, David, Dennis, and Wally.
She is survived by her son, Larry, daughter Jan, granddaughter Brooke (and Josh) Block, grandson Brad Cantu, daughter-in-law Shekinah (Brian) Cantu, 10 great-grandchildren, and many nieces and nephews spread all across Montana and beyond.
There will be a memorial for Eileen to be held on Friday, Oct. 28 at 2 p.m. at First Baptist Church, south of Whitefish across from Don K Auto, for all family and friends of Eileen.
Recent Headlines
---