Local employers take creative measures to recruit qualified candidates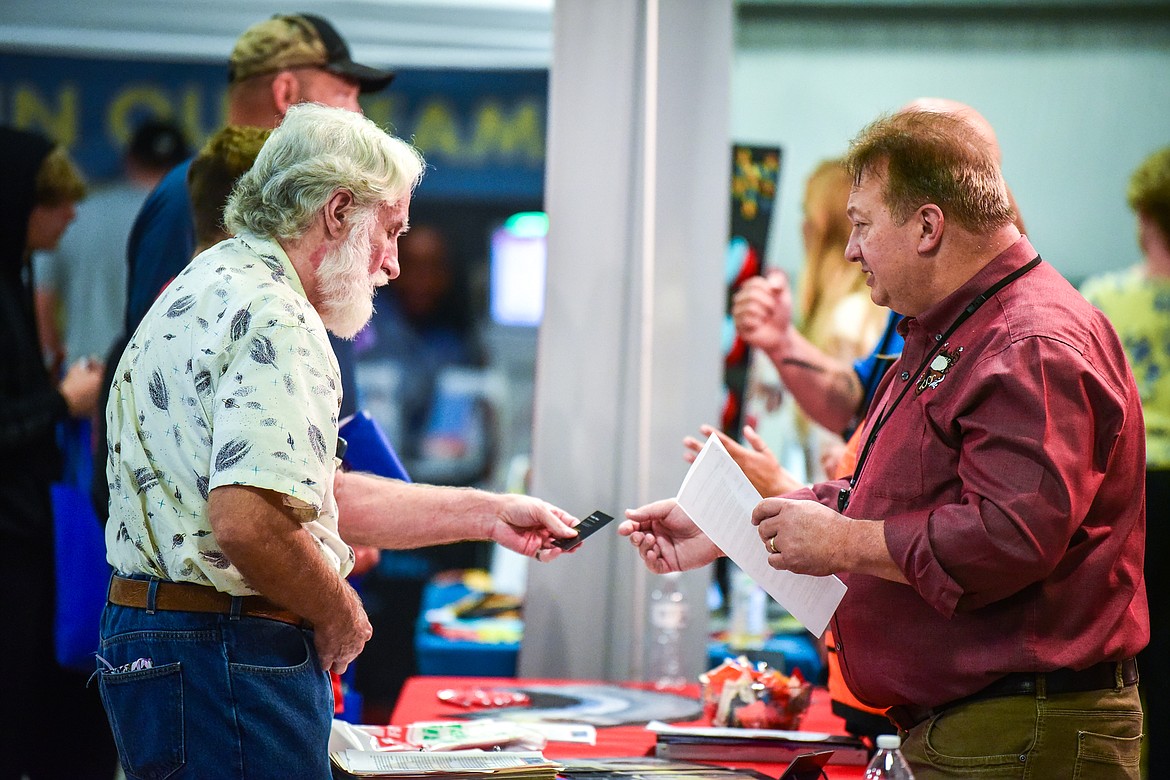 Eddie Wise, right, Operations Manager with Integrated Security Solutions in Kalispell, shakes hands with an attendee after giving him a business card at the 2022 Job & Veteran Opportunity Fair at the Flathead County Fairgrounds Expo Building on Wednesday, Sept. 28. (Casey Kreider/Daily Inter Lake)
by
Summer Zalesky
|
October 5, 2022 1:00 AM
In the face of ongoing hiring challenges, local employers across all industries are taking creative measures to remove barriers in the hiring processes and appeal to qualified and capable candidates.
More than 70 employers attended the Northwest Montana Job and Opportunity Fair at the Flathead County Fairgrounds on Wednesday, with businesses in health care, education, manufacturing, hospitality, recreation, retail, food service, finance, and real estate hoping to connect with job seekers.
With an unemployment rate of about 2.8% in the state, businesses at the job fair confirmed that the hiring market remains tight.
Bryan LaFontaine, director of food and beverage at Averill Hospitality, said that the lack of housing is among the obstacles saddling the local workforce. He said that within the last year, about 50 potential candidates declined job offers because they couldn't find an affordable place to live.
"There's not enough candidates in the valley, and there are plenty of people wanting to come here, but there's just not enough housing," LaFontaine said.
Logan Crocker, resort manager at Averill Hospitality, noted that the company is taking matters into its own hands by building employee housing on an 80 acre plot in Whitefish, with an estimated 250 to 500 rooms.
Similarly, Blacktail Mountain Ski Area is leasing a group of cabins to rent to employees in need of housing.
"It's terrifying, but we feel like it's what we need to do," said Ann Whiting, a representative with Blacktail. "Part of how we hire now is helping people so they can find a place to live."
Whiting has made it part of her job to build and maintain a housing database for potential employees.
Another challenge for employers is filling entry-level positions. Logan Health is taking steps to provide candidates with on the job training and certifications. Since many candidates do not have access to the proper training, Christy Van Slake, talent acquisition partner with Logan Health, said that being able to offer training has "dramatically increased employment."
"We train for CNA (certified nursing assistant), sterile processing, and two months ago we just launched an RMA (registered medical assistant) training," Van Slake said.
While some form of prior medical experience is an expectation, Van Slake added, "We aren't necessarily requiring a ton of experience. We want to train them, so on their first day of work, they start training and get paid for it."
Along with training, Van Slake said they offer sign-on bonuses for certain positions and utilize funds from the Care in Montana program launched by the state last year. The program covers up to $12,500 in moving expenses for those accepting health care jobs in Montana. So far, Logan Health has used roughly $250,000 of the allocated $4 million to relocate nurses, surgical techs, EMT and paramedics.
"We had over 40 medical assistant positions open about two months ago and now we are down to five," said Van Slake.
Karla Therrien, HR generalist with the Columbia Falls School District, said the main problem for their industry is that the district's budget is dependent upon government funds.
"We don't have a product to sell where we could raise prices. Our budget is set and we don't have much fluctuation," she said.
While many applicants are drawn by the prospect of working with children and the school calendar schedule, Therrien said she understands the importance of aligning wages with the cost of living.
Weyerhaeuser representatives at the fair said Covid made hiring difficult and that returning to in-person recruiting has helped the company make hiring more efficient.
EMPLOYERS AND potential employees alike said that Covid transformed the culture of job hunting as Zoom interviews are more common, candidates are more transparent about their salary expectations, and remote work is more popular than ever.
Many job seekers at the fair said that they did not have an industry preference, but several said they are pursuing full-time work.
Colton Hughes, 20, said he hopes to work as an animator in the future, and attended the fair in hopes to find a job that will allow him to save money for higher education.
Another attendee, Seth Buckman, 34, is an Army veteran with experience working with professional drag racing teams and PROOF Research, a local firearms technology company. Buckman is attending Flathead Valley Community College for small business management and hopes to learn the intricacies of business development and leadership in whichever job he accepts.
Health insurance is the No. 1 priority for Ben Fulford, 39, who is looking for full-time work.
"I have a wife and two kids and we use health insurance a lot, especially vision and dental," he said. "When you're taking your kids in twice a year, it can get really expensive. I've actually turned down a number of jobs because they didn't offer health insurance, even though they're great jobs."
After working in the semiconductor industry for 13 years, Fulford is exploring other industries and the incentives of newer companies in the valley.
The job fair was organized by Job Service Kalispell, Daily Inter Lake, Workforce Flathead, Flathead Valley Community College and Kalispell Chamber of Commerce.
Recent Headlines
---