Lady Bulldogs bring experience, speed to the court this season
by
WHITNEY ENGLAND
Whitefish Pilot
|
November 30, 2022 1:00 AM
The start to the girls basketball season is looking up this year as the Bulldogs return a group of four starters who are eager to lead the way.
Juniors Bailey Smith, Jude Perry, Ainsley Scott and Hailey Ells were all voted in as captains of the team this year and are expected to put up big stats for the Dogs. Smith was a leading scorer for Whitefish at the beginning of last season before injuring her knee which kept her on the sidelines for the remainder of the games. She's nearly fully recovered from the ACL injury and will help on both ends of the court. Perry and Scott, as well as Smith, bring some good size to the post positions and Ells will run the plays at point guard.
"Those four give us some promise right there," says Whitefish head coach Bob Bolam.
Bolam added that he also has one senior, Brooke Roberts, who is returning to the team after not playing basketball last season. Roberts is fast and also great on defense. Another junior who didn't play last year but is on the squad now is Brooke Zetooney. As seen in her state-title performances with the track team, Zetooney is quick and athletic which will be hard to defend. Bolam says rounding out what he believes will be the core eight players on varsity rotation are two sophomores, Madi Gordon and Yoli Krastev.
"I think our roster is a lot better set this year than it was last year, so we're looking forward to doing some different things," Bolam said. "We've got a lot of athleticism and a lot of speed so we want to use that to our advantage. If we can stay healthy, I think we should have a positive season."
Without a lot of depth on the team, staying healthy is one of the challenges of the season. Bolam says keeping injury free will be a key to the success of the team.
Whitefish will have an advantage when it comes to speed and varsity experience. The players this year are athletic and fast which Bolam hopes will give the Dogs an edge.
"I think the girls are learning well. We've got a smart group, an athletic group and we should be able to build on that," Bolam expressed.
Last season Whitefish ended on a sour note, losing to Polson at home in a play-in game which meant they didn't qualify for the Western A Divisional Tournament. Missing out on the divisional and state tournaments last year was disappointing for the team and getting back into postseason contention is the focus this season.
"Our immediate goal is to get to divisionals this year and then see how we progress throughout the season — see if we're a state-caliber team because I know there's a lot of good competition out there," Bolam said.
The Bulldogs have been practicing together since mid-November and are looking forward to competing this week.
The Whitefish girls' team will host Eureka at 6 p.m. on Friday, followed by the boys' home opener also against Eureka with tip-off at 7:30 p.m.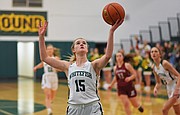 Recent Headlines
---