Looking Back for November 30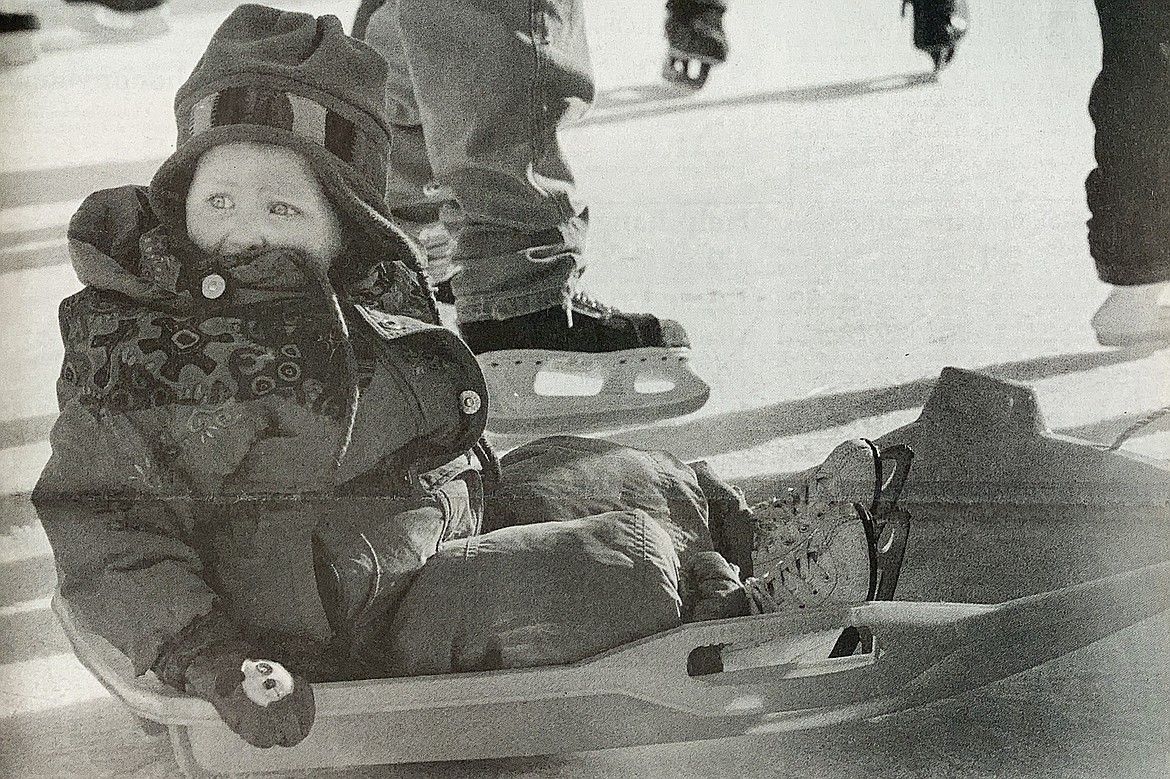 Claire Venery hangs on for dear life while being pulled by her mother at the Mountain Trails Ice Arena in November of 1997. (Whitefish Pilot file)
|
November 30, 2022 1:00 AM
A look back at past Pilot articles by Julie Engler.
50 Years Ago
Nov. 30, 1972
Kenny Watson of Whitefish narrowly escaped serious injury or death late Sunday afternoon while hunting in the Bowers Lake area. Watson was walking with his hunting rifle slung over one shoulder of his orange hunting shirt when a rifle slug struck the barrel of his rifle inches from his head, bending the barrel and sliding upwards to nick the front sight. Watson said he never saw or heard the person who fired the shot that so narrowly missed his head.
40 Years Ago
Dec. 2, 1982
Whitefish hunter John Bartlett's big buck was officially measured and was declared the new state record. The rack with six points on one side and five on the other was awarded 183 points. The former state record was 180 ⅛, taken by Gordon Quilling in 1955 in Dawson County.
Barry Wensel of Whitefish, official scorer for both the Montana Bowhunters Association and the national Pope and Young trophy records, took the measurements. He said the trophy was number 31 in the nation for bowhunters.
30 Years Ago
Dec. 3, 1992
In a split vote, the Flathead County Commissioners formally endorsed Alternative A-1 for the reconstruction of Big Mountain Road. The alternative would involve improving the existing road and adding a loop eliminating two large switchbacks at Ptarmigan Village and the Eagles Nest. Commissioner Sharon Stratton favored Alternative B-1 which would have involved the construction of a new road through Haskill Basin. At $165,000, B-1 was the most expensive of the three alternatives.
20 Years Ago
Nov. 28, 2002
Despite a flurry of meetings, no decision was made on a site for North Valley Hospital. The NVH Board of Directors met and discussed options but took no action. Craig Aasved, the hospital CEO said one site within the city limits was the focus of discussion but the others were still on the table.
10 Years Ago
Nov. 28, 2012
A Kalispell man was OK after he spent several hours stuck in mud and ice up to his chest at Upper Stillwater Lake north of Whitefish. The man was duck hunting from a canoe near the north shore of the lake. When he left his boat to retrieve a duck, he broke through a layer of ice and sank in the mud to the top of his waders. Rescue crews geared up for the cold water scenario as rain fell and temperatures lingered in the mid-30s.
Recent Headlines
---