Glacier Queer Alliance considers safety training in the wake of Club Q shooting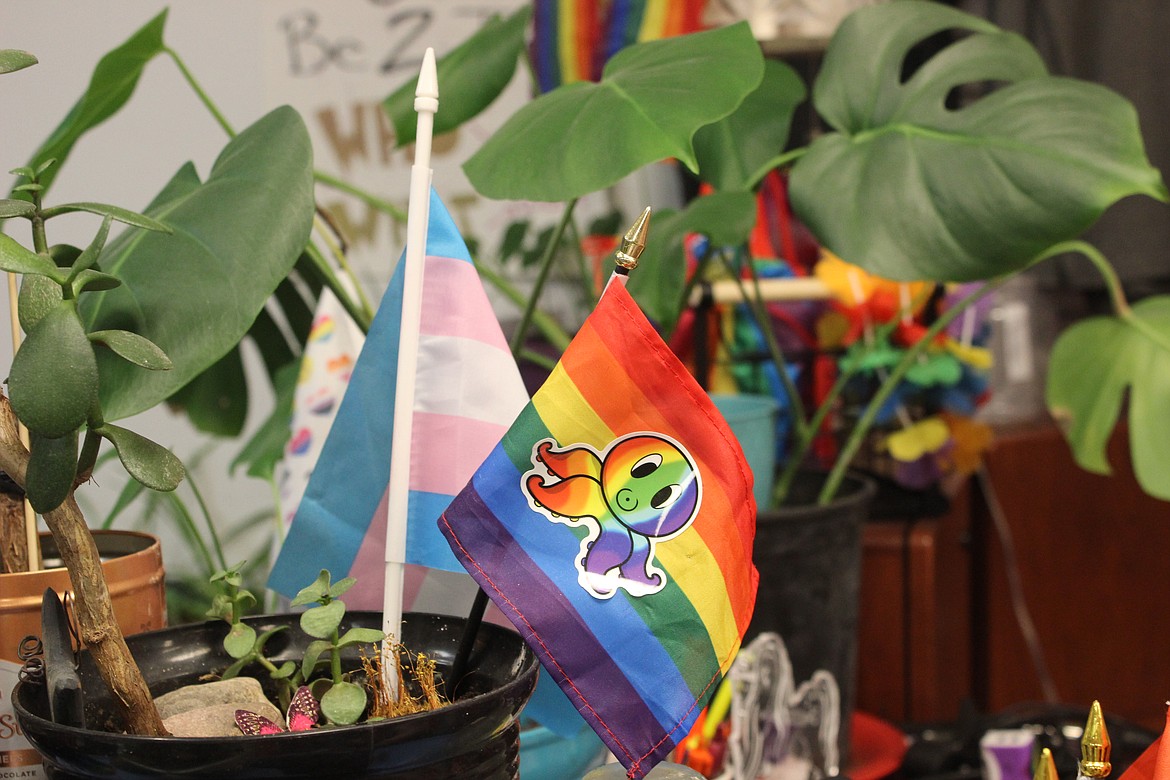 LGBTQ pride flags are arrayed in the office of the Glacier Queer Alliance in Kalispell. The group is rethinking security following the mass shooting at Club Q in Colorado Springs, Colorado. (Taylor Inman/Daily Inter Lake)
by
Taylor Inman, Daily Inter Lake
|
November 30, 2022 1:00 AM
A local LGBTQ group is considering different avenues to provide a safe space for its members following a deadly shooting at a gay bar in Colorado Springs last weekend.
On Nov. 19, 22-year-old Anderson Lee Aldrich allegedly opened fire in Club Q armed with an AR-style rifle and a handgun, according to media reports, killing five people and injuring 17 others. Disarmed by club patrons, Aldrich now faces preliminary charges that include five counts of first-degree murder.
For Glacier Queer Alliance Executive Director Bryan Bebb the shooting struck "closer than any other incident … to home." Living in Colorado Springs more than a decade ago, he was a patron of Club Q.
"...It does ripple and have an effect," Bebb said. "And really, for us, it has us in a discussion about what safety means and how we can continue to provide a safe space."
The Glacier Queer Alliance hosted a drag show the same night as the attack in Colorado Springs. Bebb said the group employs a safety system for the space they rent inside the Gateway Community Center, which recommends that all of their tenants keep exterior doors locked after a shooting at the nearby Fuel Fitness in September 2021. This is for day-to-day operations, but he and others at the Alliance have been brainstorming ways to improve safety at their more public events.
They are considering active shooting training or emergency preparedness training — not only for the board and key volunteers, but for the community at large, he said.
"A lot of what people find is that they were unprepared when a tragedy happens, like whatever it might be. There are trainings that help you pre-think out what the steps are in a lot of those situations," Bebb said. "So looking at all those scenarios and what happens in shooter instances … We're just trying to make a plan, like what our professional security options are and things like that."
But hiring security is not always what would make their members feel safer, Bebb said. Since there's a history of tension between police and the LGBTQ community, other groups looking to improve safety have faced backlash for hiring armed guards or retired police officers. He said they also are considering hosting events at bars or venues with security or bouncers in place, though that does not always provide a safety barrier, as in the case of the Club Q shooting. Bebb said there are no easy answers when it comes to preparing for the worst.
The Alliance has been planning to increase their presence over the next few weeks, unrelated to the shooting that took place this past weekend. Bebb said the holidays can be a lonely and isolating time for people who might not have good relationships with their families, particularly those who identify as LGBTQ.
During the weeks of Christmas and New Year's they are expanding hours at their Gateway Community Center location, opening three days a week rather than one. This is in addition to their ongoing programming and other events they host.
"We are providing more access to the space, more access to other members of the community for peer to peer conversations. We have a really decked out community center. We have art and craft supplies, if people want to 'art' about it, and we have games," Bebb said. "Then beyond the holidays, we're looking at partnering with some of our other friend organizations to just do an ongoing community care type of thing."
Those partners include Forward Montana and the Montana Human Rights Network. Bebb said those events might involve art nights, yoga, meditation or just hosting group discussions.
These kinds of activities help keep community members going through rough times, particularly through legislative sessions that have featured many anti-LGBTQ bills, he said. Bebb said those bills and the current political climate in general weigh on members.
"I spent a lot of time through Messenger supporting community members, when it was Rep. [John] Fuller who produced a lot of those bills. So they came out of this valley and a lot of our really local LGBTQ people feel like there's an added layer of burden that these hate bills are coming from their own communities," Bebb said.
Fuller, a Republican representing House District 8, introduced House Bill 427 in the last legislative session, which barred minors from getting gender affirming health care. The Alliance recently launched "You Be You" to aid people with different aspects of transitioning. He said this includes financial assistance for getting names changed and securing documents as well as providing new clothes.
Bebb said the Alliance doesn't get any kind of funding from government subsidies, a misconception he said he runs into often. They also do not collect fees from members, so that a person's financial situation does not dissuade them from participating. He said the group is funded by donations and though they are currently working to apply for grants, they rely on support from the local community.
Anyone interested in learning more about the Glacier Queer Alliance their upcoming programming can go to www.glacierqueeralliance.org.
Recent Headlines
---