Whitefish Library program: Student Brielle Carr reviews 'The Green Ember'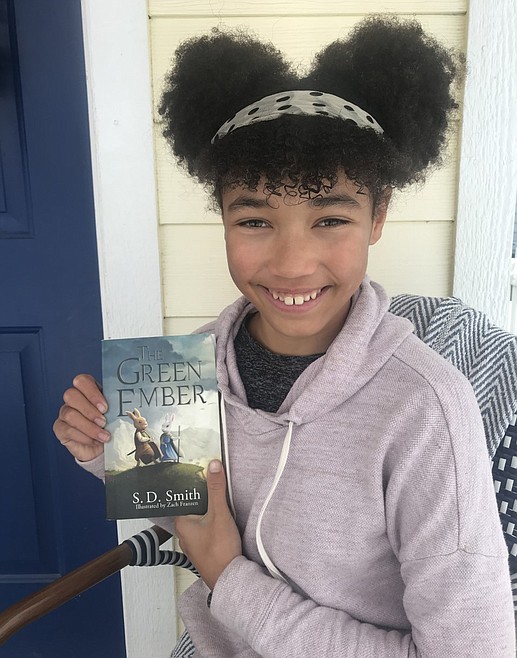 Brielle Carr holds the book 'The Green Ember' by S. D. Smith. (Photo courtesy of Ashley Carr)
|
November 9, 2022 1:00 AM
The Whitefish Community Library's Fall Into Reading program features book reviews written by local students. Each week throughout the five-week autumn program, a winner is picked by library staff to have their book review published in the Whitefish Pilot. Students must be 18 and under, and live in the Whitefish area.
In the first week of the program, the featured review comes from local homeschool student Brielle Carr.
The Green Ember by S. D. Smith, illustrated by Zach Franzen
Reviewed by Brielle Carr
This animal fantasy book, written by S.D. Smith and illustrated by Zach Franzen, is my all-time favorite book for its relatable characters and suspenseful scenes. It's a perfect intro to the Green Ember series. To really get a feel for the theme and plot I highly recommend reading the whole series and guarantee a satisfying ending. I would suggest this book to both young and old readers.

The main characters Heather and Picket are thrown into the roller coaster of life when the world they know goes up in flames. I personally formed a bond with Picket because I can relate to some of his feelings, but all of the characters in this story feel relatable in some way as you plunge into this beautiful and heartwarming book.

My favorite part will always be a tie between meeting the comical character Heyward and the book's shocking conclusion. However, my favorite character is not mystery. Jo Shanks. The loyal, selfless, skilled archer who is only briefly mentioned in this book, but plays a more prominent role in the following books. This enthralling story will capture the hearts of many and was the book that inspired me to pursue becoming an author.

To read more book reviews, visit the Youth Services tab at whitefishlibrary.org. For more information about Fall Into Reading, call the library at 406-862-9914 or visit whitefishlibrary.org.
Book Review Honorable Mentions:
Lucia Binder for review of Wings of Fire by Tui T. Sutherland – winner of Bookworks gift certificate.
Ruby Richards for review of Guts by Raina Tegemeier – winner of Bookworks gift certificate.
Recent Headlines
---