Bulldogs oust Havre for first playoff victory in 7 years
by
WHITNEY ENGLAND
Whitefish Pilot
|
November 2, 2022 1:00 AM
In contrast to the majority of the Whitefish Bulldogs' regular season games this year, Saturday's first-round playoff matchup in Havre was a defensive grind.
And that powerful defense carried the Bulldogs to their first Class A playoff win in seven years as they got the 17-7 win over the home team Havre.
Whitefish head coach Brett Bollweg said it was the best game of the year in terms of tackling and the Bulldogs also held the Blue Ponies to zero third-down conversions.
"Our whole defense played really well, I was pleased top to bottom…" Bollweg said. "It was probably our best tackling game of the year and we minimized our missed tackles and minimized our mistakes, and were able to dictate the game."
Though the Dogs made it to the playoffs in recent years they have been eliminated in the first-round action. This year had a different outcome for a team that Bollweg says showed up to compete and ready to win.
"We're just so happy for our guys and especially for our seniors… for them to get this win I'm just really excited for them to take our program in the direction that they've been trying to put it in," Bollweg said. "It was a really fun day for us."
"Our guys showed their maturity and level of commitment going on the road and doing something they haven't done before with an overnight trip…" he added. "The guys really met that challenge head-on and showed their true colors. Class act kids that came to the football game ready to win."
In the game, Havre showed to be a tough opponent, and the Ponies defense also limited the visiting Bulldogs' offense. The score was 0-0 until the second quarter when Whitefish put together a drive ending in an 11-yard touchdown catch by Mason Kelch from quarterback Fynn Ridgeway; the kick by Ryder Barinowski was good to put 7 points on the board.
The Bulldogs carried the 7-0 lead into halftime. In the third quarter, the Bulldogs had another successful scoring drive as Ridgeway scored on a 6-yard quarterback keeper. Later in the quarter, Barinowski was called on by his team to further the lead. Barinowski put a 32-yard field goal attempt through the uprights for a 17-0 lead.
Havre scored in the final quarter, but it was too late to mount any kind of comeback.
Both defensive units for Havre and Whitefish let very little happen in the red zone. Specifically, Ty Schwaiger had an outstanding defensive game.
"Ty Schwaiger really stood out on defense. He made a ton of plays all over the field," Bollweg recalled.
On the other side of the ball, the coach was equally impressed with wide receiver Mason Kelch, who had nine catches for 93 yards. Bollweg says they consistently fed him the ball and he delivered.
"Mason Kelch is a kid who really stuck out this week on the offensive side of the ball, made a ton of big plays for us, and has been a really steady presence at wide receiver," Bollweg said.
On the ground, Ridgeway led the Bulldogs with 21 carries for 111 yards. The QB also was 14 of 23 in the air for a total of 143 passing yards. He threw for a touchdown, ran for a touchdown, but also had three interceptions.
Whitefish's Dane Hunt had two catches for 23 yards and brought in one interception on defense while Luke Moses had a fumble recovery.
"Havre's a great opponent for us, but we were able to do the things we were hoping to be able to do… and our defense really played well and carried us for a change this year," Bollweg said.
The win over Havre also meant the Bulldogs got to bring home the BNSF Trophy, a signal of the historic series between the two teams that dates back over 20 years. Havre and Whitefish used to play each other every year before their schedule changed in 2017 and it was called the BNSF series after the railway that connects the two towns. BNSF donated a traveling trophy that goes to the winner each time they play.
Whitefish hasn't played the Blue Ponies since 2016 when Havre won the annual matchup after the Bulldogs kept the trophy for several years before that.
"It's been in Havre for a little too long and we're glad to bring it back," Bollweg said.
Although the teams no longer play every year, the trophy still remains.
"It's such a cool deal," Bollweg added regarding the history of the BNSF Trophy.
Whitefish now will face Hamilton in the quarterfinal playoff game on Saturday. The Broncs are defending State A champions and a team that has had a string of success over recent years.
"Hamilton's a great team. They do a lot of things well and they're on a string of a really good run as a program of just being successful…" Bollweg said. "We've proven in several of our games that we can compete with the best teams in the state, so we're excited about the opportunity to put that on display one more time and see what happens."
Whitefish will play in Hamilton on Saturday with kickoff at noon.
Whitefish 0 7 10 0 — 17
Havre 0 0 0 7 — 7
Whitefish — Mason Kelch 11 pass from Fynn Ridgeway (Ryder Barinowski kick)
Whitefish — Ridgeway 6 run (Barinowski kick)
Whitefish — Barinowski 32 field goal
Havre — Kale VanCampen 4 pass (kick)
Whitefish Individual Statistics
RUSHING: Ridgeway 21-111; Ty Schwaiger 14-13.
PASSING: Ridgeway 14-23 for 143 yards, 1 TD, 3 INT.
RECEIVING: Kelch 9-93; Dane Hunt 2-23; Barinowski 2-17; Jesse Burrough 1-10.
DEFENSE: Hunt 1 INT; Luke Moses 1 Fumble Recovery.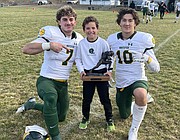 Recent Headlines
---