Perseverance grew Glacier Hops Ranch into an award-winning exporter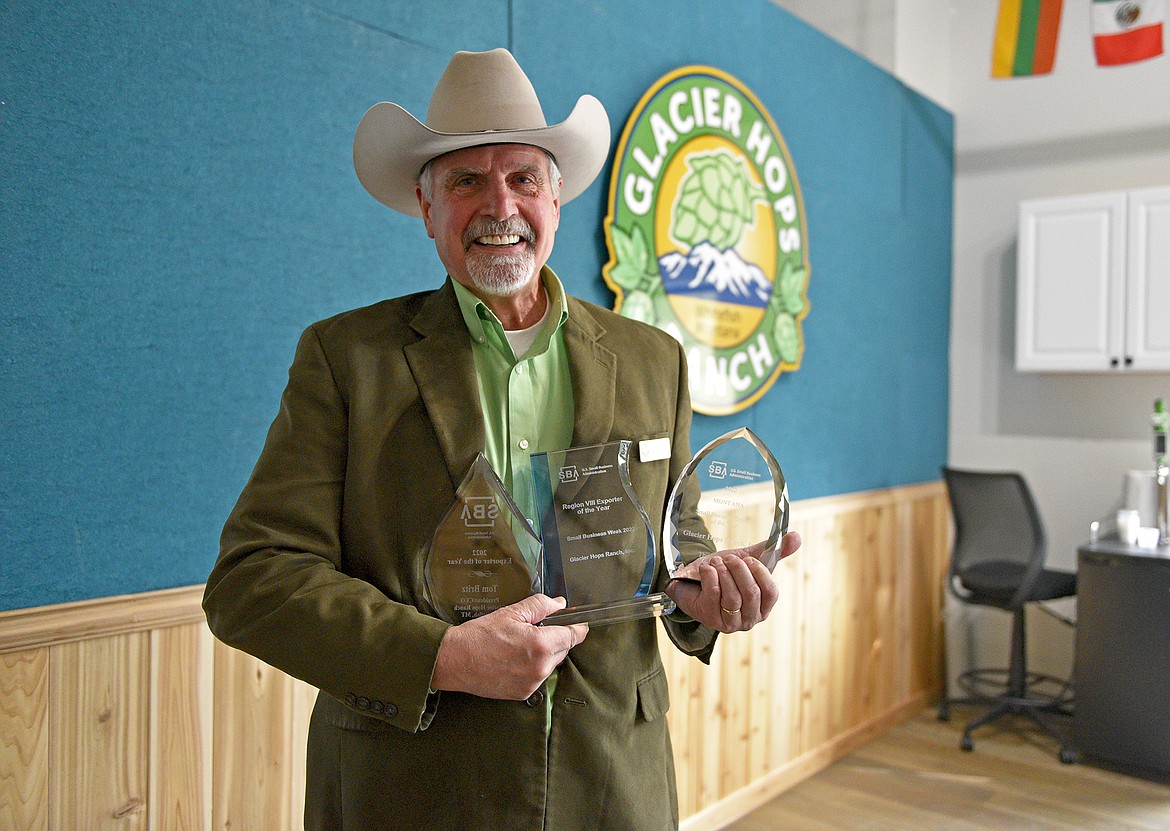 Tom Britz, Founder and CEO of Glacier Hops Ranch in Whitefish, accepts the state, regional and national Exporter of the Year awards from the Small Business Administration. (Whitney England/Whitefish Pilot.)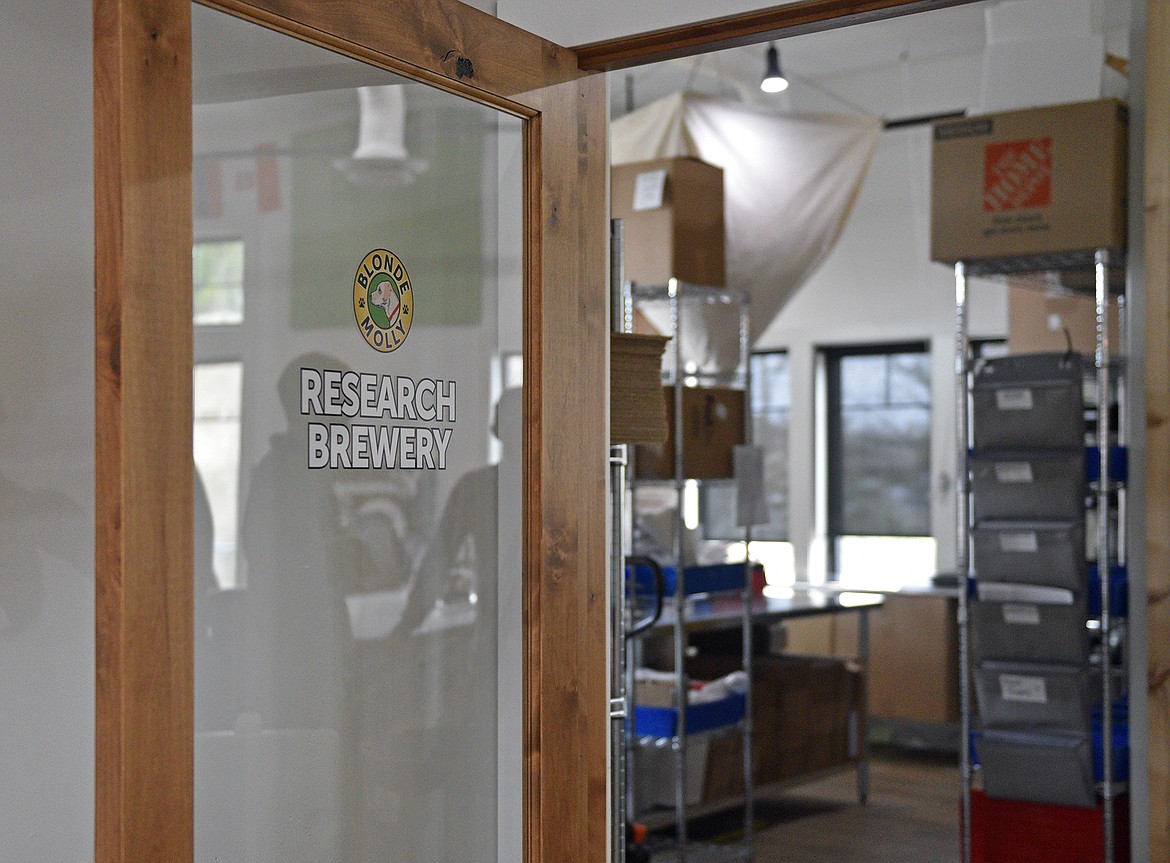 The Research Brewery at Glacier Hops Ranch. (Whitney England/Whitefish Pilot)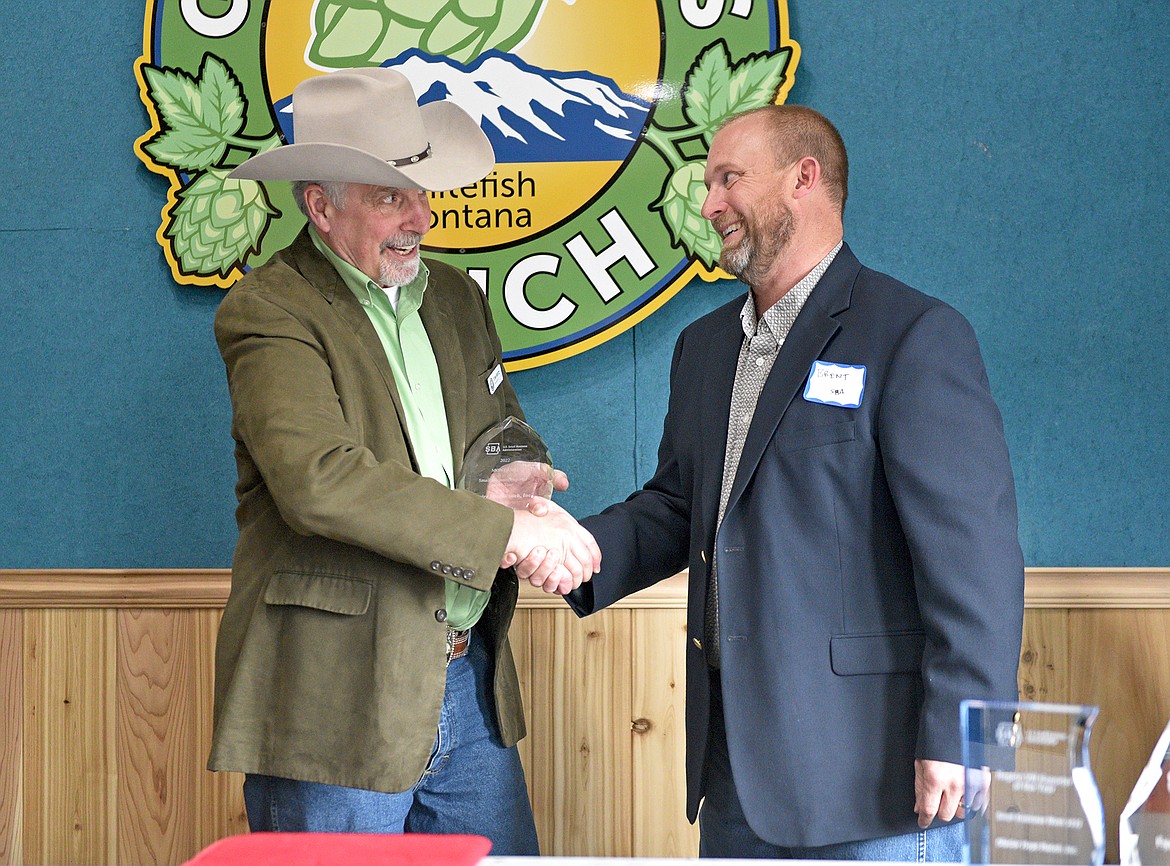 Glacier Hops Ranch CEO Tom Britz accepts the Exporter of the Year award from Brent Donnelly, SBA Montana District Director. (Whitney England/Whitefish Pilot)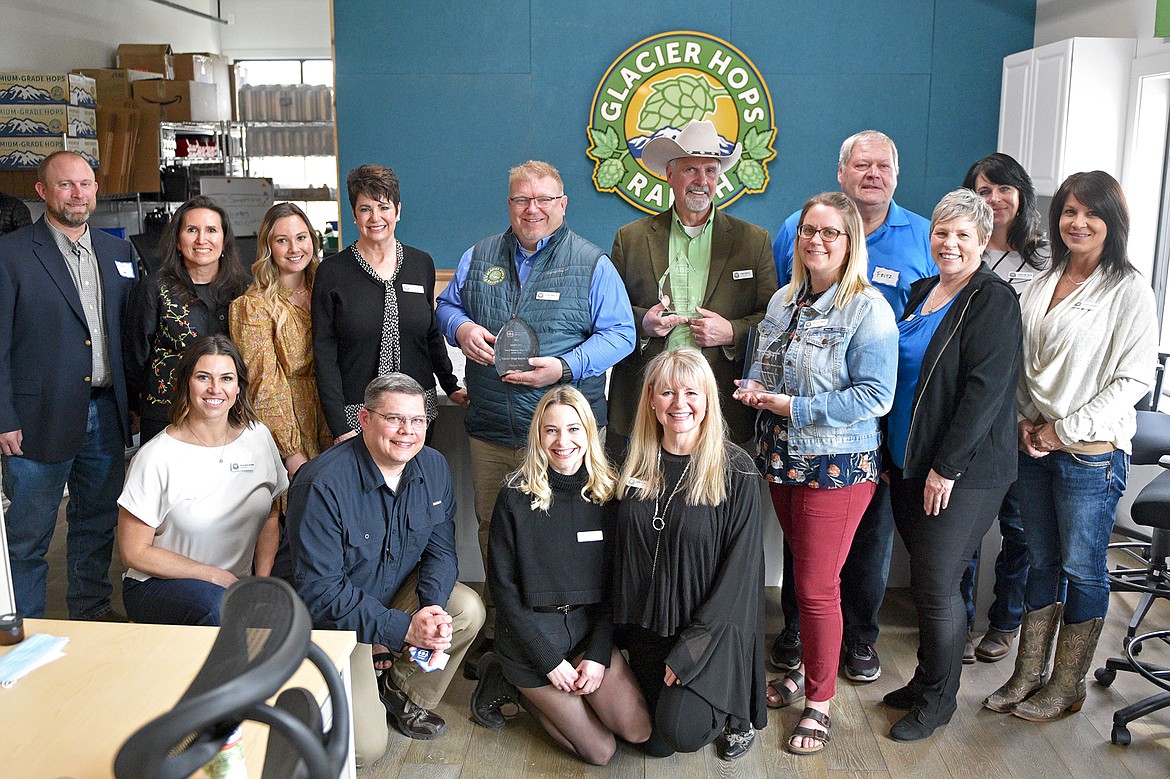 The team at Glacier Hops Ranch accepts the Exporter of the Year award at the state, regional and national level from the Small Business Administration on April 28. (Whitney England/Whitefish Pilot)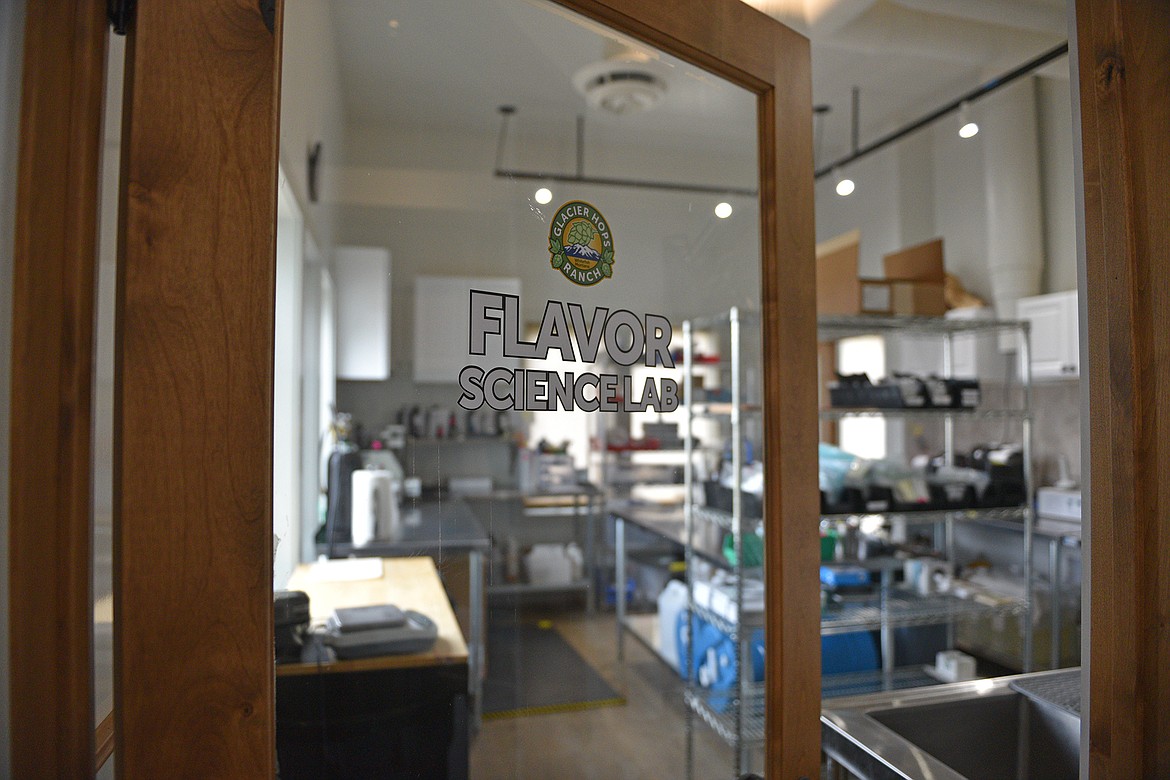 The Flavor Science Lab at Glacier Hops Ranch. (Whitney England/Whitefish Pilot)
Previous
Next
by
WHITNEY ENGLAND
Whitefish Pilot
|
May 11, 2022 1:00 AM
What started as an experiment planting 46 different varieties of hops on a 30-acre field nearly a decade ago has now turned into a thriving agricultural wholesale business that has exported products to over 50 countries.
That quiet beginning that tested what could be grown and produced out of the small town of Whitefish is now the award-winning Glacier Hops Ranch. Recently as part of Small Business Week, Glacier Hops Ranch was recognized as the state, regional and national Exporter of the Year by the U.S. Small Business Administration. The business was honored with a ceremony that presented all three awards to founder and CEO Tom Britz.
Winning the Montana Small Business Exporter of the Year award alone was a shock for Britz as he had hoped for a top-five place, but when he heard Glacier Hops Ranch had won on three different levels Britz was blown away.
"I got the call about the state and regional one and I was like wow, that is just mind-boggling... the news that we will be winning the national, it was just so humbling," Britz said. "It was just as big of goosebumps then as it is now. This is a big deal when you think of all the small businesses in the country."
He added that doing international business, now a major part of Glacier Hops Ranch, out of such a small town is incredible.
"The international stuff is a funny business – it takes a lot more work, but the majority of our business and our growth really has been international," he said. "It just blows my mind that we can do this from Whitefish, Montana. That probably is the most astounding thing to me."
National Small Business Week recognizes the critical contributions of entrepreneurs and small business owners across the country. The SBA says more than half of Americans either own a small business or work for one. As part of the Small Business Week, the SBA strives to highlight the impact of hard-working entrepreneurs from all 50 states and U.S. territories.
This year's Small Business Week theme, "Building a Better America Through Entrepreneurship" was designed to highlight the "resilience, ingenuity and creativity of these award winners who, like millions of small businesses, have navigated challenges from the pandemic and contributed to our nation's economic comeback," a release states.
"Glacier Hops Ranch, Inc. has disrupted the hops/brewing industry with their innovation and ingenuity, creating new products and processes along the way," said Brent Donnelly, Montana SBA District Director.
As the SBA honors Glacier Hops Ranch, Britz reflected on the humble beginnings of his business and the success and failures along the way.
Back in 2012 Britz and his wife were having a hard time coming out of the Great Recession. They decided to keep their 30-acre ranch in Whitefish but had to figure out what to grow and how to make money from it.
The MSU Agriculture Extension Agent, Pat McGlynn, suggested he grow hops.
"I said hell no, I've never considered growing hops," Britz recalls.
But he did some research and gave it a shot. And from there he began the journey of creating Glacier Hops Ranch.
Glacier Hops was the first commercial hops ranch in Montana. Britz started out by growing different hops varieties to see what would grow in the Flathead's particular climate. Turns out all the varieties grew and thrived in Montana.
"Our climate here in the Flathead is pretty darn good for hops as we found out," he said.
A few years down the line Britz began experimenting with hops, looking to create a hops extract of sorts. He began researching how to make oil from hops and eventually created what is called Hopzoil™ and exclusively produced by Glacier Hops Ranch. This product is the result of taking only fresh hops and steam-distilling them on the farm to capture all the essential oils found in fresh hops out in the field.
Creating this product led to a change in business in 2018, ending the farming of hops and embarking on the journey of international exporting. Now the business is a two-part model with a broker-dealer side and a part that produces Hopzoil™.
Glacier Hops Ranch works closely with Flathead Valley Hops to create the product and exports the hops grown there as well.
Glacier Hops Ranch secured its first international customer in 2018 and since increasing its staff and better learning the ways of the international market in recent years it is now a thriving enterprise.
Britz says creating the Hopzoil™ was a key to breaking into the international side of this business as the product has a longer shelf life and is easier and cheaper to ship.
"The very concentrated nature of the product, we could ship it international... and get it through customs in four days – so a fraction of the time and a fraction of the cost," Britz said.
International exporting has become a major part of Britz's business, and he never really meant for it to go that way. Sometimes a little luck, and a lot of pushing through hurdles, creates something unimaginable.
And creating the Hopzoil™, an incredible product for craft brewers all over the world, was just, "dumb luck," says Britz.
The SBA helped Britz through the pandemic and in multiple other ways. The SBA granted Glacier Hops Ranch a working capital loan in 2020 and with that help, Britz was able to hire the staff and support needed to grow.
It was just a one-man show for the most part for many years though, and Britz says if there's one key it's to keep going and keep asking for help.
"If somebody says what was the secret to your success, I would say perseverance," he expressed.
---