Lady Dogs handle competition on the court, win 3 tennis duals
by
WHITNEY ENGLAND
Whitefish Pilot
|
May 4, 2022 1:00 AM
The Whitefish girls tennis team had a busy week, matching up with Flathead, Corvallis and Hamilton. In addition, the tennis team traveled to compete in the Bitterroot Invite hosted by Hamilton on Saturday.
The week was littered with highlights as the team is beginning to shape into postseason form.
Whitefish head coach Patrick Dryden says the team felt pretty good with a 7-2 win over Class AA school Flathead.
At doubles, Tallory Workman and Addie Oehlerich played together against Flathead's No. 1 team of Abby Clark and Sophie Dykhuizen, winning 6-2, 6-3.
Bulldogs' No. 2 team of Emma Trieweiler and Elliette Haigh and No. 3 team of Ashley Gunset and Lauren Solem also put together smooth victories.
In singles play, Whitefish's Anyah Cripe and Lauren Brown have both played in the No. 1 spot this season. Last week against Flathead both had tough matches and lost to Flathead's top players. In the No. 3 singles position, Alivia Lusko had one of the best matches of her high school career against Flathead's Isabella Parrott, according to Dryden. Lusko and Parrott went three sets, but Lusko edged her 10-5 in the final set. Dryden says Lusko is continually improving each week.
"That's the best match that Alivia has ever played — I think I'm going to be saying that a lot over the next three years," Dryden said. "She just really stepped it up and is hitting the ball with a lot of pace; playing with more consistency and more confidence."
On Friday Whitefish took a 6-1 win over Hamilton in the morning before squeaking out a narrow 4-3 win over Corvallis in the afternoon.
Against Hamilton, Dryden says the Whitefish team played well in each match. Lauren Brown's singles match over Hamilton's Gracie Hawkes was a solid match and a highlight for the morning.
That afternoon in Corvallis, the girls struggled in a few more matches — possibly due to fatigue from playing the day prior and that morning. Dryden says Emma Shaffer's match was impressive as she fell behind 4-1 in the first set, but rallied to come back and win the set 6-4, then she clinched the match with a 6-2 victory in the second set. Shaffer's win also was the match that gave Whitefish the team win.
Dryden says the Bitterroot invite was not as beneficial as he'd hoped, as the Whitefish players didn't get matched up with players at their same competitive level. Whitefish won all its matches at the No. 1 and 2 spots except two on the doubles side, finishing with a 14-2 record at the invite.
Results from FVCC:
Whitefish 7, Flathead 2
Singles
Alexis Kersten (Flathead) def. Anyah Cripe 6-0, 6-2; Patricia Hinchey (Flathead) def. Lauren Brown 7-6, 6-1; Alivia Lusko (WF) def. Isabella Parrott 7-6, 6-4, 10-5;
Emma Shaffer (WF) def. Elle Westover 6-3, 6-4; Maile Vine (WF) def. Cece Winkn 6-1, 6-0.
Doubles
Tallory Workman/Addie Oehlerich (WF) def. Abby Clark/Sophie Dykhuizen 6-2, 6-3; Emma Trieweiler/Elliette Haigh (WF) def. Kathryn Butson/Kylie Amundson 6-1, 6-2; Ashley Gunset/Lauren Solem (WF) def. Graci White/Natalie Haag 6-0, 6-0; Piper Dudley/Sophie Olson (WF) def. Delilah Esick/Rebecca Vosen 6-1, 6-1.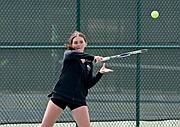 ---