Bulldogs on top in 3 tennis matches last week
by
WHITNEY ENGLAND
Whitefish Pilot
|
May 4, 2022 1:00 AM
Last week the Whitefish boys tennis team went 8-0 over Class AA Flathead to start off a successful week on the court.
Leading the way, Aaron Dicks was victorious at No. 1 singles and Mason Kelch and Finn Stagg also won their No. 1 doubles match. At No. 2 singles Joe Brandt took down Flathead's Quaid Ring, 6-4, 6-1 and in the third spot Bulldog Austin Gunset won over Cody Ramer.
Whitefish traveled south to Hamilton and Corvallis for a double dual on Friday which tested the stamina of the athletes playing back-to-back. The Whitefish boys beat Hamilton 6-1 and then defeated Corvallis 5-2.
Whitefish head coach Chris Schwaderer says the trip to the southwest part of the state was productive and it was good to see teams outside of the Northwest A conference as divisionals draw closer.
"It's kind of fun for us to get out of our little neighborhood here and see some other teams, and start to get a sense for what's out there in the state," he said.
At No. 2 singles, Brandt was solid against both opponents. He won over Corvallis' Grant Wilcox, 6-0, 6-1, and went three sets with Hamilton's Colin Haney — 6-4, 0-6, 10-8. Haney played in the state tournament last year, making the two well-matched.
"It was a good test for him to see someone who's a proven player," Schwaderer said. "In the third set he managed to pull it together, I thought he showed a lot of mental toughness."
At No. 1 doubles, Schwaderer says the team of Mason Kelch and Highland Lee-French is starting to come together. As a new doubles team, both athletes are working on their chemistry playing together, but the coach likes what he sees so far. They beat the Hamilton top team 7-6, 6-2, but dropped one to Corvallis.
"They really showed up against Hamilton, took care of them in straight sets," Schwaderer said. "That's a really promising-looking team."
Whitefish also played in the Bitterroot Invite on Saturday and Schwaderer says they mainly played athletes from Dillon. He says they did well against the competitive Dillon team — Dicks notched a win at No. 1 singles and the team of Kelch and Lee-French nabbed a close win over Dillon's top doubles team.
As the postseason is quickly approaching, Schwaderer is liking how the team is taking form.
"As we get closer to the divisional tournament, we're just starting to figure out who's going to be where and working on team chemistry," he said. "I'm feeling pretty good as we get closer."
Whitefish was set to play Columbia Falls on Tuesday after press time. Then the team will host Ronan at 10 a.m. and Libby at 2 p.m. on Saturday.
Results at FVCC:
Whitefish 8, Flathead 0
Singles
Aaron Dicks (WF) def. Kutuk White 6-0, 6-1; Joe Brandt (WF) def. Quaid Ring 6-4, 6-1; Austin Gunset (WF) def. Cody Ramer 6-2, 6-1; Neal Bernat (WF) def. Holden Askvig 6-0, 6-0, Luke Roberts (WF) def. Thomas Konopka 6-0, 6-1.
Doubles
Mason Kelch/Finn Stagg (WF) def. Quaid Ring/Jack Thompson 6-2, 6-2; Dane Hunt/Jesse Burrough (WF) def. Tyler Shawback/Ezias Bailey 6-0, 6-0; Thad Smith/Buren Bust (WF) def. Steven Baker/Maverick Huestis 7-5, 6-4.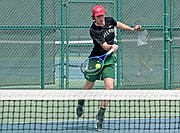 ---