Breaking the stigma: Students strive to prevent teen suicide through peer advocacy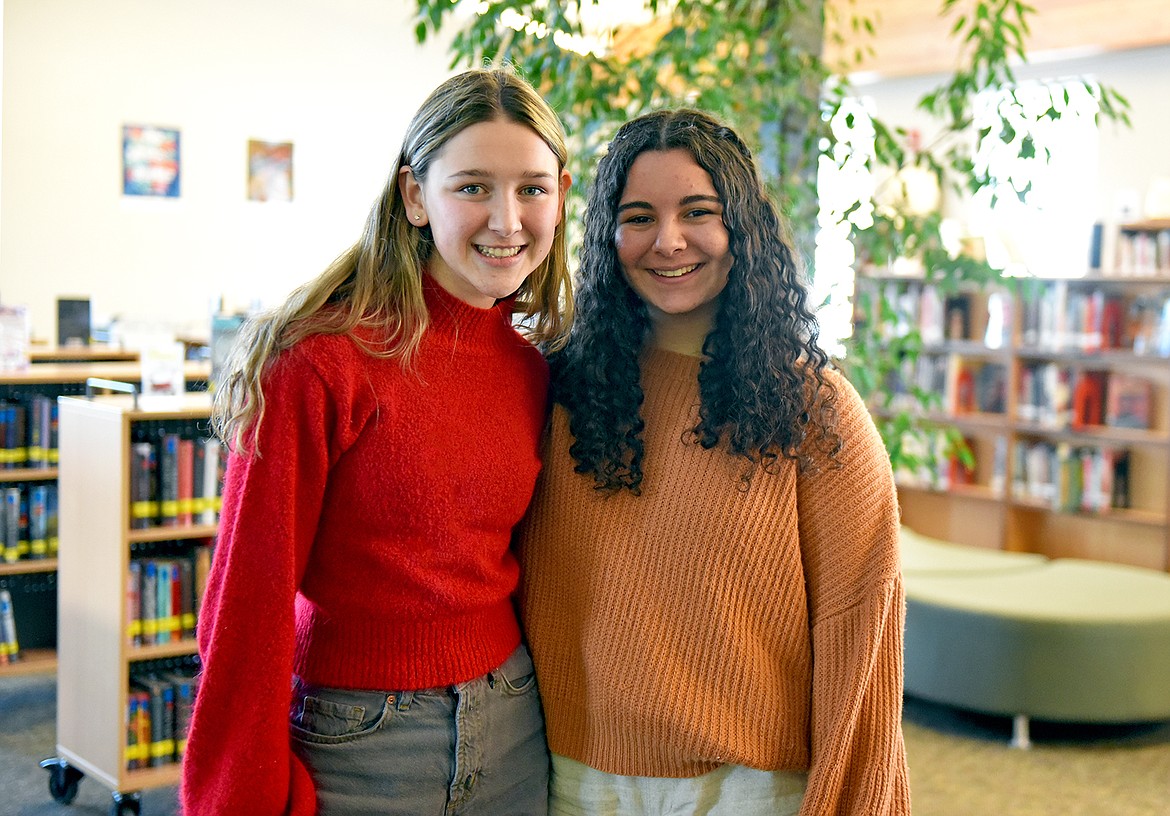 Whitefish High School freshmen Zoey Marzo and Lauren Rossi are working together with administration, school staff and the student body to discover ways to support student mental health and prevent teen suicide. They created a DECA project from their efforts which won in the state competition and qualifies the pair to compete in the national DECA competition. (Whitney England/Whitefish Pilot)
WHS students Zoey Marzo and Lauren Rossi's DECA presentation board highlighting some key statistics. (Courtesy photo)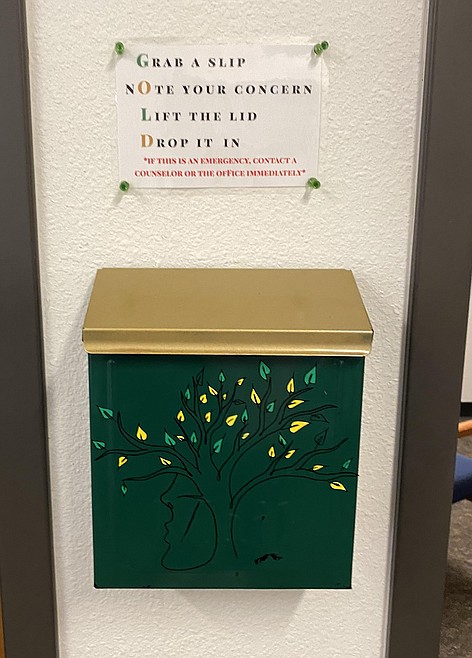 A "Gold Box" for students to leave anonymous tips in Whitefish High School. (Courtesy photo)
Previous
Next
by
WHITNEY ENGLAND
Whitefish Pilot
|
March 23, 2022 1:00 AM
Overwhelmed.
That is the top word students recently surveyed at Whitefish High School used to describe how they were feeling emotionally. Next up were the words tired and mediocre.
Over 80% of the students surveyed also said they felt there was a negative association with mental health in the school and community; only a quarter of the students felt they would be comfortable seeing a school counselor.
Using the survey data as a springboard, two Whitefish students recently launched a project that is working on reducing the stigma, and will hopefully open more conversations about mental health and youth suicide. High school freshmen and longtime friends Zoey Marzo and Lauren Rossi paired up to co-create the campaign titled Bulldogs United.
Both had interest in supporting other students and helping address an apparent and devastating issue of youth suicide in the Flathead Valley.
"What really got us started was the suicide cluster that our valley was hit with," Marzo said, referring to multiple teen suicides that occurred in the Flathead last fall. "It was a big thing that hit us emotionally."
The pair decided the best way to conquer the goal of forming a culture that normalizes talking about mental health was to create a mental health advocacy campaign that is "for the students, by the students." This peer-to-peer approach they believe is key to reaching more students and helps students to feel more comfortable discussing emotions and problems with people who understand firsthand what they're going through.
"I think since this is coming from the brains of people who are experiencing everything the student body is experiencing – we know what things are probably going to work with students," Rossi said.
MARZO AND ROSSI launched Bulldogs United alongside the newly formed WHS Student Outreach Committee (SOC) which is a peer group coordinated by students to create new mental health resources in the school district. Marzo is also a part of the SOC, and both she and Rossi took a course last fall to become Youth Mental Health Advocates.
They had already started on this campaign when both realized that DECA, a national student business and leadership competition, had a Community Awareness Project category. The pair decided to enter DECA using their campaign and won the category at the state competition. They qualify for nationals which happens virtually at the end of April.
Participating in DECA helped Marzo and Rossi stay on task with deadlines and the pressure to organize their findings for the competition. But for them, it's always been about more than winning a competition.
"I was kind of shellshocked by what was happening in our world, and not just with suicide — with hearing about kids cutting themselves and people just being sad and depressed," Marzo recalled, saying this year she became more aware of how many people close to her were struggling mentally and emotionally.
"I can't sit here and do nothing," she added. "If I'm capable of helping, I want to help."
ROSSI SAYS that many issues like isolation and anxiety were exacerbated for students during the COVID-19 pandemic. Last fall Rossi saw firsthand how teen suicides at Glacier and Flathead High School affected her friends that attend those schools.
"The impact (the pandemic) has had on mental health, and there has been such an increase in youth suicides in our valley…" she said. "You can tell when something like that happens – everyone's mood just changes."
To combat some of these mental health barriers, Bulldogs United in partnership with the student outreach group has already implemented several strategies to get students, staff and administration working together in suicide prevention and mental health awareness.
The student campaign created a new Gold Box for completely anonymous tips. The physical box makes it so students can easily drop a paper tip if they are concerned about another student. They have also worked with administrators to add the suicide prevention national hotline to the WHS website as well as added resources right on the home page. Marzo and Rossi advocated for staff mental health training, which was recently the topic of a PIR staff training day.
Further using the data gathered from the Bulldogs United surveys, the two freshmen have several other initiatives in the works as well. They are hoping to soon install a collaborative art wall that will create a sense of community and give students an outlet for dealing with mental health; an idea of letting students pass kindness on through writing positive messages on sticky notes; two-word check-ins in certain classes to get students talking about their emotions; ongoing mental health advocacy and support channels such as hosting mental health trainings for both students and staff.
"One of our main goals for the project is just to get people talking about mental health, because that's really what experts say is the antidote," Marzo said.
Both Marzo and Rossi are involved in several activities and around a variety of people which gives them the ability to spread their message throughout the school and community.
Rossi says she is academically driven, but she also loves dancing. She spends 10 hours a week practicing at Dance Elements in Kalispell. She is also in the high school band and has been in the Whitefish School District since kindergarten.
Marzo, whose family moved to Whitefish her fourth-grade year, likes to play tennis, is in the high school orchestra and enjoys public speaking including competing with the Whitefish speech and debate team this winter. She's also on the student council.
Through this campaign, Marzo and Rossi strive to create channels of communication within the high school and inspire others to also become mental health advocates. They want to show other schools in the valley what is possible and keep the campaign ongoing and ever-evolving into what students need now and in the future.
In the first round of surveys they conducted in December, the pair had 216 students, 45 staff members and 125 parents respond to the respective surveys. Rossi and Marzo plan to implement a post-campaign survey as well and assess the student body's needs and whether the resources are helping improve the lives of students.
"We really want to get everyone on the same track about what's going on, where our school is at and let everyone know what we're doing to try and help it," Rossi said. "Then if something is not working, we will be able to notice it and figure out a better solution."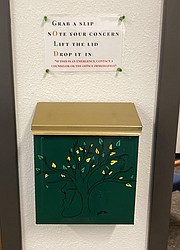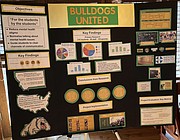 Recent Headlines
---