Whitefish senior Toelcke excels in final gymnastics meet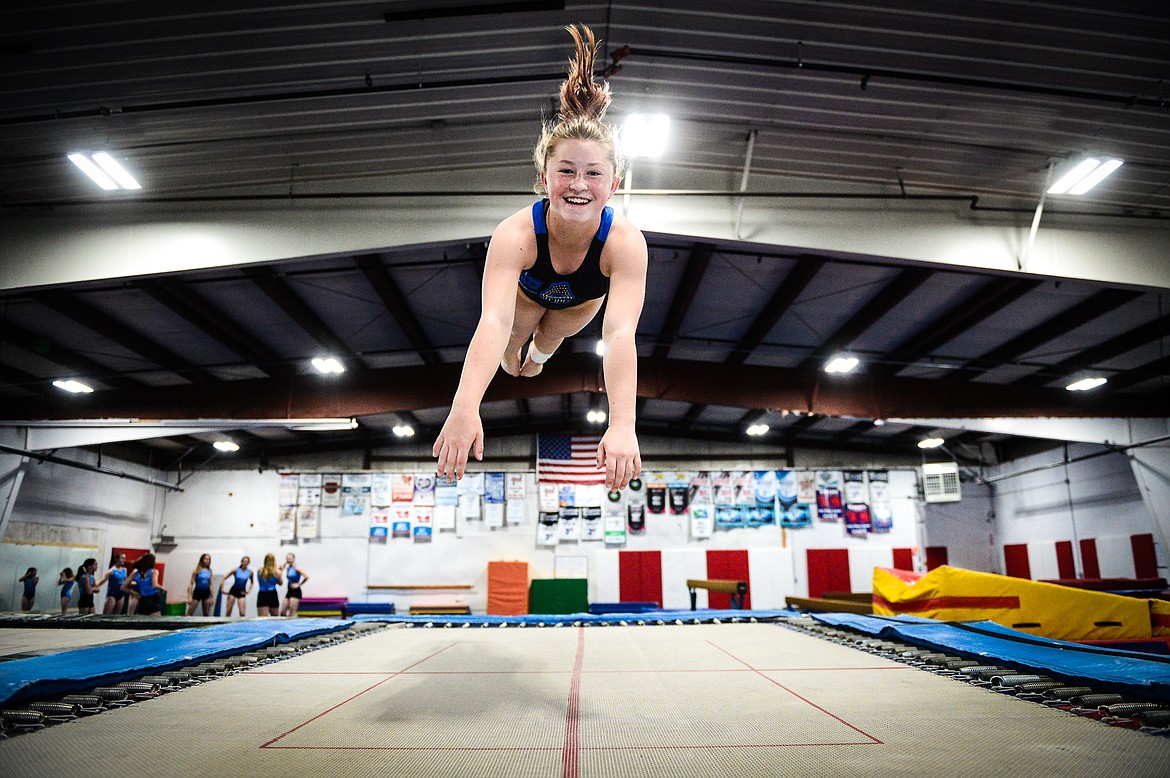 Level 9 gymnast Lucy Toelcke practices on the trampoline at Flathead Gymnastics Academy in Kalispell on Thursday, May 6. (Casey Kreider/Daily Inter Lake)
by
KATIE BROWN
Daily Inter Lake
|
June 22, 2022 1:00 AM
As soon as she stepped into the arena at the 2022 Level 9 Western Championships last month, Lucy Toelcke knew her sensors were on.
That's what she and Keeley Tighe, her coach and co-owner of Flathead Gymnastics Academy (FGA), call it when Toelcke is locked in.
"You could tell she was ready to go," Tighe said. "Lucy has a vibe about her, when she's dancing and she's loose and she's excited to go."
Toelcke went on to place second in the all-around competition, second in uneven bars and won the national balance beam championship.
It was a good send-off for the Whitefish High School senior, who will attend the University of Montana in the fall.
"It just felt like the culmination of all my gymnastics career," Toelcke said. "It didn't have as much pressure on it. I just went out there and left it on the floor."
The Western Nationals are for Level 9 gymnasts only, and those athletes must qualify for it through a series of competitions during the season. There were around 800 gymnasts at the event this year in Salt Lake City, which requires qualifying through state and regional meets.
FGA competes in ​​Region 2, which encompasses Alaska, Hawaii, Idaho, Montana, Washington, and Oregon. Levels 9 and 10 are the top two levels in the USA Gymnastics Development Program.
"She (Toelcke) did a great job," Tighe said. "She couldn't have finished any better. The way she placed was just a testament to her career and her path along to get there."
Maya Schroeder, a junior in high school, also qualified for the national meet and was second place on the balance beam.
Toeckle has been with FGA since she was 7 1/2 years old. While she vows to spend summers at the gym, it will still be a challenging transition.
"It's been a really big part of my life for a really long time," Toelcke said. "I'm definitely gonna miss it. I don't know what I'm gonna do with my time without it."
In 2020, FGA moved into its current space off U.S. 2 West in Kalispell. Since their old gym was half the space of the current one, Toelcke says the gymnasts relied on camps to help with learning and trying out new skills.
"That's where I tried a lot of new stuff," Toelcke said. "And then when I got home I perfected it."
So you can see that upgrading from one to eight trampolines was a big deal for Toelcke.
After Tighe and her husband David bought the building, a few of the gymnasts visited before all the equipment came in. They told Toelcke how many trampolines – her favorite – would be put in.
"She literally cried," Tighe said. "And couldn't have been more excited to be able to have trampolines and the facility like she has to play in."
Tighe has watched her grow up. And as proud as she is of Toelcke, it's hard to see her leave.
"We're gonna miss Lucy moving on to college," Tighe said. "But that's kind of bittersweet for us. I think there's no better privilege and testament than to have them graduate as seniors in the program, because it is a long road. So if we get them when they're seven and they graduate when they're 18 … We couldn't ask for anything more in that way."
Recent Headlines
---