Dedicated yoga practice offers healing potential for all ages
by
JULIE ENGLER
Whitefish Pilot
|
June 22, 2022 1:00 AM
Retirement from a long career can lead some people to feel depressed or as if they've lost a sense of purpose. In Maureen "Mo" Cleary's case, at 71 years old, she knows what it feels like when life narrows and one's abilities become limited.
After experiencing remarkable benefits from yoga, Cleary is now helping others feel more at ease and expand their capabilities — a new pursuit she began after retiring from her nursing career.
Cleary partners with Anna Bohacs to teach a style of yoga for all ages and all abilities at Love Yoga in Whitefish. Their class is called Yoga for Every Body, and at just $5 per class, it is a more affordable yoga option for people in the community.
"It's for anyone who feels like they are in a limited body or feel they have an injury or need to enter yoga in a more gracious and calm environment as opposed to coming right into a flow class," Bohacs explained. "It's a more gentle option to introduce the shapes and the breath and the practice to the body."
Cleary says she did not always treat her body with such care. She would work hard and play hard and when she felt pain, she would often go for a run anyway with the hope of feeling better.
"I had a narrow view of what health and wellness was really about," she said. "I eventually wore my body down."
Cleary moved to Helena in 1970, attended Carroll College and worked at St. Peter's Hospital as a nurse for 15 years. Then, she was a cardiac specialist working as a traveling nurse for another 14 years before ending up in Whitefish.
"In my career, I just pushed through. I made myself push through. My life became a scenario of work and recovery," Cleary explained. "I spent time off work trying to get my body into a certain amount of ease so I could go do another shift at the hospital."
The physically punishing lifestyle she had adopted was causing her to lose her ability to participate in activities she once enjoyed.
"For me, gardening has always been a part of my life and it got to the point where I couldn't tolerate gardening," she said. "I couldn't tolerate any activities of daily living."
Forty years of long shifts at work coupled with an active lifestyle that included long-distance running, complete with all the injuries that go along with that, caused Cleary to suffer multiple injuries and chronic back pain. At one point she was told she'd never run again.
"Chronic back pain is a very common ailment for people for a lot of reasons," she said. "I was like a lot of people -– pushing myself past what was healthy, then spending my time off on the couch taking a narcotic and trying to get my body to relax enough so I could have some level of comfort. It was a desperate time for me."
Cleary believes she was depressed. She says getting older felt dark because her limitations were getting greater and her world was becoming increasingly narrow.
Before and during the first two years of the COVID-19 pandemic, Cleary practiced yoga sporadically but when the yoga studio re-opened, Cleary dedicated herself to one full year of daily practice. She focused on what yoga had to teach with regard to strength, flexibility and alignment.
"I learned to focus on what my body could and could not accomplish at my age," Cleary said. "And that changed everything for me. It was that one full year of dedicated practice with a group of people who were willing to work with me that totally changed my life."
Dedication to her yoga practice allowed Cleary to do all the things she couldn't do before. She gardens, runs, hikes and paddleboards and says she's willing to give anything a try. She and her husband hike up Big Mountain four days a week.
"I'm able to do all those things," she said. "It might sound too good to be true, but really and truly, a dedicated year of practice with dedicated teachers and people willing to give me time and attention, along with my desire to give yoga a try — I just really became a believer."
Through her community class at Love Yoga, Cleary wants to share her newfound belief that yoga can be medicine. She says when your body's not hurting, your mind is not hurting.
In addition to the physical benefits Cleary gained from her yoga practice, completing the teacher training program brought her a sense of purpose. She admitted she was "nervous as heck" teaching her first few classes but she was supported by the people in the studio.
"Mo is who I want to be when I'm 71," Bohacs said. "You feel safe with her and she's excited and happy and joyful to be (in class) and also a safe person you can lean on."
Cleary says the Yoga for Every Body class is accessible, meaning, in part, that they use chairs for balance and to give support and stability.
"We don't ask anybody to push themselves beyond a point of comfort," she said. "That's the difference with an appropriate yoga practice, you ease into things. You go at your own pace."
Since she co-teaches the class with Bohacs, one of them leads the class while the other gives individualized cues and sometimes hands-on adjustments to the students. They say the class is not so much about physical fitness as it is an opportunity to prevent discomfort or dis-ease and form a better relationship with the body.
"For me personally, as a senior, I really want to bring a healthy option for general health to my community," Cleary added. "Dedicating myself to my yoga practice and a teaching certificate not only made me stronger, but saved me from a lifetime of chronic pain and feeling limited. I want to share the potential of movement as a cure."
Cleary and Bohacs' class, Yoga for Every Body, is offered on Mondays and Wednesdays from 12:30 to 1:30 p.m. at Love Yoga.
For more information call Love Yoga at 406-471-7677 or go to: https://www.loveyogawhitefish.com/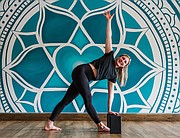 Recent Headlines
---