Flooding brings road closures, evacuations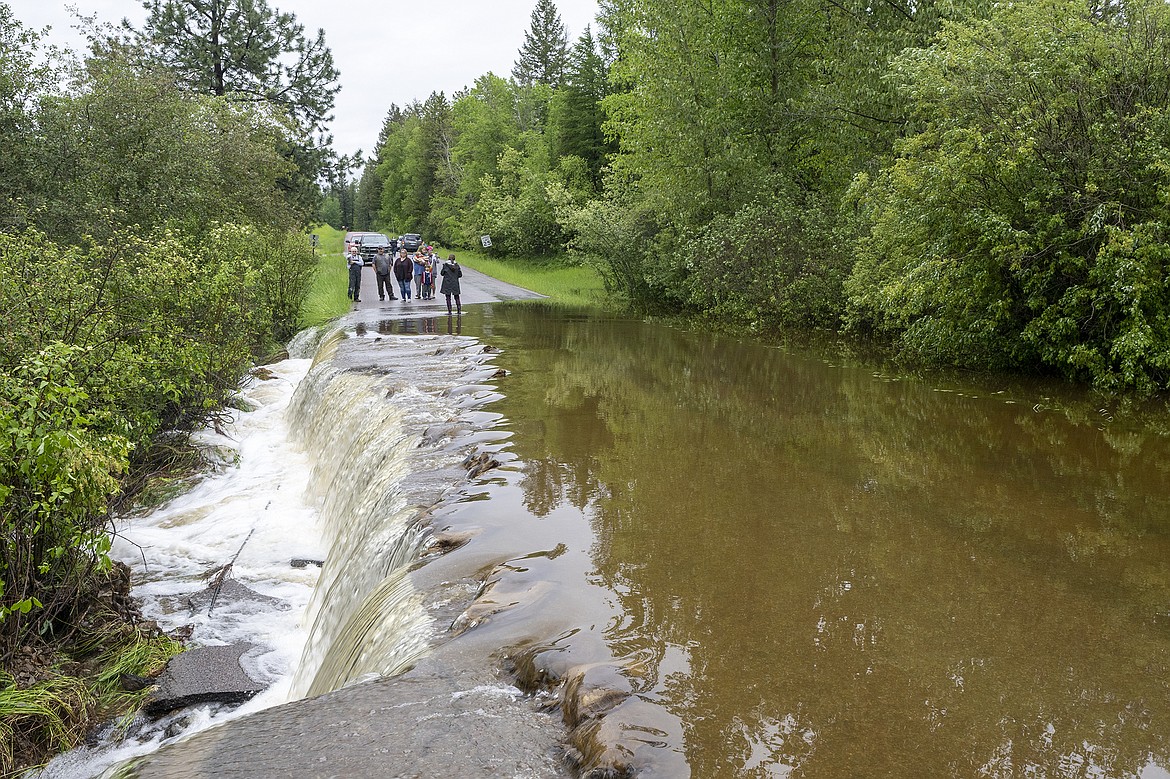 Flood water spill across North Hilltop Road in Columbia Falls on Wednesday, June 15. There was concern the culvert could fail entirely, sending a wall of water downstream. (Chris Peterson/Hungry Horse News)
by
MATT BALDWIN
Daily Inter Lake
|
June 16, 2022 10:00 AM
Area road closures and evacuations were ordered Tuesday evening and into Wednesday as minor flooding impacted parts of the Flathead Valley.
According to the Flathead County Sheriff's Office, residences on Rabe Road, Lake Drive and Bailey Lane in Columbia Falls were evacuated Tuesday evening. Also evacuated were Blankenship Road, from Blankenship Bridge to North Fork Road, and the Leisure Drive area of Kalispell. Officials ordered the evacuation of North Hill Top Road on Wednesday afternoon.
Precautionary evacuations were issued for other low-level areas throughout the valley.
Evacuation orders have since been lifted on Rabe Road, Lake Drive and Bailey Lane areas of Columbia Falls.
Red Cross opened an emergency shelter for residents displaced by the evacuations at Columbia Falls High School, located at 610 13th Street West in Columbia Falls. Local emergency response officials launched a hotline — 406-758-2111 — to provide residents with information and directed those looking for updates to the agency's Facebook page.
Officials urged drivers to use caution on flooded areas and to heed posted signs.
"Emergency personnel are working hard to help with pre-evacuation and evacuation efforts, please do your part to protect our community – stay clear of dangerous areas and flooded roadways and allow for emergency personnel to do their jobs most effectively," the Sheriff's Office stated in a media release.
At a Wednesday afternoon press conference, Sheriff Brian Heino said about 50 people had been evacuated since flooding began. Although some were returning to their homes, residents of other low-lying areas were being asked to leave, he said.
The Flathead County Board of Commissioners issued a declaration of emergency earlier in the day.
Heino also announced new road closures: North Hill Top Road in Columbia Falls; portions of Steel Bridge Road in Kalispell; and 7-mile Upper Whitefish/Stryker Road in the Stillwater State Forest.
The Sheriff's Office was working alongside the county's Office of Emergency Services, Search and Rescue and local fire services, said Heino, who is acting as incident commander. He reiterated calls for residents to take precautions until waters receded.
"Rising water creates dangerous situations," he said, standing outside the county's Search and Rescue building. "We plead with you to please use caution as we struggle to keep up with what resources we have."
He asked that drivers approaching standing water avoid trying to navigate the murky depths and urged residents to leave emergency signs alone.
"The signs are placed there for a reason," he said. "Please do not take the signs."
The Flathead River at Columbia Falls was at 14.3 feet Wednesday morning, and was projected to rise to about 15.6 feet by Tuesday. That forecast is slightly down from the 16.5 feet previously projected.
Flood stage is at 13 feet. During the historic flood of 1964 the river topped out at 25.6 feet.
The Whitefish River also jumped into flood stage Wednesday as it topped 5 feet. The National Weather Service's Advanced Hydrologic Prediction Service forecasts the Whitefish River staying in flood stage through next week.
A flood warning was issued for the Whitefish River near Kalispell. According to the Weather Service, at 5 feet the river will flood yards and driveways on River Road in Kalispell. At 5.2 feet, bank erosion threatens homes downstream of Whitefish.
Heino said authorities were keeping an eye on Whitefish River as well as creeks and streams flowing into the Flathead River.
Lincoln Chute, county fire warden and a member of the Office of Emergency Services leadership team, said officials were setting up sandbag filling stations around the county. Like Heino, he urged residents to carefully consider the risks when venturing out.
"You've got to really be using some caution," he said. "Slow down and take care of yourself."
In Lincoln County, the Yaak River is finally trending down after peaking at 8.7 feet on Tuesday morning. Moderate flood stage is 9 feet. The river is forecast to drop out of flood stage by the weekend.
HEAVY RAIN and continued spring run-off are contributing to the rising river and lake levels across Northwest Montana.
Kalispell set a new daily maximum rainfall record for June 14, with 2.07 inches falling Tuesday. The old daily record was 0.87 inches set in 1973.
About 2 to 4 inches of precipitation fell across Northwest Montana mountains on Tuesday, with much of that as accumulating snow above 5,000 feet. The Noisy Basin weather station in the Swan Mountains snowed 37 inches of snow accumulating between Monday and Wednesday morning.
A break in the wet weather is expected Wednesday through Friday, with some of the warmest temperatures of the season on tap. Highs will touch the mid 80s in some valley areas Friday before another round of rain and cool temperatures moves in Saturday.
Still, even with the wet forecast, the National Weather Service said the worst of flood season is likely over for most locations in Western Montana.
"In the last couple of weeks, warmer weather has significantly reduced the available snow pack for melting and adding to the run off," the Weather Service stated in its Wednesday forecast. "Even the recent system which left 1 to 3 inches of rain in the mountains across the region was only able to cause minor flooding, and the next system doesn't look that wet and won't have as much snow melt runoff to work with."
The exception could be the Flathead River near Columbia Falls, the forecast continued.
"Flathead Lake and the Hungry Horse reservoir are nearly full, which impacts the river levels," it stated.
At Wednesday's press conference, Heino said local officials remained concerned with the addition of runoff from snow melt.
"I know that our weather is going to change, but that does not [alleviate] our concerns," he said.
THE SOGGY situation has led to road and trail closures in the area.
The Flathead Forest on Wednesday closed the West-Side Hungry Horse Reservoir Road between Mazie Creek Road and Graves Creek Road due to a rockslide and an unstable slump area. The area is located along the north shore of Graves Bay, between mile markers 29.7 and 33.4. The closure is in effect until the end of August, but could be lifted sooner if conditions allow, the Forest Service stated in a media release.
Mazie Creek Road is planned to open as scheduled on July 1.
Graves Creek Road, Graves Creek Campground and Handkerchief Lake Campground remain open, but must be accessed by using the East-Side Hungry Horse Reservoir Road and driving around the reservoir.
A closure at the Blankenship Bridge area is being extended until water recedes.
The Old Steel Bridge Fishing Access Site along the Flathead River in Evergreen remained closed, and access was limited at Presenting and Kokanee Bend.
Recent Headlines
---