Senior Emma Barron takes vast experience into future medical career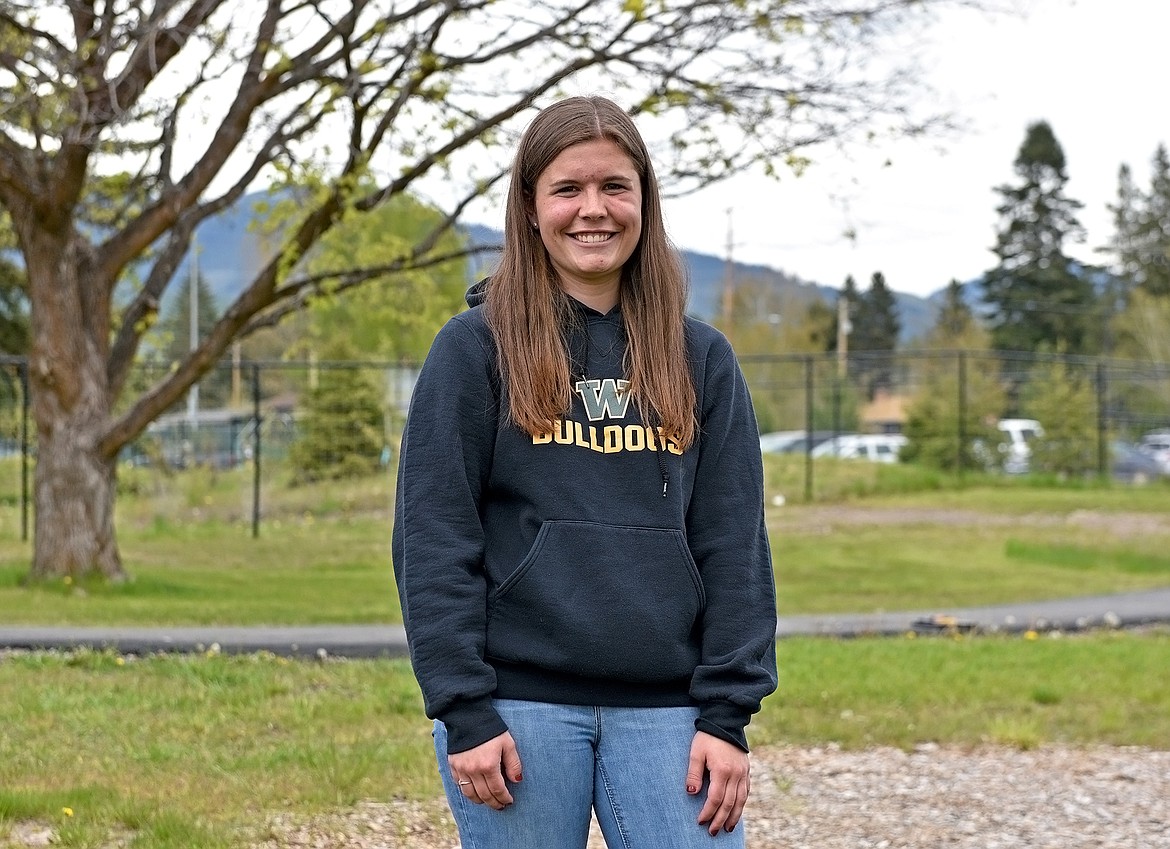 Whitefish High School senior Emma Barron graduates with the Class of 2022 on Saturday. (Whitney England/Whitefish Pilot)
by
WHITNEY ENGLAND
Whitefish Pilot
|
June 1, 2022 1:00 AM
Throughout the last four years, Emma Barron could often be spotted at a sporting event cheering on the Bulldogs, on a soccer field or leading several student activities.
The Whitefish High School senior strives to spend as much time as possible outdoors in the mountains with friends and family as well as being heavily involved in her school. Barron says she carries a lot of pride and school spirit as a Whitefish Bulldog, creating memories that will carry on well past graduation.
Barron graduates Saturday from Whitefish High School with the Class of 2022.
Barron has a long resume of accomplishments from her high school career. She is the Student Body President and has been involved with student council since sophomore year. Through student council, Barron had the opportunity to represent the student body and meet almost everyone throughout the school. Being involved in school activities is the No. 1 piece of advice Barron would give to an incoming freshman as she says it changed her high school experience.
"Student Council – just getting to know everybody in the school has been one of my favorite parts," she said. "It's really helped immerse me in my school and help leave a good impact. It's bittersweet leaving, but it's been a fun four years."
In addition to student council, Barron is also the president of WHS's HOSA Future Health Professionals club, the FREEFLOW advanced science program president and vice president for scholarship with the National Honor Society. She participated in DECA, a business entrepreneurship program, and placed in one category that qualified her to compete at Nationals this year. She is also first chair viola in the Whitefish High School Orchestra and earned a varsity letter in fine arts for the past two years.
She says all her extracurricular activities have taught her different skills and offered a vast experience outside of the classroom.
"Honestly each one is so unique that I've gotten so many different things out of each one," she says.
Barron is also an All-state, All-conference first team soccer captain for the Whitefish Bulldog soccer team. She began playing soccer at age 3 and says she hasn't stopped since. She fell in love with soccer early on and the game continues to shape her life.
"Everything I kind of have in my life has come from soccer," she said, explaining that she's gained friends, mentors and an unwavering support system on her way to finding success on the field. "The coaches that I've had since I was 9 here are still involved in my life; they're at my signing, they still coach me today and so I'm very thankful that I've had that support system."
"Soccer's just everything – it's so fun," she added.
Although Barron has played for the Flathead Rapids, development teams and local club teams, playing high school soccer has been a highlight for the graduating senior. In 2021, Barron led the Lady Bulldogs in scoring with 27 goals and had 11 assists ranking her No. 4 among the Class A girls soccer scoring leaders. Whitefish also led Class A in total goals scored that season. Barron was a captain and a true leader on the field, even when the Bulldogs had a heartbreaking loss in the state championship in 2020.
"High school soccer has been awesome; I loved every minute of it, even the hard moments," Barron said. "I would do anything to do that again, thankfully I get to go experience a higher level for the next four years – I'm really excited about that."
Barron's success through soccer has led her to attend Carroll College in the fall on an athletic scholarship. Barron says she chose Carroll because she wanted to stay in the mountains and somewhat close to home, but also the school fits both her academic and athletic aspirations.
Carroll College has a prestigious nursing program and other health science tracks — just what Barron has had in her sights for years now.
Barron says she's a science kid, with a splash of math. And an experience about six years ago directed her to a medical career path giving her goals to aim for.
At just 12 years old Barron underwent surgery for a tumor — it was benign but that was unknown until after the operation.
She remembers the experience of discovering the tumor and heading into surgery as terrifying, but what she recalls even more vividly was the friendly care offered by her nurses and medical staff.
"It was really kind of scary… but the nurses and the different staff made it easier for me, they were comforting," she said. "I was having a good time when I woke up because obviously the anesthesia, but also they made me feel safe. So I was like, I want to do that."
After that experience, she realized the impact she could have on people if she chose a career path in the medical field.
Barron plans to major in health sciences at Carroll and hopefully attend a Physicians Assistant school in the Northwest after. Eventually she sees herself returning to the Flathead Valley to live, work and help out the local soccer programs.
She says learning things doesn't come easy for her, but knows after her time at Whitefish High School that she can persevere and go after any aspirations.
"It's been challenging for myself understanding that I do have to put in the work to get a good grade and be successful at something," she said. "I have to really push myself to succeed."
But she's up for the challenge and knows many opportunities await.
Recent Headlines
---