Council seeks proposals for potential central recycling site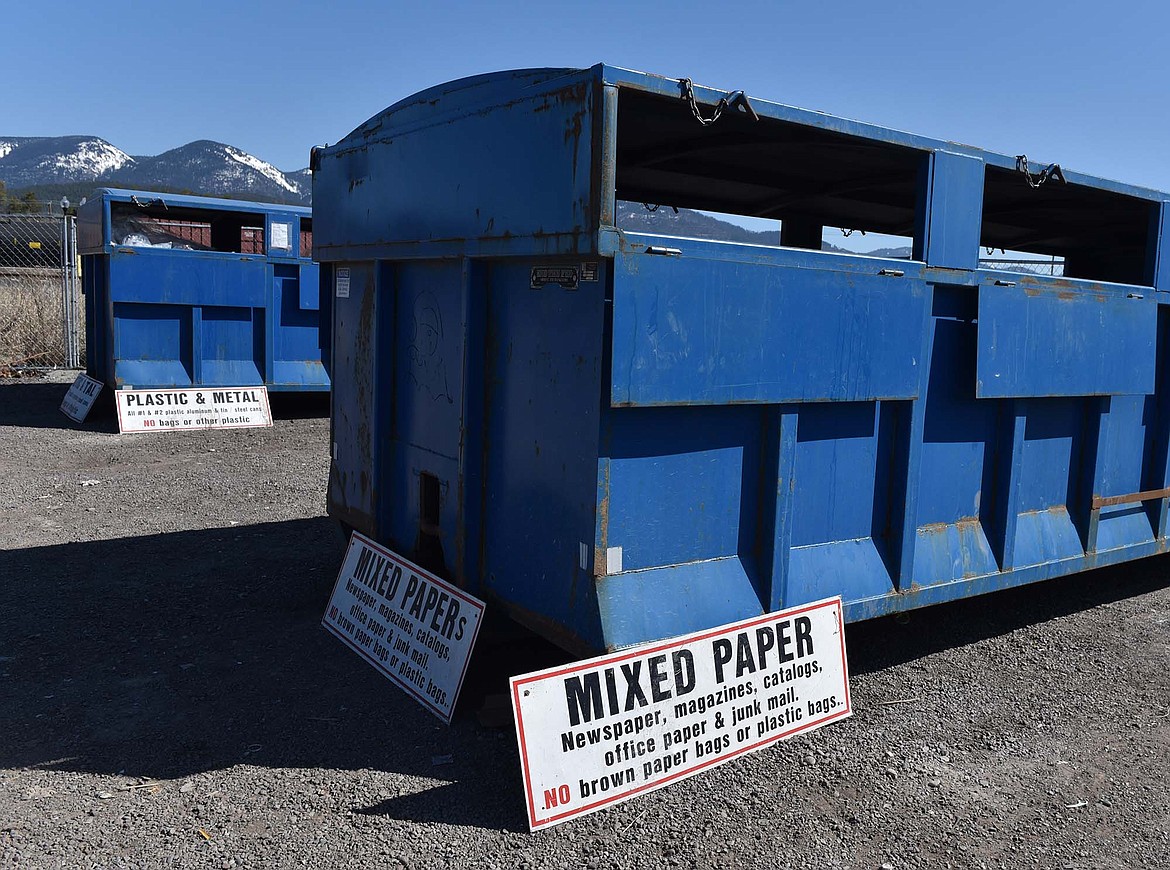 The City of Whitefish's previous centralized recycling site at the corner of Columbia Avenue and Railway Street. It closed in January 2022. (Heidi Desch/Whitefish Pilot file)
by
JULIE ENGLER
Whitefish Pilot
|
July 27, 2022 1:00 AM
The City of Whitefish is once again looking into forming a centralized recycling site after the idea for curbside pickup of recyclables didn't pan out.
City Council held a work session on July 18 to discuss a potential recycling site and decided to go forward with a request for proposals (RFP).
Whitefish Public Works Director Craig Workman said he will be drafting an RFP for contractors to present an immediate solution for recycling in Whitefish as well as providing long-term solutions for additional sustainability objectives such as glass management, food waste composting and more. He called it a phased approach.
The previous central recycling center on the corner of Columbia Avenue and Railroad Street was officially closed at the end of January 2022 due to overuse and contamination at the site. Additionally the property had been donated by the city to the Whitefish Housing Authority for an affordable housing project. Talks have been ongoing for nearly two years to find a better solution for the city's recycling.
In the spring of 2021, the city received bids for both a central recycling facility and for curbside pick up. They also solicited input from the community and considered implementing curbside recycling. That fall, amidst a busy bear season and after much public opposition, council postponed the decision.
"We realized we had a bigger solid waste issue," said City Public Works Director Craig Workman.
Recently, the city has been working on obtaining animal-resistant containers for garbage service and approved a contract with Republic Services in May. Mandatory curbside recycling was considered but concern over unsecured animal attractants made it less viable. Councilor Frank Sweeney noted that individuals who desire curbside recycling service still have the option, as individuals, to contact Republic for such service.
Now, the council is considering the construction and maintenance of a new central recycling site, potentially located on Monegan Road, between Voerman Road and JP Road. The purpose of the work session was for the council to give direction to city staff about the facility.
"Do we want to do a simple collection facility, similar to what we had before but better managed and better run or do we want to open it up to a much more imaginative, out of the box (proposal) and give the vendors and the contractors the ability to tell us what they think," asked Workman.
Whitefish Parks and Recreation Director Maria Butts said that when her department looks through the recycling bins in various parks around town, every bin is contaminated with trash.
"So I really urge you to not go back to the old standard that we had," Butts said. "I call them 'feel good containers' at that point."
After listening to public comments, the council asked staff to draft an RFP for a centralized recycling site.
"We've identified the fact that we're interested in some type of community, non-curbside recycling program," Workman said. "The next step is to go out for an RFP… ask the contractor to help with design and once built, they would manage it. We'd get a monthly bill for their servicing the facility."
Staff says it is important to note that service costs have increased significantly since the last request for bids and the construction of the facility, which is estimated at approximately $325,000, is not included in this cost. The staff proposes to fund the site with a dedicated property tax mill levy.
Alissa LaChance, owner and operator of Dirt Rich Compost, informed the council last month about a federal grant through the USDA's Composting and Food Waste Reduction cooperative agreements. This year, $10.2 million will fund pilot projects that implement strategies for municipal compost plans.
LaChance said she currently processes over 4,000 gallons of food waste per week at her facility in Columbia Falls. She said that amount would quadruple if everyone in Whitefish participated in a composting program.
Dave Fischlowitz of Flathead Recon, a local glass recycling/pulverizing company, said that Whitefish and Columbia Falls should collaborate. He suggested another potential location for the site and said we have "the intellectual horsepower in this valley" to resolve this situation.
"As soon as there's a good system, the amount of glass that can be saved from the landfill will just explode," Fischlowitz said.
The proposed phased approach allows the city to pursue a central recycling program as soon as possible while allowing more time for the introduction of services like glass processing and composting that will help the city reach its sustainability goals.
"I think we should be working toward long range…''Councilor Rebecca Norton said. "We could integrate glass crushing into our system, too. Also, we're losing a lot of money if we don't act on the (food waste reduction) grant opportunity."
Recent Headlines
---