Whitefish Community Foundation Awards $25,000 to Land to Hand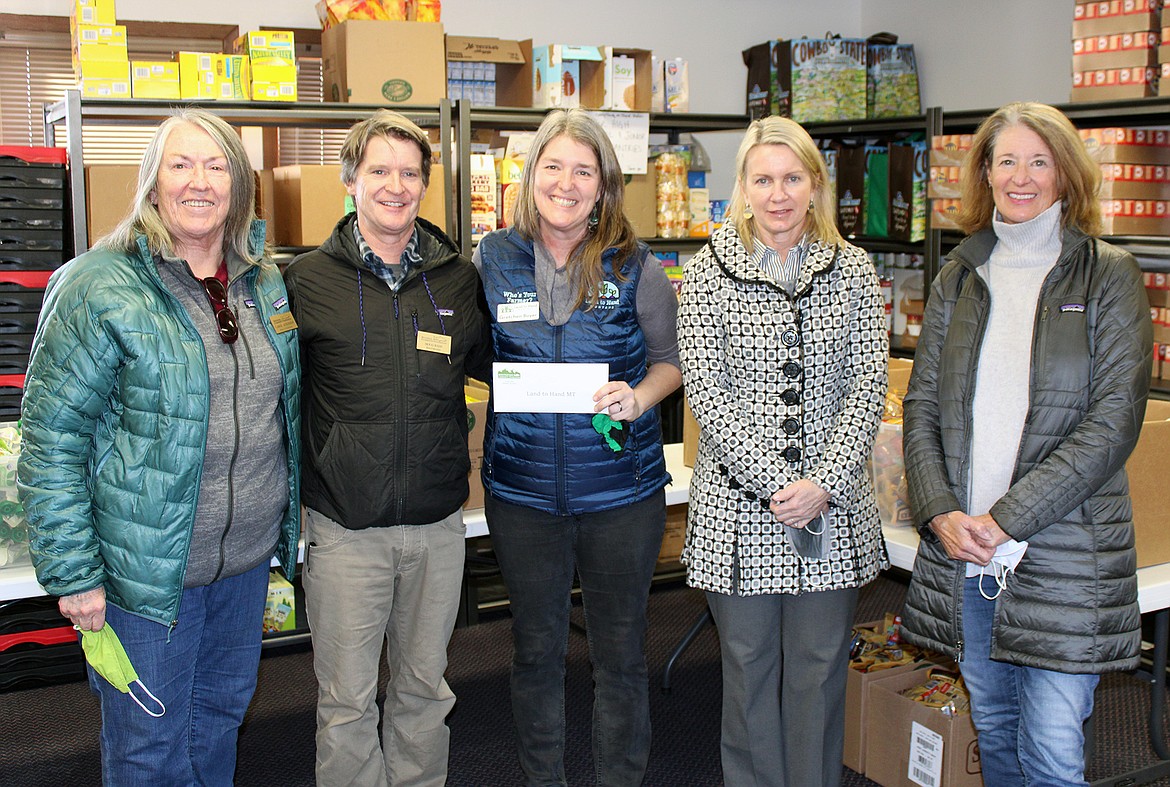 Whitefish Community Foundation presents a $25,000 grant to Land to Hand on Jan. 19 to support the relocation of the organization's building. Pictured from left to right are Carol Atkinson, Doug Reed, Gretchen Boyer, Linda Engh-Grady and Betsy Bayne. (Courtesy photo)
|
January 26, 2022 1:00 AM
The Whitefish Community Foundation last week awarded a $25,000 grant to the nonprofit organization Land to Hand, formerly known as Farm Hands — Nourish the Flathead.
The grant is intended to support the relocation of the organization's building next to the Wildcat Garden at Columbia Falls Junior High School. Previously the organization was located in a small temporary building near Glacier Gateway Elementary school and they have been in need of a larger space for quite some time.
Land to Hand provides Flathead Valley residents with access to fresh, local food through the organization's Food for All Programs, including fruit and vegetables grown at the Wildcat Garden. The nonprofit also administers assistance programs such as Double Snap Dollars and Senior Coupons, and provides Columbia Falls school children with healthy snacks on the weekends and during school closures through its Backpack Enhancement Program.
The new location will serve as the ideal place for Land to Hand to offer gardening and healthy cooking programs for children, as well as to store, stage, and deliver food to those in need.
"We are so honored for the support and advocacy of Whitefish Community Foundation," Land to Hand Executive Director Gretchen Boyer said. "This major grant will allow us to bring our food access programs and our Farm to School Program together."
The grant was made possible by members of the Whitefish Community Foundation's Circle of Giving and other donors who support the Major Community Project Fund.
The Major Community Project Fund at Whitefish Community Foundation is dedicated to helping nonprofit organizations complete capital projects that will have a significant and positive effect on communities in the Flathead Valley. Since the inception of the fund in 2010, $694,000 has been awarded to projects selected by the Whitefish Community Foundation Board of Directors.
Whitefish Community Foundation is dedicated to fostering philanthropy, building endowments, and helping donors and nonprofits benefit communities in the Flathead Valley. For more information about Whitefish Community Foundation, visit whitefishcommunityfoundation.org. For more information about Land to Hand, visit landtohandmt.org.
Recent Headlines
---