Whitefish financial adviser retires after 30 years in the business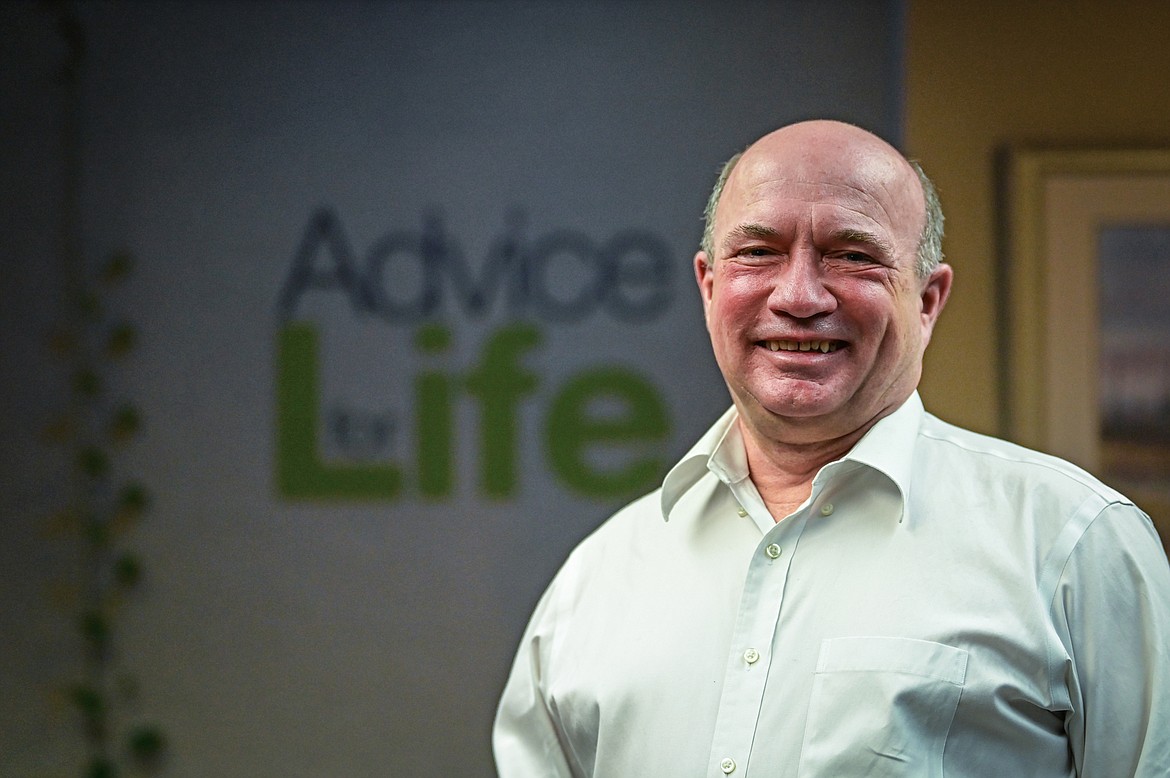 Rex Harris at Harris Financial Services in Whitefish on Tuesday, Dec. 21.
by
BRET ANNE SERBIN
Daily Inter Lake
|
January 12, 2022 1:00 AM
Financial advising is notoriously prone to burnout, but not in the case of Rex Harris. The founder of Harris Financial Services, Inc. in Whitefish was set to retire at the end of the year after more than 30 years in the business.
From the beginning, Harris set himself on a different path than many of his colleagues in the field. Instead of Wall Street, Harris got his start in Roundup driving a truck full of oil equipment for his father's company. When his father passed away, Harris and his two brothers took over the business, with Harris managing the financial side of things. The truck driver found he had a knack for the technical and he eventually went to work with the firm that had handled his father's investments.
"It was quite a switch from the oil field," he recalled.
In 1987, with a few months of training under his belt, Harris was tasked with opening a new office in Marysville, Washington. It was a true trial by fire, but Harris passed. He led the office there for two years until an opportunity opened up for him to come back to Montana. He transferred within his company to the Flathead, but he quickly felt the pull of independence.
"I always had a bend toward working for myself," he said.
In 1989, he set out on his own and started Harris Financial Services, Inc.
SINCE ITS inception, Harris Financial Services, Inc. has set itself apart from other financial investment firms.
"The difference was to care more," Harris said.
Over his 30-year career, Harris has watched the industry as a whole grow more invested in the personal side of finance, following a model that he subscribed to decades before it was mainstream. Harris believes serving as a financial adviser means combining the roles of a counselor, salesman and technical expert. Financial advisers are the ones a person turns to when their spouse passes away or a pandemic disrupts their finances and the person who plans out daunting long-term financial goals like sending a child to college or saving for retirement.
"It's a difficult industry because you're wearing a lot of hats," Harris said.
By taking such a personal approach to the business, Harris has gone through experiences both rewarding and challenging.
He's been humbled by the gratitude his clients have shown him, from the ones who have stuck with him for 30 years to the new clients who gush with appreciation for his careful attention to their unique situations. He's received Christmas cards, candy, and even apples from a family orchard as tokens of thanks from his clients.
He was especially touched by a woman who told him he changed her life by helping her afford college for her two daughters.
And he's particularly proud of a scholarship fund he helped set up in Eureka by expertly navigating stock choices. "That was big fun," he remembered.
But he's also weathered hardships with clients.
"There were ugly things, too," he said.
Harris has been agonizing over the financial futures of approximately 300 clients since the 1980s, and the stresses have taken their toll. He was so concerned for his clients' security during the 2008 recession, his stress landed him in the hospital and he was forced to cut down on his hours.
Now in his 60s, Harris is looking forward to taking a step back.
"I'm going to decompress," he said. "I spent decades worrying about people."
He's not quite sure how he will reinvest that time and energy. Harris said there are "tons of possibilities" for his future.
He's considering pursuing a psychology degree, working as a barista and volunteering with Wild Wings Bird Rescue.
"I'm all over the map," he said.
But although his personal plans remain up in the air, he's confident about the future of his company under the new leadership of his son, Evan.
EVAN OFFICIALLY purchased the business from his father five years ago, and the father-son duo has been working as a pair with clients since that transfer.
"We've had a lot of fun working together," Evan said.
They wanted to ensure a smooth transition since they both know financial advising is about forming long-term relationships with clients.
"Evan is a better adviser," Harris said matter-of-factly. "It's great to see someone with that capability take over. I can walk away without any hesitation whatsoever."
Evan wants to maintain consistency as he steps into his father's shoes, although Harris Financial Services, Inc. will undergo a few significant changes, too.
The company is moving to a new office on Meridian Road in Kalispell, and it will undergo a small "facelift" along with the move, Evan said. He also plans to introduce new technology and a few different strategies in his financial advising. But for the most part, he doesn't want to grow or change the business his father created over the course of Evan's lifetime.
"This is a chance for me to really build upon what he had done," Evan said. "I feel like I'm standing on the shoulders of a giant."
Recent Headlines
---