Report finds as population ages, labor pool shrinks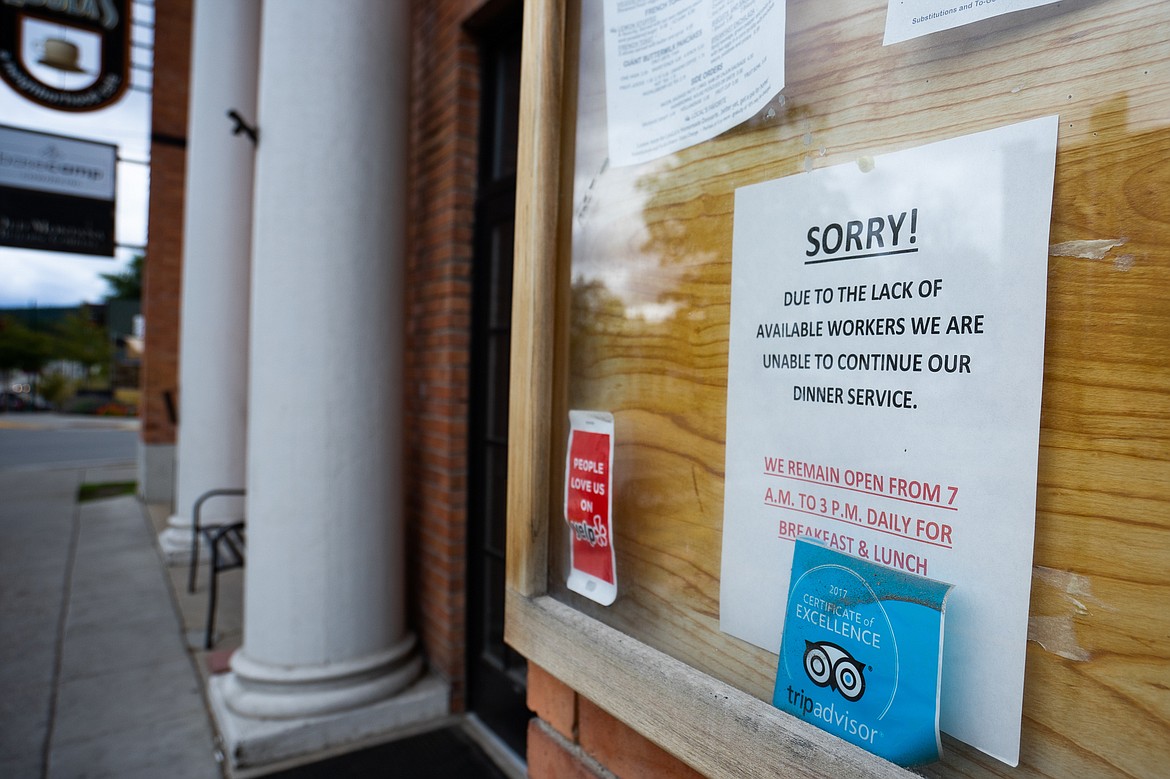 Staffing can be an issue for Whitefish businesses who can't find enough workers to meet the demand. (Daniel McKay/Pilot File)
by
CHRIS PETERSON
Hungry Horse News
|
January 12, 2022 1:00 AM
A myriad of reasons are accounting for labor shortage in Montana, according to a recently released report by Department of Labor and Industry economist Christopher Bradley.
The state has seen a worker shortage since 2018, Bradley noted.
In the economic expansion leading up to 2020, worker shortages became an issue again as hires and job openings converged, with job openings eventually surpassing hires.
Today, an aging population, the pandemic, a lack of affordable childcare and housing are all playing roles in the shortage, as the unemployment rate has dropped to just over 3%.
"The fact that hires fell behind job openings suggests that there is more difficulty in worker recruitment than during previous expansions. Montana's population has been aging, with the large baby boomer population retiring without enough people in the younger generation to replace them. The pandemic has worsened this issue as challenges like childcare, school schedules, risk of illness, and caring for yourself or family members have decreased the work hours that Montana's workers have available for work," Bradley notes in a report from late last fall. "In the past year, the gap between job openings and hires expanded, illustrating even more difficulty for businesses to fill jobs. Job openings will remain high until labor force growth resumes or businesses find productivity gains that eliminate the need to hire."
Montana has roughly 40,000 job openings. Conversely, there's been about 30,000 hires.
The number of people quitting jobs has also increased. There's more than 15,000 people who quit jobs in 2021, compared to about 5,000 who were laid off or discharged.
"At the start of the pandemic in 2020, Montana had a combined 81,000 layoffs and discharges in March and April, along with elevated levels of layoffs in the fall and winter. For many businesses, these workers were quickly rehired following short-term closures. However, issues such as a lack of childcare and COVID risk led many workers to leave the labor market around this time," Bradley noted. "Additionally, many workers switched to other jobs. In the second quarter of 2020, about one in four workers who left their primary job quickly found work with a new employer. Businesses looking to fill positions that these workers left likely took an extended time to fill, pushing job openings levels up. Quits in Montana also quickly rose back to pre-pandemic levels in 2020. Workers were likely attracted into job switches by rising wages and a more favorable job market—average annual wages rose by $3,500 in Montana in 2020. Additionally, some workers may have quit jobs when community spread of the coronavirus was high."
Montana has always had a quit rate that is higher than the national average.
As a percentage of total employment, job openings in late 2021 were at 7.5% in Montana compared to 6.6% nationally. Quits were 3.3% of employment in Montana compared to 2.9% nationally.
But the pandemic seemed to have less impact here than other places, Bradley found.
"The pandemic appears to have had a lesser impact on worker quits in Montana. Montana's tight labor supply prior to the pandemic already contributed to high levels of quits, while the pandemic has reduced worker supply nationally so that the labor market environment is now more like Montana's. Additionally, Montana's quits rate only returning to pre-pandemic levels implies that quits are not the cause of Montana's rapidly rising job openings rate. At 7.5%, Montana's job openings rate in August ranks seventh among states. Alaska ranks first at 9%, followed by Kentucky and Georgia. Regionally, states in the mountain west and southeast of the U.S. tend to have higher job openings rates," he noted.
All sectors of the U.S.economy showed an increase in job openings, with restaurants and food service leading the way.
But manufacturing and mining and logging also saw increases as well.
That's evident locally as well. Mills like Weyerhaeuser are actively recruiting workers, advertising wages that start at $21 an hour.
While the study doesn't specifically name housing, locally rents and home prices have also risen to historic highs, with even modest homes in Columbia Falls pushing $350,000-$400,000.
The tight labor market likely won't get better soon, Bradley notes.
"Montana's labor market is experiencing record levels of job openings in its rebound from the pandemic recession. Tight labor market conditions are likely to continue for some time, as much of Montana's increasing job openings rate can be attributed to a slowly growing labor force. Businesses that are able to streamline the recruitment process or attract workers back into the labor market are likely to have the most success growing and filling open jobs. Simplifying job application processes and increasing transparency on pay and benefits in job postings can go a long way to catching the attention of workers in a limited pool of recruits," he notes.
Recent Headlines
---