Cold weather stifled holiday ski visits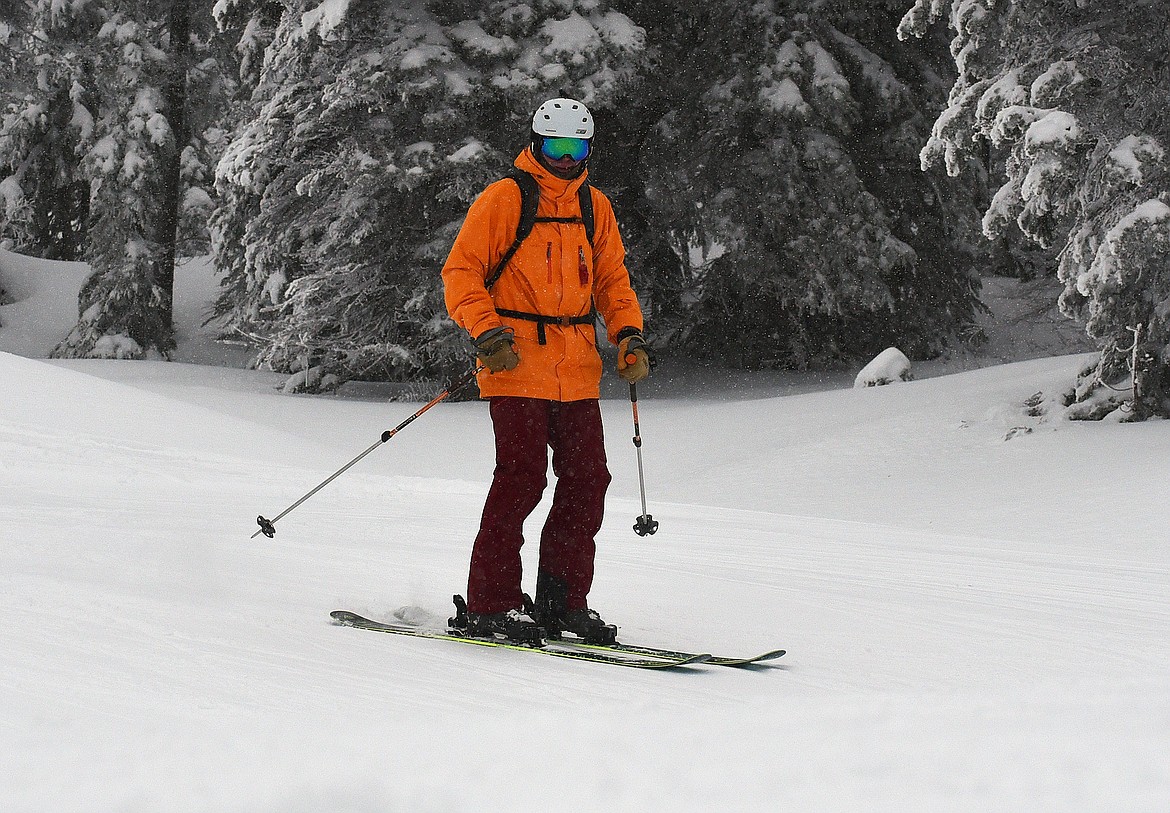 A skier is treated to a bit of fresh snow falling during Whitefish Mountain Resort's opening day of the 2021-22 season Thursday, Dec. 9. (Whitney England/Whitefish Pilot)
by
BRET ANNE SERBIN
Daily Inter Lake
|
January 12, 2022 1:00 AM
The weather outside was indeed frightful over the holidays in Northwest Montana, forcing many would-be skiers to stay indoors.
Holiday visitation underperformed expectations during what is usually the busiest time of the year for winter activities.
On Friday and Saturday, Dec. 31 and Jan. 1, temperatures at the summit of Big Mountain dipped into the negative 30s, with wind chill. At Blacktail Mountain, the low went down to minus 8 degrees Fahrenheit, according to General Manager Jessi Wood.
"We do believe we lost quite a few visits due to the cold weather and various other factors, including flight cancellations," said Chad Sokol, Public Relations Manager for Whitefish Mountain Resort. The mountain kept all of its summit lifts closed on Friday because the cold was so severe.
"But this was still a busy time for us, and if not for the weather, visitation might have been much higher than what we'd planned for," Sokol added.
Although Sokol couldn't share precise visitation numbers from the holidays, he said, "total skier visits were just slightly ahead of our budget."
Similarly, Blacktail Mountain saw relatively slow visitation around the holidays, but Wood said Christmas Day and New Year's Day were still busy, despite the cold.
"Christmas Day was busy" compared to the other days that week, Wood said. "New Year's Day was rocking."
Wood said Blacktail Mountain, which was purchased by Mission Ridge Ski & Board Resort, based in Washington, is still upgrading its system to get an accurate count of skier visits.
Generally, though, Wood said, "we were able to have a nice holiday. It was very steady. We had a couple really great days."
Passholder numbers have been trending upward since before Mission Ridge announced its purchase of Blacktail, Wood reported. The Lakeside ski area will also be joining the Indy Pass, a multi-resort ski pass that includes Lost Trail Powder Mountain and Red Lodge Mountain in Montana and Silver Mountain in Kellogg, Idaho.
"So far it just feels good building after a bizarre Covid year," Wood said.
At Glacier Nordic Center in Whitefish, the staff thought the cold weather at high elevations might drive more skiers to the cross-country ski trails. But the holidays turned out to be too cold even for activities at lower altitudes.
Cheri LeBleu, who works in the rental shop at Glacier Nordic Center, said most of the holiday season was "pretty average" at the Nordic center.
"Normally Christmas is very busy," she said, but this year the staff there didn't see much of a holiday spike.
The snow conditions were good, LeBleu said, especially since there have been recent years where there wasn't enough snow to cross-country ski at all by the end of December.
"We were very excited to have snow down here in the valley," LeBleu said.
But that enthusiasm wasn't widespread. "Everyone just stayed cozy," she observed.
Visitation numbers in general didn't seem to be heavily affected by the extreme weather over the holidays. According to Dylan Boyle, Executive Director of Explore Whitefish, short-term rental advanced booking rates in the Whitefish ZIP code were "much in line with historical averages."
Short-term rental bookings hovered in the range between 65% and almost 80% occupancy throughout the last week of December, topping off on Dec. 29 at 79%. Those figures represent 985 active short-term rental listings, or approximately 2,265 guest rooms.
Boyle will not receive data for the estimated 1,400 traditional guest rooms in Whitefish until late January.
Recent Headlines
---