Whitefish Winter Carnival: Pemberton named Prime, Goble named Duchess
|
January 10, 2022 11:00 AM
The Whitefish Winter Carnival officially got underway Saturday with the crowning of the first round of royalty, the Duchess of Lark and Prime Minister, at the Merry Maker event.
Joel Pemberton was named Prime Minister and Clare Goble was crowned Duchess of Lark.
Joel Pemberton was born and raised in the small island town of Anacortes, Washington. Growing up in a small town, his dream was to have a small community-based business to provide goods and services through long-term relationships. He left Anacortes to attend college in British Columbia where he met his wife, Chantel. After graduation, they married and settled down back in northwest Washington, and eventually on Fidalgo Island. Although living in the San Juan Islands was indeed amazing, they were always drawn to the mountains. When they had an opportunity to relocate Joel's practice as a financial advisor with Edward Jones to Whitefish 10 years ago, they jumped on it. Their three children have been able to grow up on Big Mountain and in Glacier National Park, and they all agree that the move was the best thing they ever did for the family.
Upon arrival in Whitefish, Pemberton immediately got involved in the Rotary Club of Whitefish. He served as the Local Project Committee Chair for three years and took the lead on the Bakke Nature Preserve Project, along with the City of Whitefish, the Whitefish Community Foundation and other amazing Rotarians. Pemberton served as President of the Club in 2018-2019 and as Chairman of the RCW Charitable Fund Board in 2019-2021. Pemberton has also previously served on the Board of Directors for Flathead Industries. Joel and Chantel are regular volunteers at Whitefish Chamber of Commerce events and Whitefish Young Life, serve at their church, and Pemberton is Chairman of the Board for Absolute Ministries, a new program that helps people break the cycle of rehab.
Pemberton says he is passionate about serving his clients at Edward Jones and making an impact in his community. He is also a "ski-junky" — enjoying both skiing and snowboarding as well as cross-country skiing. In the "off-season" (every season that's not ski season) he enjoys mountain biking, paddleboarding, hiking, golfing and camping with his family and friends as much as possible.
Clare Goble is a Whitefish native, born and raised by her parents Jim and Mary Ellen Goble, who are also both Whitefish born and bred.
She enjoys spending time with her two brothers, Malcolm and Owen Goble, who also still reside here in the Flathead Valley. After graduating from Whitefish High School in 1999, Clare attended college at Montana State University in Bozeman where she received a bachelor's in education. After graduation and a short-term teaching job, Goble made the decision to pursue her career in the restaurant industry; a decision made solely because she was not yet ready to give up the ski bum lifestyle.
Goble paid her way in Bozeman by waiting tables and slinging pizzas at MacKenzie River Pizza Company. That job grew into multiple management roles and eventually to her current position at the Glacier Restaurant Group Corporate office as the Director of Training Development.
Goble enjoys time with her long-term boyfriend Ryan Brown. Together they enjoy skiing, swimming and all things the Flathead has to offer. Most importantly they love simply spending time with friends and family.
An active member in the community, Goble serves on the Whitefish Chamber of Commerce Board of Directors, and is also a regional manager for multiple restaurants in downtown Whitefish.
The Whitefish Winter Carnival has been near and dear to the Goble family for decades. Year after year, the family has welcomed friends into their home on Second Street for an open house. A tradition that will only become more meaningful now that Clare has been honored with the title of Duchess of Lark.
The Whitefish Winter Carnival continues through Feb. 5. Up next is the coronation of King Ullr LX and Queen of the Snows at the O'Shaughnessy Center in downtown Whitefish on Jan. 15, followed by the carnival disco party the same evening. For more information visit whitefishwintercarnival.com.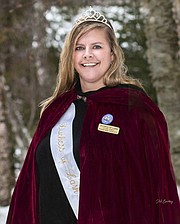 Recent Headlines
---