Schlauch signs with University of Mary for football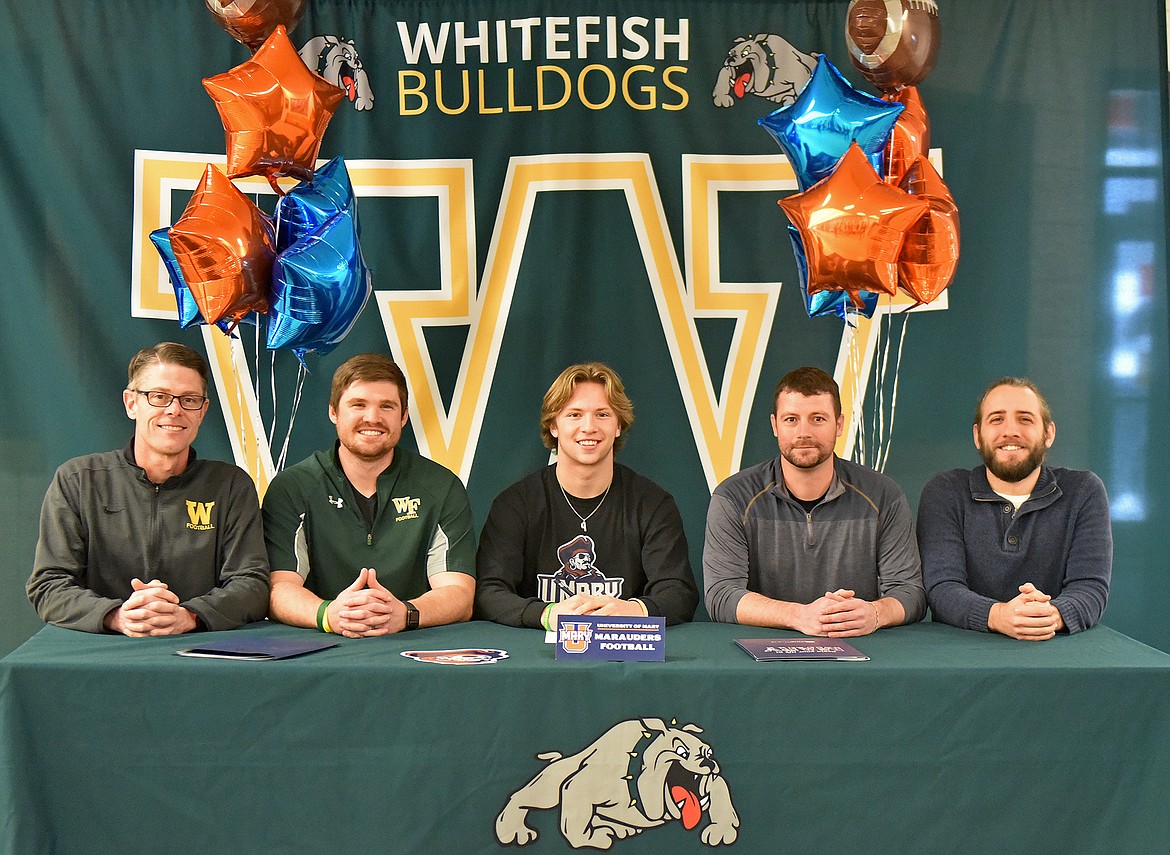 Whitefish High School senior Jaxsen Schlauch recently signed a letter of intent to play football as a wide receiver for the University of Mary in North Dakota. Bulldog football coaches came to support Schlauch on signing day, pictured from left to right is Chad Ross, Mac Roche, Jaxsen Schlauch, Aric Harris and Cole Davidson. (Whitney England/Whitefish Pilot)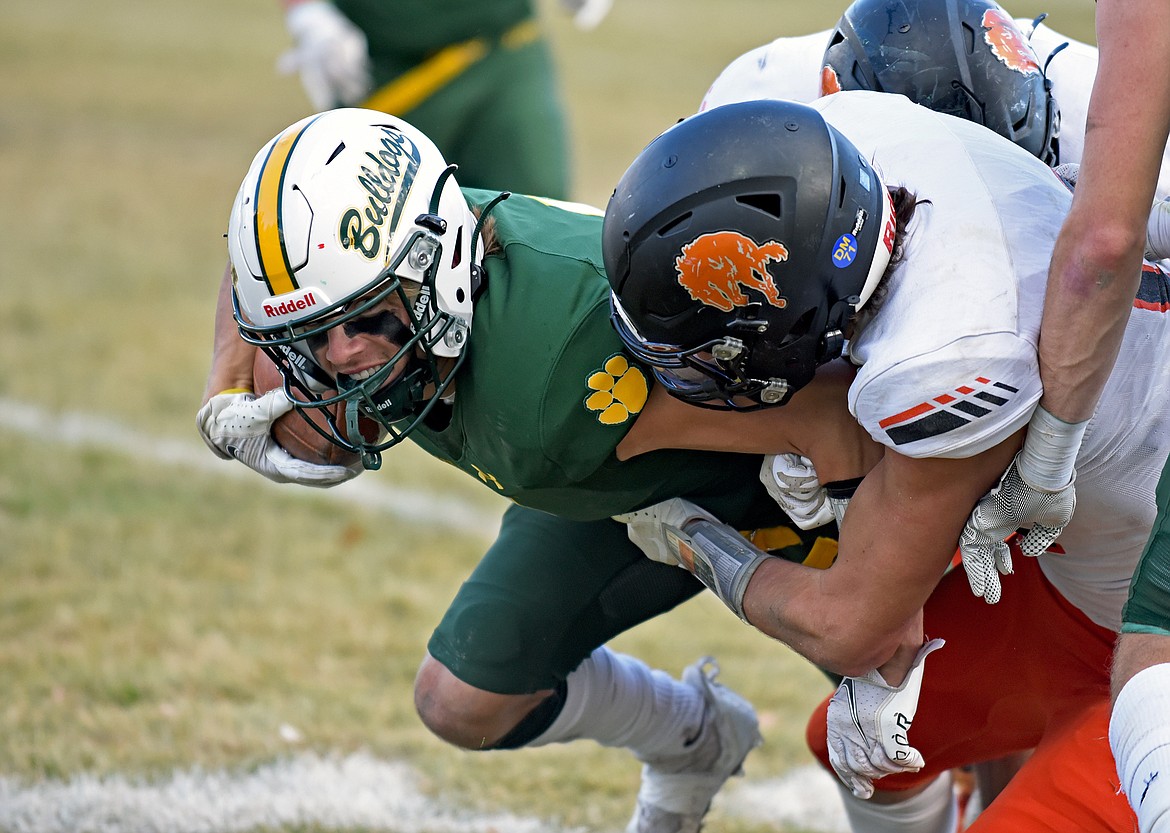 Whitefish receiver Jaxsen Schlauch runs with the ball after making a catch during a playoff game against Frenchtown last fall. (Whitney England/Whitefish Pilot)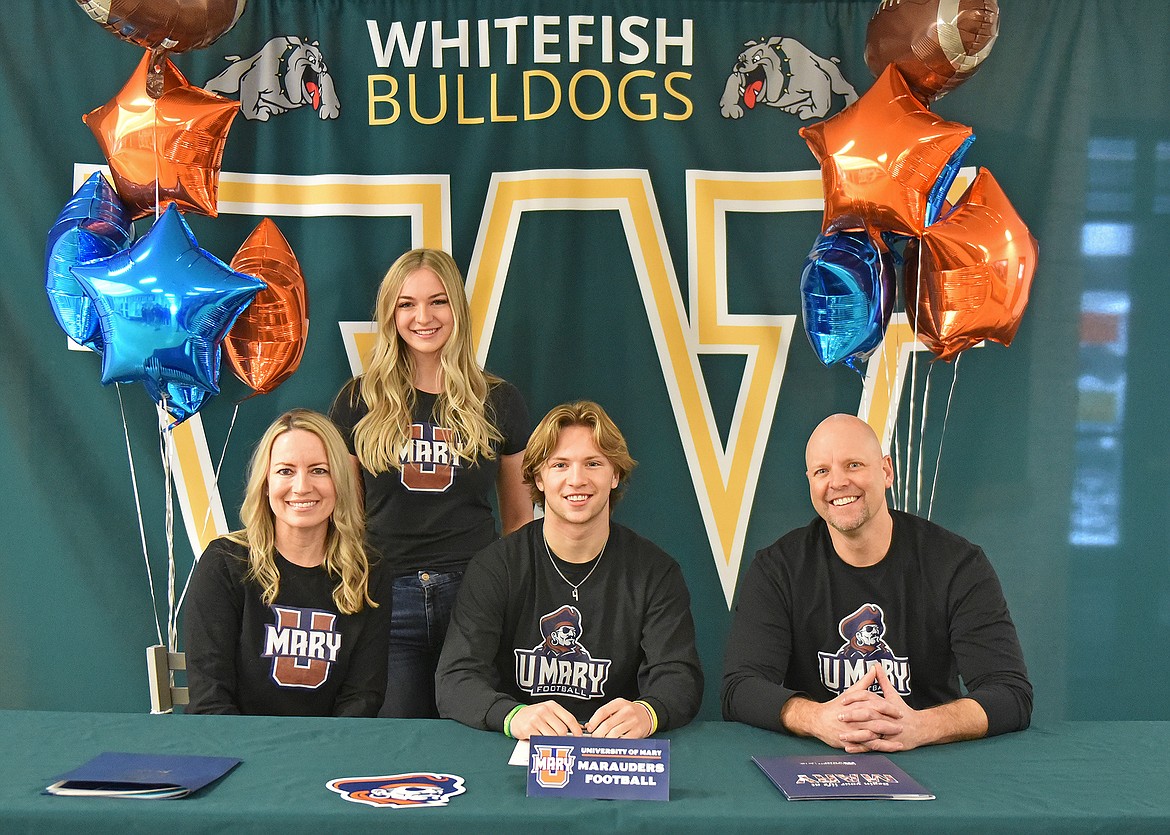 Whitefish High School senior Jaxsen Schlauch recently signed a letter of intent to play football at the University of Mary. He is pictured here with his parents Cari and Brian Schlauch and sister Saylor. (Whitney England/Whitefish Pilot)
Previous
Next
by
WHITNEY ENGLAND
Whitefish Pilot
|
February 9, 2022 1:00 AM
Whitefish senior Jaxsen Schlauch began playing flag football while in first grade and by fifth grade he was suiting up with pads for the first time.
Now after starting for the Bulldogs for four-straight years and becoming a leading wide receiver on the team, Schlauch last week signed a letter of intent to play football at the University of Mary in North Dakota beginning in the fall.
"It took me a long time to make this decision, a lot of time with my family," Schlauch said. "It was a really big decision and I think the main thing that made me pick this school was just the bond with the coaches, the facilities were great and I think I will be a good fit there."
Schlauch committed to U Mary as a wide receiver, earning both an academic and football scholarship.
Schlauch grew up in Helena and moved to Whitefish freshman year with his family. Schlauch's high school career began playing on special teams for the Whitefish varsity team as a freshman, and by sophomore year he moved into the wide receiver and cornerback positions in addition to his kick returner duties.
Schlauch progressed each year to become a leading receiver for the Bulldogs and in his senior season, he posted 520 total yards, seven touchdowns and four interceptions. Throughout his career as a Bulldog he was twice named as an All-state wide receiver and cornerback, and he was chosen as the team's Offensive MVP both as a junior and senior.
Statistically, Schlauch performed well throughout his high school career catching a total of 107 passes for 1,424 yards and 16 touchdowns. He also returned two punts for touchdowns. On defense he racked up 80 tackles, 25 pass breakups and 15 interceptions, according to the Schlauchs.
He said at the time of his signing, just a few days after Whitefish head coach Chad Ross announced his retirement from coaching, that Ross was a big influence on him.
"Coach Ross was a great coach, one of my favorites," Schlauch said. "He was really encouraging and helped me throughout the four years — he's one of the main reasons for where I am right now."
The Bulldogs had a winning season last fall, ending the season 7-3 overall. Schlauch says it was a good one as his last season as a Bulldog and he'll always remember his time on the Whitefish field.
"It was a great season, it was super fun with all my buddies," he recalled. "I'm going to remember the Friday night lights for the rest of my life."
In addition to Schlauch's success on the field, he also earned three academic all-state awards and was a three-sport athlete lettering in track and basketball as well.
Schlauch and his family, parents Brian and Cari and sister Saylor, look forward to seeing his continued success as he enters the collegiate level. He plans to major in exercise science to potentially pursue a career as an athletic trainer or physical therapist.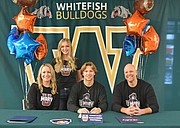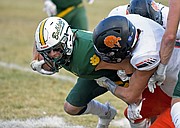 ---