Declining trust in government a top issue for Zinke supporters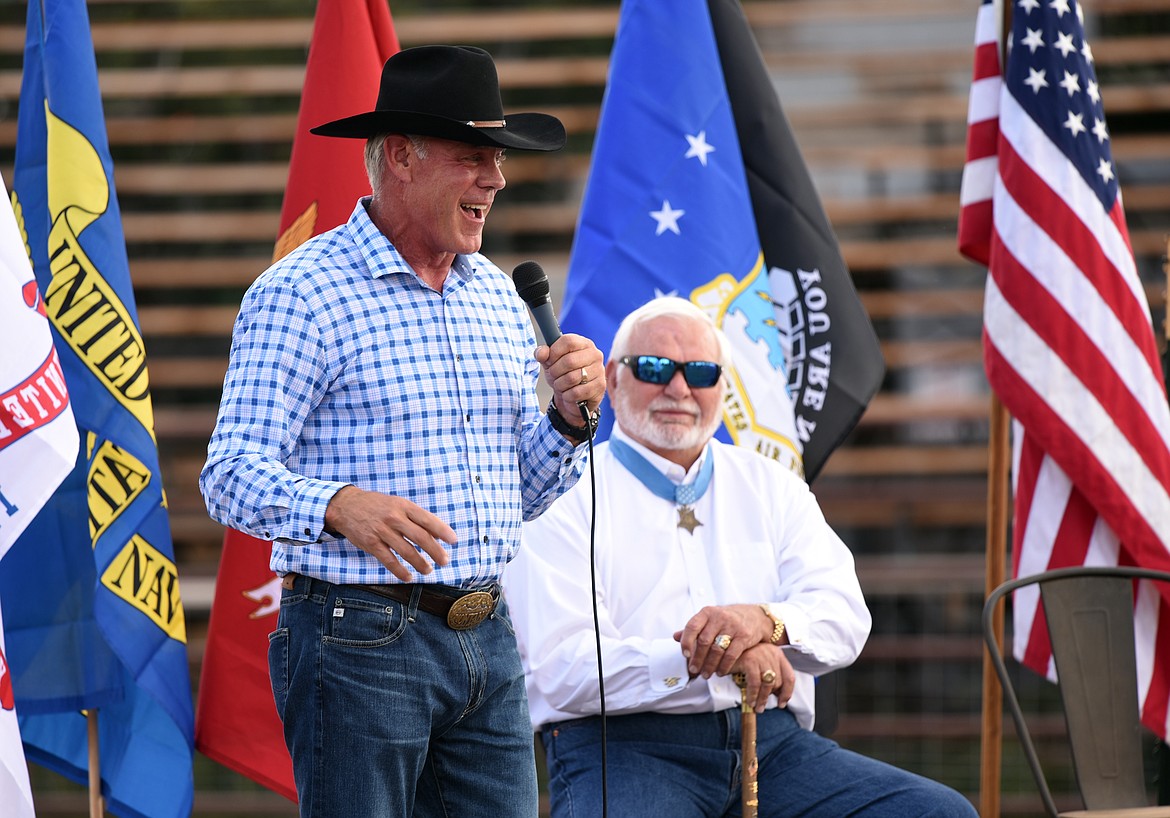 Ryan Zinke, Republican candidate for Montana's western district U.S. House seat, speaks at a campaign event Friday, Aug. 26, 2022 at Columbia Falls. To his left is Medal of Honor recipient Mike Thornton. (Matt Baldwin/Daily Inter Lake)
by
MATT BALDWIN
Daily Inter Lake
|
August 31, 2022 1:00 AM
The economy and a general distrust in government are among the top issues for the folks who came out to support U.S. House candidate Ryan Zinke at his campaign rally in Columbia Falls on Friday.
The former Interior secretary's message blasting all sectors of the federal government connected with the crowd of about 100 gathered on the bleachers at the Blue Moon rodeo grounds. The Republican is facing Democrat Monica Tranel and Libertarian John Lamb in the November general election for Montana's western district congressional seat.
"Is there any division, department, agency or branch of the U.S. government that you have the full trust and confidence in?" Zinke asked the rally attendees, who responded with "No."
Rally attendee Tracy Sharp, of Polson, agreed with Zinke's sentiment, and said a lack of faith in governmental institutions is a top reason why he and others are supporting Zinke's second campaign for Congress. Zinke held Montana's lone congressional seat from 2015 to 2017.
"The amount of trouble and problems we've had the last couple years — people have just lost faith," said Sharp.
He also pointed to energy independence and the economy as other top motivating factors for voters.
Federal spending has Zinke supporter Joanna King most concerned.
"I'm ticked off that we're going to be leaving our children a massive amount of debt," she said after the rally.
Columbia Falls resident Dale Lee said it's about Zinke's "freedom first" positions.
"I'm thankful we have a patriot like Ryan Zinke to fight for Montanans," he said of Zinke, a former Navy SEAL.
Zinke, from Whitefish, spoke for about 7 minutes at the rally that also included comments from Medal of Honor recipient Michael Thornton and fellow SEAL Derrick Van Orden.
The Biden administration and news media were among Zinke's targets, which he believes are a part of the "deep state."
"Most of America, day to day, gets the drumbeat of socialism," he said of so-called Big Tech companies. "The conservative message is banned."
He only mentioned former President Trump once, in reference to Trump being banned on Twitter, and made a passing remark about the recent FBI search for classified documents at Trump's Mar-a-lago estate.
Zinke also made no mention of a report released last week by the Interior inspector general, which says Zinke lied to investigators about conversations he had with lobbyists, lawmakers and other officials regarding a bid by two Indian tribes to operate a casino in Connecticut. Zinke's attorney called the IG's report "distorted and misleading."
On accountability, Zinke advocated for more transparency in government.
"Because what you say, you should do," he told the crowd.
If elected, Zinke said his first order of business would be to introduce federal employee accountability legislation.
"I can tell you who really hates it; it's the swamp," he said.
"We're going to be able to fire for cause. And we're going to drain the swamp because we're going to be able to rip their money out."
He said he would work to roll back the Biden administration's plan to bring on more IRS workers, and that he'd push to eliminate the Environmental Justice department of the EPA.
"You think they hated me before in Washington, stand by," he said. "Because I'm not pissed, I'm going back with vengeance and I'm going to get 'em, every one of them."
Zinke had two more rallies planned over the weekend in Missoula and Bozeman.
Recent Headlines
---