Bulldogs begin season with big win at Browning
by
JULIE ENGLER
Whitefish Pilot
|
August 24, 2022 1:00 AM
The Marias Valley Golf Course in Browning was in great shape and featured fast greens last Friday for the Browning Invitational — Bulldog Golf's first invite of the season.
Whitefish senior Billy Smith fired a 2 under par 70 to lead the Whitefish Bulldogs to the boys title at the Browning Invite. He played the front nine at 3-under and his birdie on the number 11 hole left him 4-under and owning a five-shot lead that held up.
"It was a great start to the season," said Coach Tait Rocksund. "Billy shooting 2 under was great. He left a couple shots out there still, even shooting 2 under."
Matthew Peschel finished in sixth place with a score of 78. Four Bulldogs finished in the top six for a team score of 298.
"It was great to see Matthew Peschel come in with a score in the 70s," Rocksund added. "He's going to be really strong for us."
Whitefish teammates Johnny Nix and Riley Brown each scored 75 to tie for second along with Polson's Christian Lund. The Polson team, finishing second with 314, saw Torrin Ellis finish fifth at 76 while teammates Hunter Emerson and Espn Fisher also were in the top 15.
"The boys played great. To break 300 is our scoring goal throughout the year," said Rocksund. "We need those four scorers to put up something close to 300. Everybody took care of their business."
Havre took the girls team title with a score of 462. Libby scored 543 and was the only other team to field a full, four-player team.
Polson's Clare Konen was the girls' medalist at 89, teammate Ashley Maki was second with 94 and Ronan's Alyssa Pretty On Top finished in third with a 97.
Whitefish golfer Stella Jaffe finished in fifth place with a 102.
"Stella played pretty solid," said Rocksund. "She had a couple tough holes out there that made her score a little higher than normal (due to) lack of familiarity with the golf course."
Whitefish teammates Leia Brennan and freshman Eva Zignego each scored 119. It was the first golf tournament Zignego had played.
"That was a pretty good showing for her to shoot a 119 on a golf course she's never played on her very first tournament," said Rocksund.
The Whitefish teams were scheduled to play in the Columbia Falls Invitational on Monday and in the Western A Kickoff at the Whitefish Lake Golf Club on Tuesday after press time. On Thursday the Bulldogs will head to Ronan.
Boys
Team scores — Whitefish 298, Polson 314, Havre 326, Columbia Falls 370, Browning 389, Ronan 392, Libby 407. Individual Top 15
Billy Smith, Whitefish 70 Johnny Nix, Whitefish 75 Christian Lund, Polson 75 Riley Brown, Whitefish 75 Torrin Ellis, Polson 76 Matthew Peschel, Whitefish 78 Hunter Emerson, Polson 80 Reece Malyevac, Libby 80 Issac Flamand, Browning 81 Espn Fisher, Polson 83 Winslow Peters, Columbia Falls 83 Mason Gotham, Libby 86 Connor Presnell, Columbia Falls 87 Browning — Issac Flamand 81; Frances Ground 93; Shandon Wagner 106; Jaylin Aimsback 109; JP Bird Rattler 118. Columbia Falls — Winslow Peters 83, Connor Presnell 87, Tucker Gonzales 98, Evan Fiksher 102. Libby — Reece Malyevac 80; Mason Gotham 86; Thomas Roark 115; Teague Thompson 126; Ayden Montgomery 142. Polson — Christian Lund 75; Torrin Ellis 76; Hunter Emerson 80; Espn Fisher 83. Ronan — Colter Conrwell 92; Nash Niemeyer 94; Cooper Clary 103; Connor Durglo 103; Trey Samson 110. Whitefish — Billy Smith 70; Johnny Nix 75; Riley Brown 75; Matthew Peschel 78; Tag Walker 88.
Girls
Team scores — Havre 462, Libby 543. Individual Top 15
Clare Konen, Polson 89 Ashley Maki, Polson 94 Alyssa Pretty On Top, Ronan 97 Kylee Seifert, Polson 98 Stella Jaffe, Whitefish 102 Shea Reber, Havre 108 Brooke Blue, Browning 108 Addie Bowler, Columbia Falls 114 Calista Pyrek, Havre 115 Chloe Ramage, Columbia Falls 116 Callie Bebee, Havre 117 Leia Brennan, Whitefish 119 Ava Zignego, Whitefish 119 MacKenzie Foss, Libby 121 Mackenzie Kuhn, Havre 122 Browning — Brooke Blue 108. Columbia Falls — Addie Bowler 114; Chloe Ramage 116. Libby — MacKenzie Foss 121; Kailey Skranak 128; Piper Snyder 143; Paisley Mac- Donald 151. Ronan — Alyssa Pretty On Top 97; Madisyn Evelo 140. Polson — Clare Konen 89; Ashley Maki 94; Kylee Seifert 98. Whitefish — Stella Jaffe 102; Leia Brennan 119; Ava Zignego 119.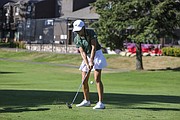 Recent Headlines
---