Not here to survive, but to thrive — IV Element Project offers holistic health care approach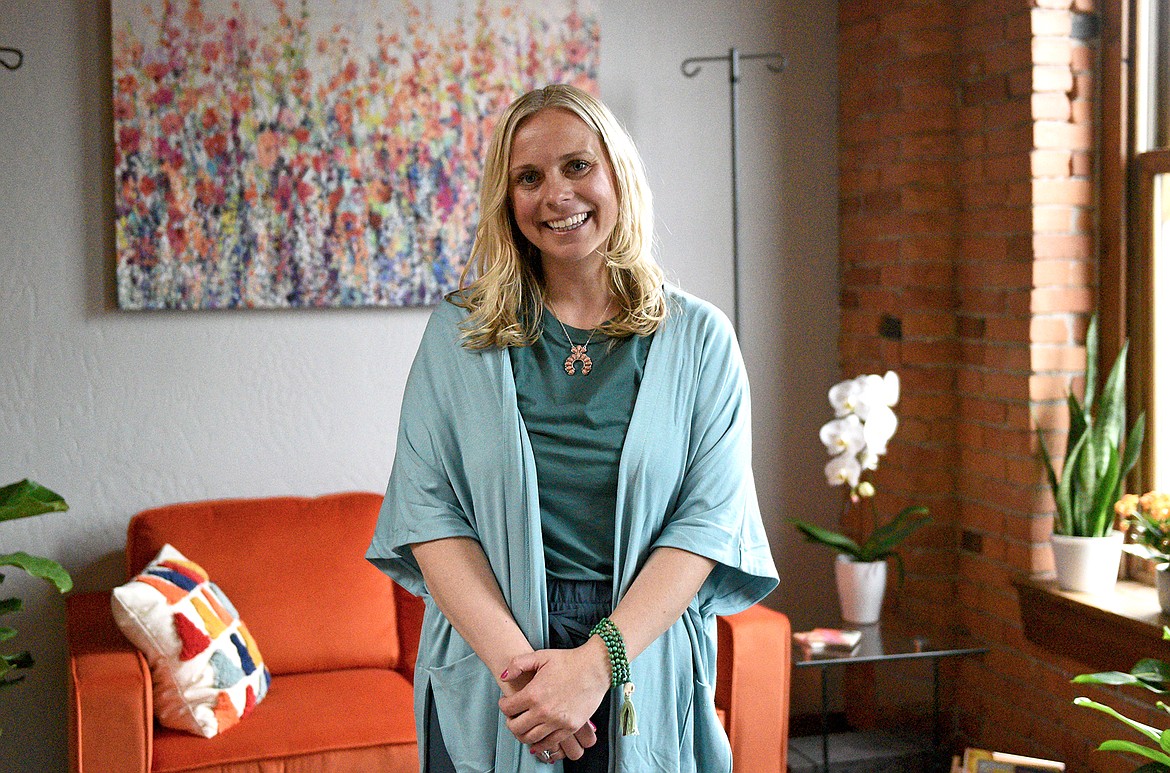 Dr. Janna Hibler is the owner and medical director of The IV Element located above the Toggery on Central Avenue. (Whitney England/Whitefish Pilot)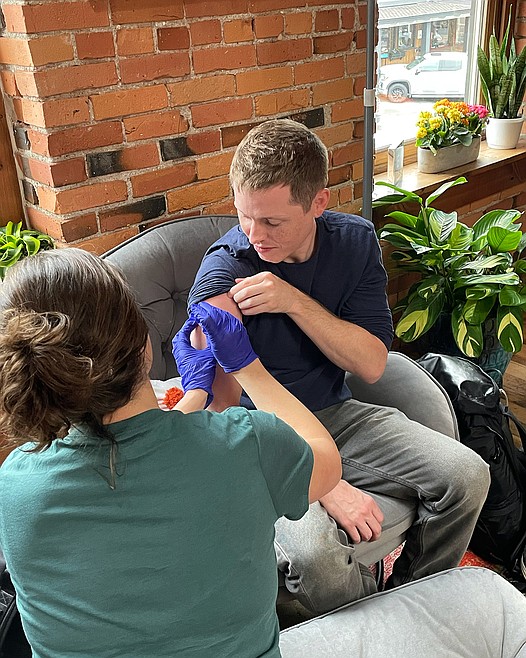 IV Element nurse Meghan Leisek, who is also a longtime ER nurse, gives a client a Vitamin D shot. (Photo courtesy of The IV Element)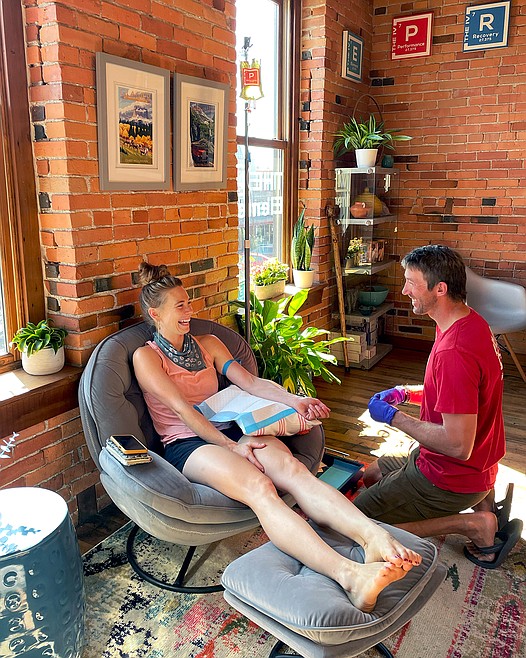 Nurse Kerry Brown, who is also a nurse in the ER, prepares to give a client the performance drip at The IV Element in Whitefish. (Photo courtesy of The IV Element)
Previous
Next
As a holistic wellness center that specializes in intravenous therapy and alternative medicine, The IV Element Project is looking to revitalize the way people view health care in Whitefish.
Dr. Janna Hibler, a licensed naturopathic doctor with an additional master's degree in nutrition, has practiced medicine for around 10 years and recently opened her own space in downtown Whitefish. Hibler has personally witnessed the benefits of IV therapy in her own experience as well as through numerous clients. And the services offered at The IV Element reach even further as Hibler also provides vitamin shots, personalized nutrition services, gut health consultations and more.
"I'm just really passionate about this and I'm really excited to show that there is another way (for health care) and that we're not here to just survive, we're here to thrive," Hibler said.
The IV Element office is located above the Toggery in Whitefish. The charming space features comfortable couches and chairs, a modern design and natural light that streams through large windows overlooking busy Central Avenue. As the town is hopping below, Hibler and her staff of experienced nurses help new and returning clients relax, connect and fuel their bodies with well-designed, unique vitamin and mineral blends through IV therapy. Additionally, staff administers vitamin booster shots and on certain days hosts a wellness "Happy Hour" with nutritional juices. The IV Element is also active in the community, participating in partnerships with other businesses to host wellness events.
"We really want to cultivate a space to just come hang out, meet people and feel good," Hibler expressed.
The IV Element leases space from The Chiropractor. Both have a holistic approach as well as invite walk-in visits, so it was a perfect fit for them to operate out of a shared space.
"I am truly grateful for Doctor Dudley and his family… We met once and we all just connected so well. It was just such great synergy," Hibler said.
At the clinic, Hibler can prescribe customized IV therapy treatment for her regular clients but has also designed five safe and powerful wellness drips to assist in rejuvenating the health of anyone walking in off the street. The drips include Boost, Immunity, Recovery, Performance and Glow.
Each drip is specifically designed for a purpose, such as the Boost combines several B vitamins to improve energy and mood while the Performance drip will fuel the body for whatever adventure lays ahead through a proprietary blend of amino acids, B vitamins, Vitamin C, Magnesium and CoQ10. All the drips combine with a saline bag also boost hydration levels.
"If you have a lot of stress in your life you will use up your B vitamins faster, so really replenishing those and our energy boost will help with that," Hibler gave as an example of the benefits.
HIBLER FIRMLY believes combining food nutrition, functional medicine and nutrient infusions is how a person heals — from the inside out.
Though she comes from a family of healthcare practitioners with her grandparents both being doctors as well as her father, and her mother and several other family members as nurses, Hibler chose her own path in the medical world.
While in the pre-med program at the University of Michigan, she studied abroad for a semester in Switzerland. During that time she took environmental studies among her class load, saw the global seed vault and learned about the importance of genetic diversity in crops and the effect genetically modified foods have on people.
"Our food, our lifestyle, our nutrient levels, literally turn on and off different genes. And how that truly can make us more susceptible to our genetic predisposed diseases or turn them off…" Hibler said. "So learning that there is that power — we can truly decide our destiny, or at least have a stronger role in it."
After completing that semester, Hibler decided to pursue this passion and become a naturopathic physician.
"It was a pivotal point that made me want to go into more holistic health care," she added.
She completed the Naturopathic Medical School program at the University of Bridgeport in Connecticut and then did her residency in Oregon. As a naturopathic doctor, she is licensed through the American Medical Board Association and goes through the same rigorous testing as a medical doctor.
About five years ago she moved back home to Michigan to be closer to family. She was the first naturopathic physician to work out of Mercy Hospital in Grand Rapids and enjoyed the integrative health care approach. Hibler also has a Master's in nutrition and is currently working on an MBA in healthcare.
HIBLER SPECIALIZES in gut health and using nutritional therapies; she added IV therapy to her practice about four years ago after her personal experience sold her on its benefits.
After having her son, Hibler was down for the count. She was suffering from extremely low energy and mood shifts. A colleague who ran an IV clinic talked her into trying IV therapy and she says the regular infusions absolutely helped her overcome many postpartum struggles.
"I was lucky enough to have the support of IV therapy," she recalled.
Since that experience, she added IV therapy into her functional medicine practice and it inspired her to open The IV Element after moving to Whitefish.
Over the years she's designed thousands of gut health restoration programs for clients, but says the IV therapy assists when the gut lining is broken down so it cannot absorb nutrients efficiently. Nutrient absorption from food can be as little as 30% while the absorption rate is 99% for IV infusions, according to Hibler.
Combining IV therapy and nutrition counseling, The IV Element Project has a unique approach.
"With my master's in nutrition, I also really like to utilize food as medicine. So oftentimes patients of mine will have a personalized plan for them of a vitamin drip as well as a food meal plan – it's such a nice pairing to bring it to life," Hibler said.
The IV Element's theme is "Be You, Be in Your Element" and Hibler hopes to elevate the health of as many people as possible.
"We can be our best self when we feel good mentally, physically, spiritually — the whole thing," she said.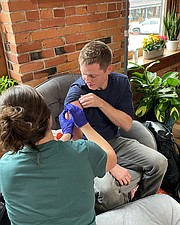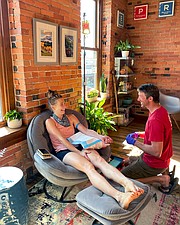 Recent Headlines
---