Elmo 2 Fire continues to spread quickly; 300 firefighters brought in to battle blaze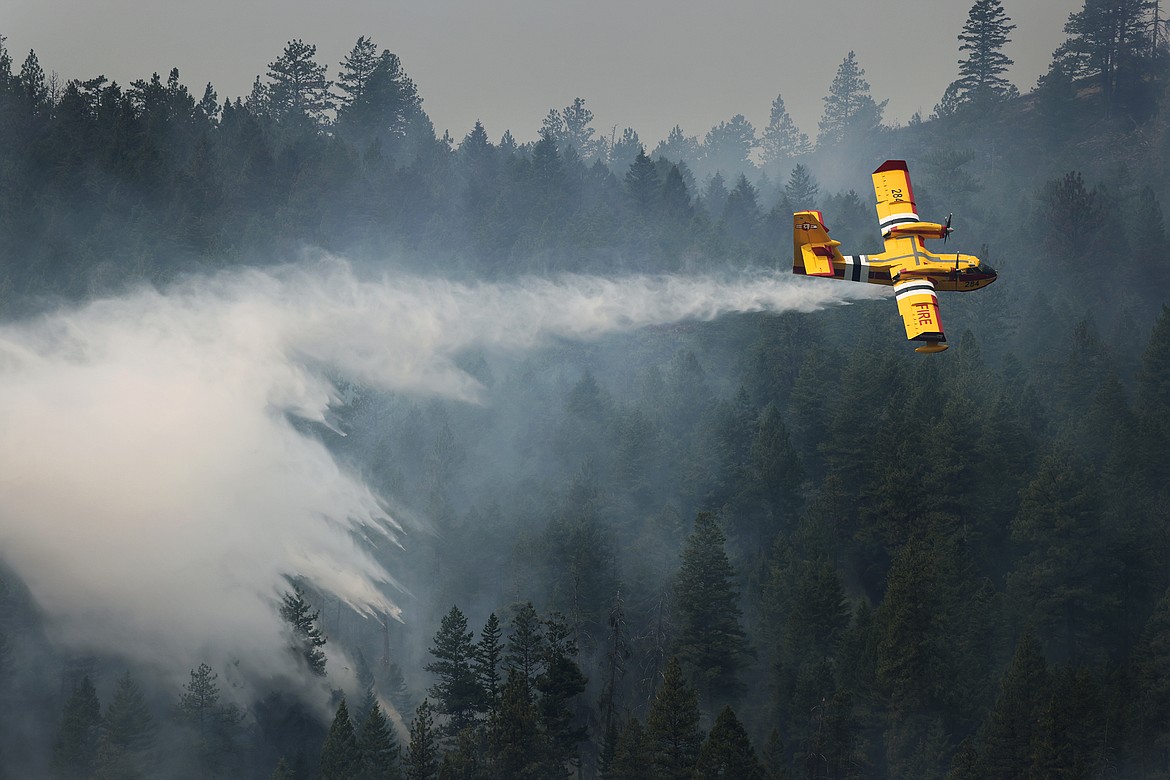 A CL-415EAF super scooper dumps water on the leading edge of the Elmo Fire near Black Lake Monday, August 1. (Jeremy Weber/Daily Inter Lake)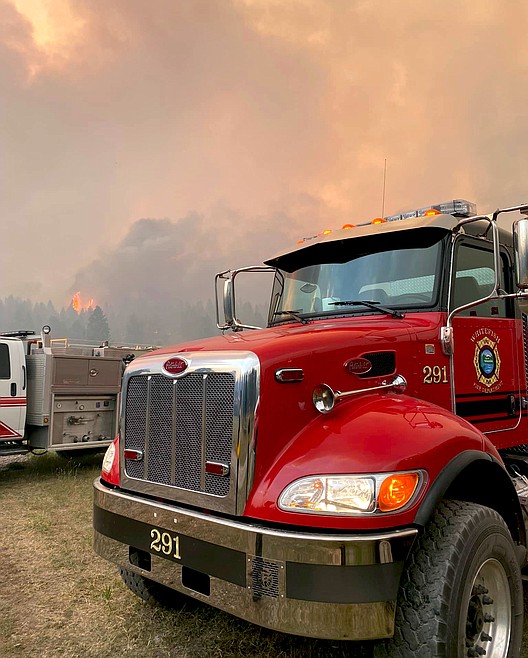 Firefighters from the Whitefish Fire Department working mutual aid on the Elmo 2 Fire Monday night. (Whitefish Professional Firefighters Local 3995 photo)
Previous
Next
by
Daily Inter Lake
|
August 2, 2022 9:00 AM
Nearly 300 firefighters have converged on the Flathead Reservation to battle the unconfined Elmo 2 Fire that has charred nearly thousands of acres in three days west of Flathead Lake.
Over Monday night into Tuesday morning, the fire had expanded to cover over 16,000 acres. The human-caused blaze started July 29 in grass and quickly expanded into thick timber west of Elmo and north of Montana 28.
The John Thompson Northern Rockies Team 7 took command of the fire 8 miles west of Elmo Sunday, utilizing attacks from the air and ground. As of Tuesday, at least one structure was lost and the fire remained in the timber north of Montana 28 and west of Black Lake.
Monday evening, fire officials recommended the evacuation of the Lake Mary Ronan corridor.
Montana 28 reopened over the weekend, but drivers were urged to use caution due to smoke causing low visibility in the area. The Montana Department of Transportation was using pilot cars on U.S. 93 between Elmo to Rollins due to poor visibility.
Lake Mary Ronan State Park remains closed, along with the Elmo boat ramp.
According the the CSKT Division of Fire, Bitterroot Hotshots on Monday were working on the northwest portion of the fire, holding and improving existing lines. The efforts were supported by four scooper planes and four single-engine air tankers in the northwest.
On the northeast flank, the Helena Hotshots were working directly on the fire's edge to the east toward Chief Cliffs estates, while the Idaho Panhandle Hotshots constructed line to the west. Crews engaged directly on the fire's east edge as well, with the Bitterroot Hotshots and a Type II Initial Attack crew working their way to the north.
Efforts on Monday were to focus on improving fire lines and building new fire lines when possible.
The total estimated cost of firefighting efforts reached $600,000 on Monday. The Elmo 2 Fire is the largest in the state.
Another day of critical fire weather fanned the blaze on Monday. Low humidity levels, temperatures in the mid-90s and winds gusts up to 25 mph in the afternoon were predicted.
While temperatures are expected to cool by the middle of the week, conditions will still be ripe for fire, the National Weather Service in Missoula warned.
"The gusty winds coupled with the dry conditions will be a recipe for new and existing wildfires to spread quickly," the Weather Service noted in its daily forecast.
"Forecast models continue to trend away from beneficial monsoonal moisture making it this far north, that were being advertised a few days ago. However, some locations across the area could see some welcome rainfall by this weekend, just not as widespread as previously thought."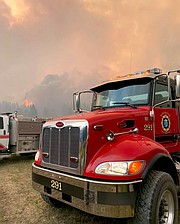 Recent Headlines
---