Girls soccer passes first test of season taking out Polson
by
HEIDI DESCH
Whitefish Pilot
|
September 15, 2021 1:00 AM
The Whitefish girls soccer team handily outscored its opponents last week to earn two more wins.
Beating conference opponents, the Bulldogs stomped Polson 9-1 on Tuesday, Sept. 7 at home before heading to Libby on Thursday earning another win with a score of 11-1.
Coach Roland Benedict said Polson was the first big test for the Lady Bulldogs this season and they passed easily.
"Polson has some players that are dangerous and could have caused us trouble," he said. "I'm proud of the way we were able to push and counter that, and they weren't a threat anymore."
Against Polson, Whitefish earned a 3-0 lead after 40 minutes of play but then went on to score six goals during the second half.
Adrienne Healy scored a hat trick and had an assist.
Olivia Genovese led off the Bulldogs by scoring in the 11th minute and then she followed that up with another goal in the 68th minute. She also had an assist. Emma Barron had two goals and Maddie Muhlfeld had two assists. Whitefish dominated the game with 41 shots on goal compared to Polson's two.
Against Libby on Thursday, the Bulldogs dominated play with 31 shots on goal to Libby's nine.
Sophie Olson led off for the Bulldogs scoring in the 4th-minute. She added two more goals in the game.
Barron had three goals for the Bulldogs, Genovese had two, Brooke Roberts had one goal, Healy had one and Sofie Saurey also had one.
The Bulldogs are now 5-0 and 2-0 in conference play.
Benedict says his team has the right pieces coming together this season after struggling to score last season. Against Libby, he noted, the Bulldogs had possession of the ball most of the game.
"We're creating chances," he said. "Last year we scored a total of 39 goals and this season we've scored 44 goals and we're only five games into the season."
Whitefish was set to play rival Columbia Falls Tuesday after press time.
Benedict said in facing off against the Bulldogs rival Wildkats the key will be managing emotions.
"If we work harder physically then the battle should be good for us," he said. "We're both similar teams to last season, but we've now become a threat because we've learned to score goals. We were able to win last year without scoring as many goals, so this year we should be even better."
On Tuesday, Sept. 21 they'll travel to Bigfork. Game time is 5 p.m.
Whitefish 7 4 — 11
Libby 0 1 — 1
W — Sophie Olson 4:00
W — Olivia Genovese 9:00
W — Olson 14:00
W — Emma Barron 25:00
W — Barron 26:00
W — Brooke Roberts 37:00
W — Olson 40:00
W — Genovese 50:00
W — Adrienne Healy 58:00
W — Sofie Saurey 61:00
W — Barron 80:00
Shots on goal — WF 31, Libby 9. Goalie saves — WF 3 (Norah Schmidt), Libby 19. Corner kicks — WF 9, Libby 0.
Polson 0 1 — 1
Whitefish 3 6— 9
W — Olivia Genovese (Katie Benkelman) 11:00
W — Isabelle Cooke 31:00
W — Adrienne Healy 38:00
W — Emma Barron (Genovese) 42:00
W — Healy (Sophie Olson) 48:00
W — Brooke Roberts (Healy) 51:00
W — Barron 64:00
W — Genovese (Maddie Muhlfeld) 68:00
W — Healy (Muhlfeld) 70:00
Shots on goal — Polson 2, Whitefish 41. Goalie saves — Polson 18, Whitefish 1 (Norah Schmidt). Corner kicks — Polson 0, Whitefish 12. Fouls — Polson 3, Whitefish 3. Cards — none.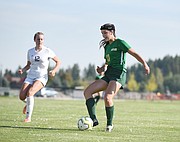 ---